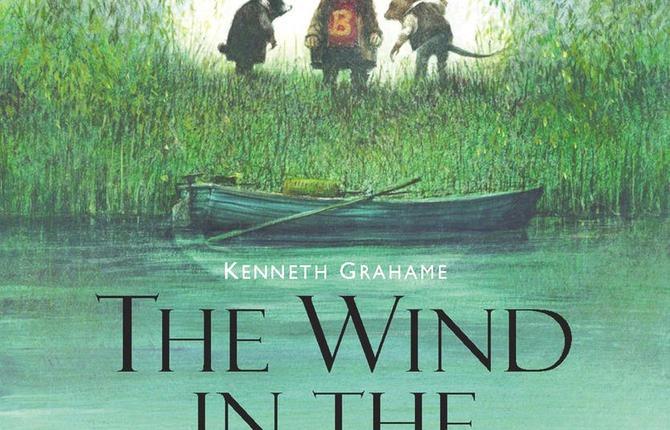 Classics celebrated and in the making
The 100th anniversary of the publishing of the children's classic The Wind In the Willows by Kenneth Grahame is being celebrated this season with a new edition illustrated by Robert Ingpen (Palazzo Editions, $19.95).  The story is well known – Ratty and Mole, who live along the banks of the Thames River, go out boating one day. "Nothing," Ratty famously says, "is half so much worth doing as simply messing about in boats." On this idyllic outing they meet up with the eccentric and very rich Mr. Toad and get drawn into his increasingly more bizarre schemes as he falls in love first with a gypsy caravan and then with the newfangled and enchanting (to him) rich person's toy – a motor car. As they tootle around the countryside, with Ratty and Mole trying to keep Toad out of scrapes, they meet up with the grumpy Badger and then have a run-in with the nasty, thuggish stoats and weasels who live in the Wild Wood.
All of these adventures offer artist Robert Ingpen wonderful scope for his talent. The book is lavishly illustrated beginning with a double-page aerial view of the countryside showing the river running through fields, under bridges, in front of Toad's lavish Hall. Even as Ingpen renders each animal with careful accuracy, he also captures their "human" characteristics, bringing alive the distinct personalities we meet in Grahame's text.  The England he recreates in warm, soft shades of green, blue and rust probably existed only in small rural pockets but he perfectly replicates both the story's coziness and its increasingly exciting adventures. Ingpen has done a splendid job of making Grahame's Edwardian story accessible and attractive to modern children.
It's difficult to know which of our current books will have the staying power of Wind in the Willows but one essential element in a classic seems to be an endearing or odd character. Mr. Toad is hard to beat for eccentricity but some of this season's new books offer whimsical characters that may prove to have enduring appeal.
In Sir Reginald's Logbook by Matt Hammill (Kids Can Press, $17.95) we meet an intrepid explorer questing after "The Lost Tablet of Illusion" – or do we? As Sir Reginald and his blunderbuss march through the jungle confronting the Carnivorous Elephant Beetle, a Great Purple Angler Fish and a gigantic Bright-Eyed Baboon we get glimpses (in black and white sketches) of the reality of his life. Sir Reginald may have an overactive imagination but he certainly makes his quest interesting and – yes – he does find the lost tablet and it really does magically create fabulous illusions.
Cary Fagan is particularly good at creating eccentric characters such as the dastardly Kaspar Snit. In Fagan's new title, Mr. Karp's Last Glass (Groundwood, $15.95), 11-year-old Randolph is considered an oddity by his friends because he is a serious collector. Stones, snow globes, shoe horns, beer bottle caps – he likes his collections to be interesting.
Randolph may not be a typical boy but he is not the eccentric in this tale. When his parents decide to rent out their third-floor attic as an apartment, a true eccentric moves in. Mr. Karp, the new tenant, collects jars of water. Not just any water – water from famous historical events such as ditch water from the St. Louis hurricane of 1896 or from the Round Pond in Kensington Gardens during the miniature boat races of 1873. And like a true collector Mr. Karp has a running competition with another collector of water.
Both Karp and his rival are after water drained from Napoleon's hat during his invasion of Russia. As Randolph gets caught up in Karp's chase as well as in the problem his own family is wrestling with, he learns not just some unusual history facts, he also comes to interesting insights about life. Adults might recognize the joke in the title of this small, whimsical gem – a play on Krapp's Last Tape.
In Dear Sylvia (Groundwood, $16.95), the third of Alan Cumyn's family sagas about Owen and his brothers, before the much yearned-after Sylvia moved away she gave Owen paper and envelopes so that he could keep in touch. As Owen labours manfully to do her bidding the letters become a humorous commentary on such trials and tribulations as camping with his exasperating female cousins, being on call to rock the infant cousin who stops crying only for Owen, and coping with the nasty teacher who hounds him about his spelling. Cumyn has a knack for creating endearingly batty adult characters, particularly the uncle who tries to teach Owen to play the bagpipes. From the best of motives his relatives often complicate his life as he stumbles on with his quest to woo the unattainable Sylvia.
Gentle, humorous stories like these with their eccentric but lovable characters provide a welcome change of pace from the hard-hitting, edgy adventure stories that dominate the market. And who knows, some may become beloved classics.