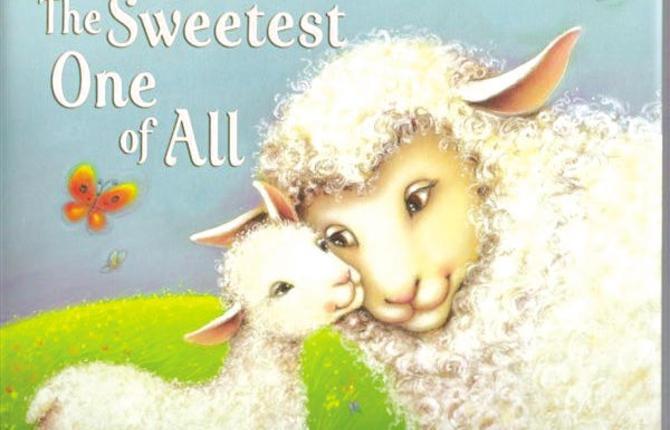 Choice books, great gifts
This is the season for splurging on wonderful books for the young readers in your family. Fortunately many new books in the stores rise to the occasion.
Jean Little's newest picture book, The Sweetest One of All (North Winds Press, $19.19), is about mother-child bonding. The littlest lamb looks up at the sheep and asks, "Who are you?" The sheep answers, "I am your mother and you are the loveliest lamb in the land." The cow feels envious and decides she, too, wants a lamb. "Nonsense," says the sheep, "You want a calf." And on it goes through the barnyard, each mother discovering she has the sweetest baby of all.  The tone of the book, warm and fuzzy without being sentimental, is much enhanced by Marisol Sarrazin's soft-edged, pastel illustrations. Each animal, while accurately portrayed, has eyes that reflect a human mother's love and adoration of her newborn young.
For toddlers Jeremy Tankard's Me Hungry (Candlewick, $19.99) provides a more humorous take on the parent-child relationship. "Me hungry," says a little cave boy. "Me busy," say both his parents. The boy is verging on tears when he has a great idea. "Me hunt!" he decides. But the rabbit hides, the porcupine is sharp and the cougar is mean. Things look desperate until he meets a delightful woolly mammoth. Even though Tankard draws with a wide marker, his characters — human and animal – express vivid facial emotions that leave the reader in no doubt how each is feeling. This brief story is full of charm, wit and wisdom.
Preschoolers will be intrigued by Cary Fagan's Thing-Thing (Tundra, $20.99).  Archibald Crimp is very spoiled. No matter what toy his parents buy for him, he demands something better.  One day when they are staying in a hotel in a big city, Archibald's desperate father buys him a stuffed toy that is not quite a bunny or a dog or a cat. The tag reads Thing-Thing. But even this oddity doesn't satisfy our petulant boy and in a rage he tosses it out the hotel window. The story is now about Thing-Thing on his way to the ground. As he passes each floor we see a mini-drama through a window, and each time something about Thing-Thing changes the lives of those within. You'll be happy along with Thing-Thing when he is saved at the last moment from a crash landing, but perhaps even happier to hear that spoiled Archibald finally gets his comeuppance. Illustrator Nicolas Debon has made Thing-Thing both goofy and endearing and the aerial perception of the world as Thing-Thing falls gives the reader a pleasant sense of vertigo.
Tundra has brought out a welcome reprint of Janet Lunn's pioneer story, One Hundred Shining Candles ($19.99), enriched by Lindsay Grater's watercolour illustrations. Lucy has lived all 10 years of her life in the backwoods. In winter, in their small cabin and cramped log schoolhouse, life is dark and gloomy. One day just before Christmas the schoolmaster tells the children how once, on a visit to the city, he saw a room lit by one hundred candles.  His picture of "golden light even in the darkest corners" takes hold of Lucy's imagination. If only they had enough candles to light up their gloomy cabin!  Obsessed with this desire Lucy decides to use the tallow her mother has stored in the shed.
She grudgingly agrees to let her younger brother help, but when Lucy spoils their only batch of tallow, it is young Dan who steps in to save the day. In the end they don't manage one hundred candles but, as we see in the final illustration, five wobbly candles are all it takes to light up one tiny cabin and delight the whole family.  This is a charming read-aloud for children age 5 to 10.
The third adventure in Kenneth Oppel's excellent  Airborn series is now out. In Starclimber  (HarperCollins, $21.99) Matt Cruse has a summer job flying an aerotug on the construction site of the Celestial Tower, an edifice that, it is rumoured, will reach the stars. Oppel's stories always start with a bang and this time we have a gang of Babelites, terrorists determined to destroy the tower before human hubris destroys the world. In a gripping first scene Matt finds that one of his crew has smuggled a bomb on board and is now holding a gun to his head. Matt's calm defusing of this situation makes him an overnight hero but it all turns to ashes when his girlfriend, Kate's parents insist that she return to Canada and marry the man they have chosen for her.  Then Matt is offered a position as an astralnaut aboard the Starclimber in Canada's bid to reach space before the Europeans. Oppel's parallel world is an ingenious mixture of real Edwardian and sci-fi invention and his plots twist and turn with breath-taking speed, but he also creates characters the reader cares about. This can be an exciting read aloud for the whole family or a treasured gift for readers age 11 and up.