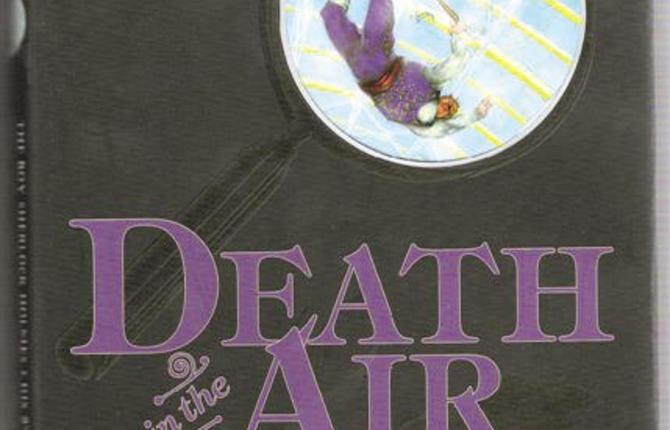 Books that will bring on the boys
Boys like adventure stories with lots of action, some death-defying thrills and maybe a little humour. All of these elements are present in this handful of well-told stories.
Shane Peacock narrates the Boy Sherlock Holmes's second case in Death in the Air (Tundra, $21.99). Sherlock is visiting the Crystal Palace where the astounding trapeze artist Monsieur Mercure has been performing dangerous feats 100 feet above an astonished crowd. As he swings out for the last time, his trapeze breaks and suddenly he is hurtling through space. He lands with a sickening thud right at Sherlock's feet and the boy hears the whispered words "silenced me." This sends him on a hunt that leads him into the criminal stews of London in search of the murderous Brixton Gang. Can he outsmart these homicidal thugs as well as the unethical Inspector Lestrade of Scotland Yard to win the reward?
He desperately needs that money not only to pay his own school fees but also to save him from a rapacious landlord Sigerson Bell, the brilliant but unworldly apothecary who is teaching Sherlock the forensic skills he needs to interpret how a victim died. In the end Sherlock solves the case but Lestrade wins the glory, setting us up for a third "ripping yarn." Once again, Shane Peacock has given young readers not only a psychologically satisfying mystery, but also an intimate experience of 1890s London. He is also revealing, book by book, how the adult Sherlock Holmes acquired the eclectic mix of arcane skills and knowledge that made him the world's greatest detective.
Norah McClintock's tense mystery, Dooley Takes the Fall (Red Deer Press, $14.95), also begins with a death. Dooley, at 17 already "known to the police," is walking through a ravine near a bridge when he finds the body of a schoolmate, one of the popular boys. The police, of course, are immediately suspicious of him, but in the end the death seems to be a straightforward case of suicide. The victim's sister, however, refuses to believe that. She demands Dooley's help in finding out the truth. This plunges Dooley into desperate danger as he begins to suspect that three schoolmates from wealthy homes are involved in a game of sick thrills that may well have led to more than one death.
As in her other books, McClintock creates here a rich, layered narrative full of well-developed characters. Dooley's backstory, revealed piece by piece, is as gripping as the main story and his gradual emergence from surly resentment is satisfying and believable.
In Curtis Parkinson's Death in Kingsport (Tundra, $14.99) Neil is lonely after his favourite uncle dies unexpectedly, but he's also upset and worried. Did he really hear thumping from inside the coffin? His mother dismisses it as too much imagination, but other odd co-incidences turn up, like the spooky disembodied voice he hears in Doc Savage's abandoned barn suggesting there have been other unexplained deaths in town. When he teams up with Graham, the class brain, and Crescent who is searching for her missing father, they discover that all the deaths seem to be linked to the town doctor who conducts strange experiments in his lab with plants gathered on a trip to the Amazon. This excellent mystery, set in small-town Ontario in the early years of WWII, has overtones of horror for those who like the macabre.
In Schooled (Scholastic, $19.99), Gordon Korman reminds us that he, too, is an expert at weaving tightly-constructed plots out of unlikely elements. Capricorn Anderson, home-schooled on a farm that used to be a commune is plunged into the jungle that is middle school when his hippie grandmother falls from a ladder and breaks her hip. It's the beginning of the school year and time for the Grade 8s to elect the school president. Zach Powers, Big Man on Campus, has decided this thankless job will go to the nerdiest loser in the school and when Cap steps off the bus in tie-died clothes and home-made sandals Zach figures he's found his stooge. He manipulates things so that Cap is duly elected, but things don't go quite as he'd anticipated.
Cap may be unschooled in the ways of modern youth but he's no fool. He takes the job seriously, showing an excellent talent for delegating to willing workers tasks he can't handle. And on the day the bus driver has a heart attack he shows off another skill he learned on the farm, driving the bus across town to the hospital like he's driving an Indy 500 race car. By the time the crisis is resolved, Cap has become the coolest guy in the school.
Not many 13-year-old boys get to solve complicated mysteries, round up criminals or become the school hero, but living those lives vicariously, through well-told stories, has to be the next best thing.