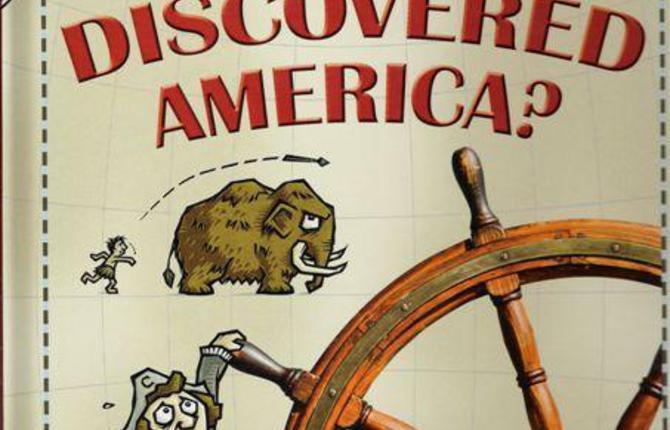 Writers that deliver the info
Information books can offer young readers a smorgasbord of delights. Here is a mixed bag of topics well presented.
Frieda Wishinsky and Elizabeth MacLeod give us Everything But the Kitchen Sink: Weird Stuff You Didn't Know About Food (Scholastic, $9.99). For example, did you know that North Americans eat 350 slices of pizza per second, that Columbus was looking for spices when he bumped into North America and that when Paris was under siege from the Prussians in 1870 they were reduced to eating the animals in their zoo? But this book isn't just about odd facts. The authors also give the history of breakfasts, explain the science behind how cooking changes food and offer recipes for cooking in different and interesting ways. The tone is light but the information is solid.
Annick Press continues its informative series about jobs through the ages with Ballplayers and Bonesetters: One Hundred Ancient Aztec and Maya Jobs You Might Have Adored or Abhorred ($25.95) by Laurie Coulter with illustrations by Martha Newbigging. Children seem to be as fascinated with Mayans and Aztecs as they are with ancient Egyptians and for many of the same reasons. The Aztecs built pyramid-like structures painted with frescoes showing various aspects of their life, as well as making elegant pottery and jewelry.
Using a kid-friendly format that presents the Aztecs' sophisticated urban civilization as a series of jobs done by people at all levels of society, Coulter involves the reader in being everyone from the Queen, who can spin and weave despite her high station, right down to the food producers such as bee-keepers, fishers and shell divers. Each short explanation of a job is illustrated with comic characters that lighten the tone and make the history palatable. A great way to learn about an ancient civilization.
Another fun way to learn history is presented in The Seventh Expert: An Interactive Medieval Adventure (Annick Press, $24.95, illustrator John Mantha). Author Mark Oakley uses an interactive approach in which the reader determines whether a medieval village survives or disappears over a seven-year period at the time of the Black Death. A 20-page Expert's Catalogue shows all the equipment, buildings and animals a village needs to survive. To begin the game, a series of stories sets up the situation in the village year by year and introduces the cast of characters. After each story is a list of instructions for the leader suggesting how to get his village through the next year. Then, a series of random events that could bring prosperity or disaster is chosen by the roll of a six-sided die. The reader becomes the leader who has to guide the people and make choices. This is an innovative, creative way of engaging young readers with history. I hope Annick Press continues the series covering other time periods.
Valerie Wyatt tackles the often disputed question of Who Discovered America? (Kids Can Press, $17.95). Starting with Columbus, the obvious candidate from many people's point of view, she shows how evidence has begun to appear for much earlier possibilities. Did you know, for example, that nearly 100 years before Columbus, "swimming dragons" set out from China to explore the world? These great ships visited both North and South America around 1421. Both, however, had long since been beaten by the Vikings who landed on what is now Newfoundland in 1000 A.D. But did any of these explorers actually "discover" a new land? After all, each was met by indigenous people. Are we even sure the people who came across the Bering Strait were the first? So who really "discovered" America? These fascinating speculations and their historical contexts are presented clearly and simply. The text is augmented with excellent colour photographs showing the various locations plus artifacts of the time.
For cat lovers, Elizabeth McLeod's Why Do Cats Have Whiskers? (Kids Can Press, $14.95) gives an informative overview of one of our favourite pets. Using a question and answer format, the author takes us through the history and habits of cats, as well as their many peculiarities. So why do cats have whiskers?
Whiskers have at least five important uses, which you can find out by reading the book.
Stacy Roderick and Ellen Warwick continue their Planet Girl series with Centsibility (Kids Can Press, $14.95) a guide to money management that gives early teens useful information on the best ways to either save or spend wisely. We often give our children money without explaining exactly how money works for us. This book's upbeat, teen-savvy approach to money matters will give young readers a good start at being penny wise rather than pound foolish.
Information books, like the ones above, give young readers fascinating glimpses of their world, past, present and future.