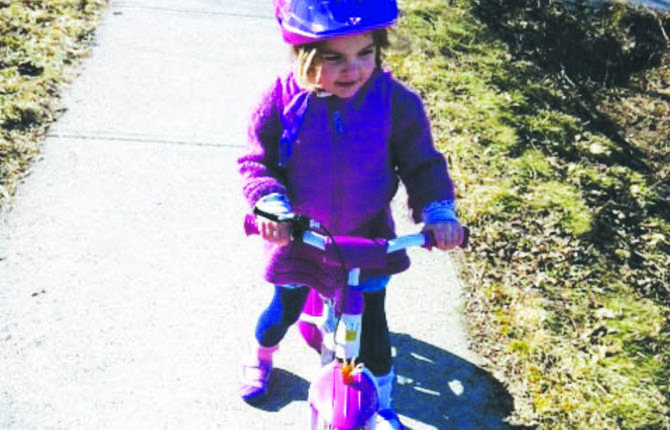 Riding out the disaster
Last weekend I was so excited, Spring was in the air and I wanted to do something with Squeak that I thought would be really fun. So we decided to go for a little bike ride. And it wound up being the longest epic bike ride ever. We were gone for two hours and only went a kilometer.
For the first half hour before we left, we argued about the clothing Squeak should wear. In my mind a bathing suit and flip-flops would not suffice when biking on a windy April afternoon.  Once her proper clothing was on and she changed her mind three times about which bike she would ride, we were ready to begin.
By the time we got half way to our destination things started to go wrong, first she had to stop because all of her clothes were bunching up, her seat kept falling, her helmet was too tight. I ended up carrying her balance bike the rest of the way.
We finally arrived at our destination, a coffee shop, and first thing was first, we needed to sort out her bunchy clothing- which meant bringing her bike into the washroom with us. The poor barista must have wondered what we were doing.
I end up with socks and underwear in my pocket, a hot drink in one hand and a balance bike in the other for our walk home. I put my foot down about carrying her helmet. By this point the cold wind was in full effect, making tears come out of our eyes as we walked up hill. I didn't think we were ever going to make it home.
I finally called my husband to say we were giving up and needed a ride. He encouraged us to keep going. I cursed in my head, feeling like we would never get home. All I could do was burst out laughing uncontrollably, and Squeak started laughing too.
I can't help but wonder …is it this hard for other parents? I thought I was going for a no worries bike ride but it wound up being so chaotic and stressful. How does that happen? But it was so funny. I tell it way better in person.
Shari Nelson is an advertising sales rep at City Parent and a contributor to the magazine's social media, including Facebook and Twitter. She has a background in Early Child Care Education, a 4-year-old daughter, a 9-year-old dog, and a hamster. She aspires to own chickens and a goat – maybe a farm one day, a dream she shares with her amazing and talented husband.