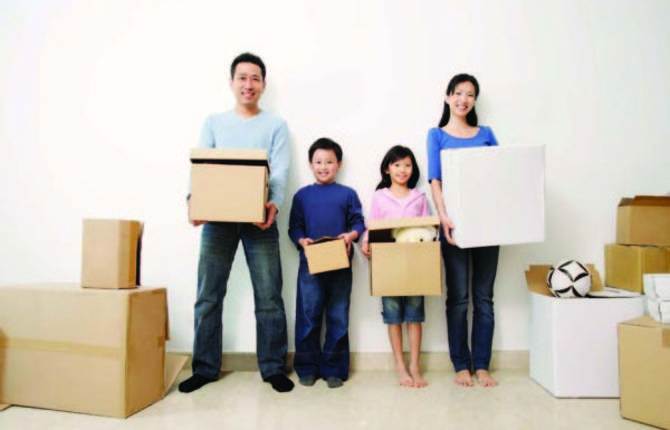 Turning houses into homes one piece of furniture at a time
By Vanessa Lupton
Many of us take for granted the things that make a house a home. Much more than just four walls and a floor, we pride ourselves on our homes and consider them a personal reflection of who we are.
But what happens when the finances aren't there to provide even the most basic of items? The Furniture Bank in Toronto is working to combat this dilemma by providing free furniture to those who need it most.
In its 19th year, the non-profit organization is working to address a hidden social issue that's been around for as long as we have been living in modern homes. Sister Anne Schenck, the founder of Furniture Bank had been working with refugee families when she started to see a trend that still exists today. Social service programs that work to assist victims fleeing from abuse, refugees, war veterans, the homeless, or people living with mental illness, are able to secure housing, but the assistance typically stops once the keys are handed over. As many of these individuals and families have very little money, Schenck found that poverty was, and still is, preventing people from furnishing their home.
"Our mission is to create avenues for people to get their gently used furniture to us," said executive director Dan Kershaw. "Our general rule of thumb is that if the item is still in good enough shape that you could offer it to family and friends, then that is what we need."
With an exceedingly high demand for the service, Kershaw indicated the turnaround times are very quick, with furniture being picked up and rehomed within 72 hours.
"Every day we have between 20 and 25 families who have appointments to look for their new furnishings," said Kershaw. "They are matched with a volunteer personal shopper and they come in and search for their new furniture. Once they have picked out what they need, we arrange for the items to be delivered to their homes."
Working with more than 100 social service agencies from the Greater Toronto Area, Furniture Bank is always looking for donations, citing an issue of supply and demand. Currently the wait time for their service agency partners to get clients an appointment is upwards of 30 days, with the demand only getting stronger.
"The housing crisis is also impacting the most marginalized populations and their ability to find safe affordable housing. Their ability to have surplus funds to purchase furniture is dwindling," said Kershaw. "Of the 100 agencies we work with, we have another 150 on a waitlist that are actively trying to get support for their clients.
Clients like Sandra, a young mother who fled an abusive and hostile relationship with her young son. With very little money, she found herself needing assistance in order to provide a safe environment for her 3-year-old son.
"I didn't have the work experience to find a job as I had been a stay-a-home mom. I was very vulnerable, and felt like many decisions were being made for me at that time," said Sandra. "When your parenting is under scrutiny and when you're trying to provide a stable and warm home for your child, you have to have furniture. It's one of those things we take for granted until we are sitting in an empty room without it,"
For people looking to donate their gently used items, Furniture Bank offers removal services and maintains a fleet of trucks that will travel as far west as Oakville and as far east as Oshawa. While there is a removal fee, donors also receive a tax receipt and according to Kershaw the value of the receipt is often greater than the removal fee. The fee goes toward offsetting the costs associated with maintaining the trucks and the teams, with all remaining proceeds going straight into their youth employment program, which gives marginalized youth opportunities to gain job experience.
However, donating furniture is not the only way you can help. The organization is always looking for volunteers and currently works with approximately 60 volunteers on a weekly basis who help in a variety of roles to get the furniture ready and on the showroom floor.
In an effort to raise awareness and funds, Furniture Bank also hosts an annual fundraising event called the Chair Affair. The gala-style evening features top designers revamping 'unsalvagable' furniture for live and silent auctions, celebrity chefs and entertainment.
This year, Chair Affair is being held on Friday, Nov. 3 at Casalife in Toronto. Tickets are currently on sale for $200 and include a host bar, flavourful fare, access to a unique silent and live auction, and live entertainment. All proceeds go towards furthering the organization's initiatives.
"It's a really remarkable thing, seeing what the designers can do with furniture that without help would be written off as being unsavable," said Kershaw. "They reimagine those items into beautiful works of art."
If you have gently used items that you are looking to donate or are interested in learning more about the work that Furniture Bank does, visit www.furniturebank.org. With an unwavering demand, the organization's long lasting impact is undeniable not only for Sandra, but for the thousands of other families who have walked through their doors.
"It's been several years since I went to the Furniture Bank. I have since graduated with my Honours Bachelor of Arts, started my Masters and have found a meaningful career," said Sandra. "Would I have been able to do that without furniture? Maybe, maybe not, but it sure is nice to have support creating your home, having a bed for your child, and the dignity in choosing your own furniture."