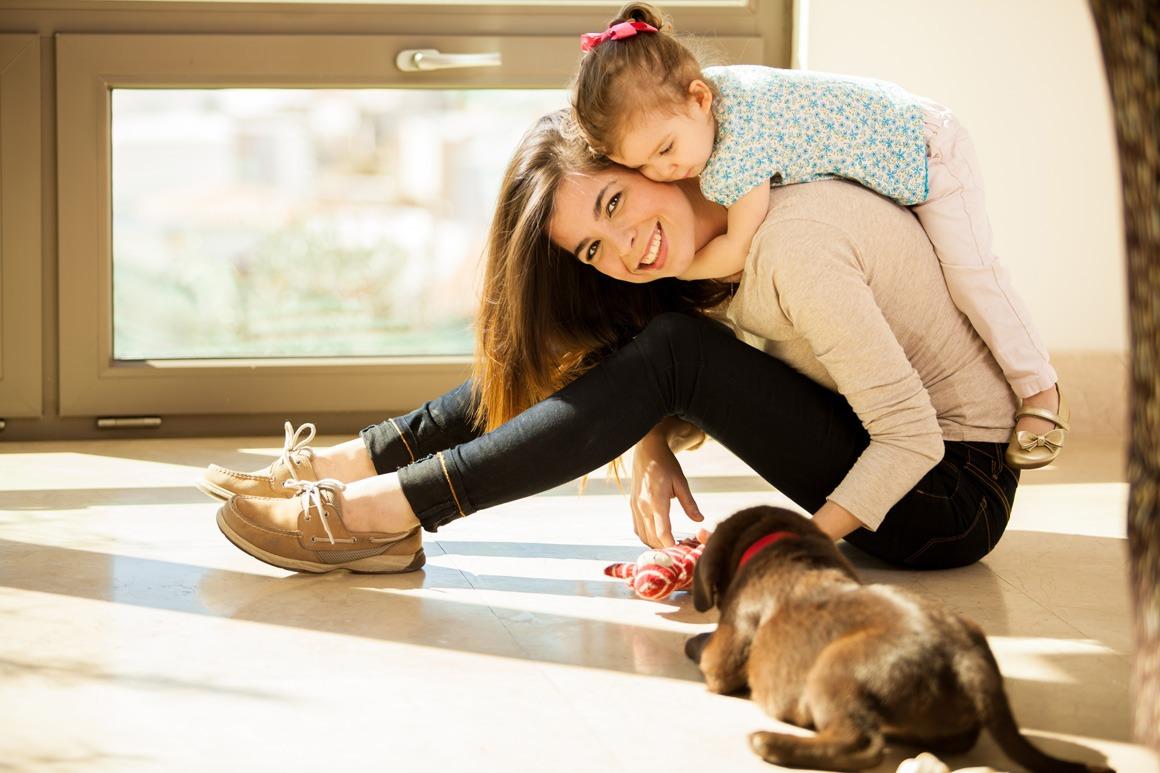 Nanny Sharing
By Martha Scully  
Childcare can be expensive; many daycares across the country charge hefty fees that pose a challenge to families. While nannies can often offer the same care services for less, many families may not require a full time care provider. This is where nanny sharing comes in; by splitting time with another family, you can save time and money, and ensure your children receive loving support.

What Is A Nanny Share?
A nanny share is an agreement between two or more families to either have their child cared for simultaneously by a single nanny, or to split different hours of a nanny's work week. Often, both will occur, as parents often have different work schedules and need different amounts of support.
Nanny sharing often allows families with irregular schedules the chance to receive consistent childcare at a fraction of the cost of daycare. Further, while hiring a nanny can be expensive for families of only children, sharing a nanny will often be less expensive than daycare for an individual.
The share can operate on a week here, week there basis, monthly, or at one home at all times. This would be decided between the two families and you will want the nanny's feedback on what she feels comfortable with. To make the nanny share a successful experience, you must be able to compromise so that both families feel they are getting an equal deal. Both sides must listen to each other for it to be a success. You must avoid situations where the nanny may feel like she is being pulled in two different directions.
How To Find A Nanny Share
There are two common ways that families find a nanny share. The first of them is to take the old school approach of reaching out to parents, families, and individuals in your network. Many families will choose to nanny share with their neighbours, friends or with families they have met through local community programs. If you're set on using an old-school approach you might want to place an ad in a community newspaper. If you decide to use the newspaper you will want to interview the families and the nannies.
Hiring A Nanny Share With Canadian Nanny
The second approach is to use CanadianNanny.ca. You'd first start by posting your own listing, and from there you could browse Nannies who are comfortable supervising multiple children. 
Benefits Of Sharing A Nanny
1. Affordable Child Care
If you're sharing a nanny with another family, you should only pay slightly more than half of the salary you would if the nanny was supporting your family alone. This option is often far less expensive than high-end daycares, and also allows a nanny to earn a slightly higher salary. For many parents, these savings are a blessing.
2. Meaningful Socializing
Having your son or daughter spend a lot of time with a child of a close neighbour can really create some valuable socialization time. Your child can learn how to behave and react around others and receive some of the benefits of daycare in a nanny share environment.
3. Flexible Schedules
Childcare centers often have rigid policies on hours, statutory holidays, and sickness. With a nanny share, you can plan ahead, navigate around exceptions, and ensure that the unique needs of your families are met. This is especially true as you will likely have two separate houses to utilize as the location for care.
4. Active Support From An Adult
While daycares can provide a wonderful opportunity for children to connect with each other, the staff often have their attention spread between a large number of kids. With a nanny share, you are able to ensure each child receives regular support from an adult. You even have the same ability to shape programming, or request specific activities as you would in a standard nanny arrangement.
Nanny Sharing Risks
1. Cleaning Duties
Many nannies support families by helping with housework, house cleaning, and other chores. However, when a nanny is being shared with two families, there is less time to reduce this burden for each family. Further, if the nanny and children are always located at one of the two homes, there is a risk of disproportionate help for one family. Make sure to discuss expectations around cleaning up front, and potentially alter compensation according to what each family will receive.

2. Scheduling Difficulties
As a parent – there are never enough hours in the day. That's why you wanted a caregiver in the first place. One of the challenges of maintaining a nanny share is that, as each family's plans change – it is not always easy to ensure the second family understands the change in plans. This can lead to tension and undue pressure on the nanny.
Make sure to have a clear schedule before the arrangement begins. Further, you should meet with the other family to explicitly discuss the process for making changes to the schedule – if need be.
3. High Commitment
Setting up caregiver sharing requires that you make a commitment not just to a nanny, but also to another family. As a result, if things aren't working out, it will be harder for you to end the agreement. As such, I would make it a priority to have a clear understanding of how long you and the other family will be in the agreement, as well as how regularly you'll re-visit your arrangement. Planning a three-month check in is probably a good idea.
4. Parenting Styles
If your family limits time spent playing video games, or guarantees certain number of hours of physical activity – but the other family doesn't – this might cause tension. Like many of the potential problems associated with a nanny share, open dialogue and establishing shared rules from the start will help you overcome this potential hiccup. In reality, this is a great opportunity to understand and learn from another families parenting philosophy.
Pros and Cons of a Nanny Share
Here is a quick summary of a few more pros and cons to consider when evaluating caregiver sharing.
Pros:
Consider hiring a nanny with special certifications, skills, or the ability to speak multiple languages – which may have been unaffordable without nanny sharing.
A better paid nanny is more likely to make special exceptions for your families, and to remain with you for a long time.
Infant care can be hard to find at daycares or childcare centres, but is far easier to arrange through a nanny share.
The friendships formed through shared care services can help your children integrate into new schools or settings. You have the chance to build a relationship, and share key learnings with, another family.
Cons:
It can be difficult to find a family with similar needs to your own, especially if you're relying on word of mouth alone.
Dividing costs – such as food or toys – in an even manner can be challenging.
Interviewing and hiring a nanny that aligns with the values of both families will often take longer, and require greater coordination.
If either family is expecting additional children, it may throw a wrench in your set-up.
Nanny sharing means you likely will be unable to hire a live-in nanny or au pair.
Martha Scully is the founder of CanadianNanny.ca and has been featured as a Child Care Expert in hundreds of publications across Canada. She lives in British Columbia with her husband and two daughters.