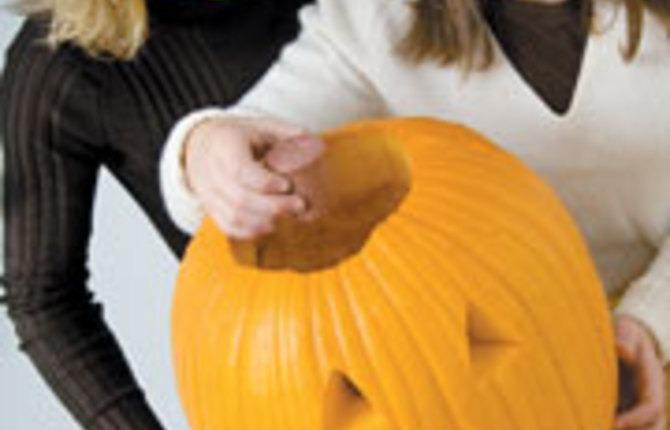 Green your Halloween
According to a web site devoted to Halloween, the Chinese celebrate the Feast of the Hungry Ghosts. Ostensibly, the souls of the dead wander the earth in search of affection. They are known as "hungry" ghosts because they seek recognition and care. Surely I'm not the only one who sees the irony in this. Hint: Look where most of our Halloween tchotchkes are made. You got it—the place that has a holiday dedicated to recognition and care. But they aren't getting it in the sweatshops that crank out our dollar-store decorations. Indeed, Halloween is second only to Christmas in the amount of money consumers spend to boost the decorative impact of their homes.
However, those of you equally eco- and ghoul-friendly, can green your Halloween. Herewith your guide:
Décor: Avoid the dollar-store decorations in favor of made-at-home. You don't need to be a Martha Stewart type to do this, I promise. Create gravestones out of discarded wood or cardboard. A coat of white paint tinted with grey/black (low-VOC, of course!) and some clever epitaphs: "Here lies Johnny Yeast. Pardon me for not rising." Or "I told you I wasn't feeling well…". Create scarecrows or "dead people" by using old clothes stuffed with rags or hay. You can even leave one swinging by his neck from a tree. Use chalk to create outlines of bodies on the driveway or sidewalk. You get the idea…
The costumes: Mothers inevitably fall into two camps: those who make their kids' costumes and those who don't. I'm a convert. While we have store-bought costumes in our costume trunk, ghosts of Halloweens past, so to speak, I've learned that it's quite easy to throw together a costume (a bat! a spy! a ladybug!) from the creative use of existing clothes and makeup. And kids, honestly, think you're Martha Stewart even if the other moms can sense that you don't own different varieties of pinking shears or a glue gun. Visit your library for a book of easy-to-make costumes or check out what's offered online. And create your own costume trunk by collecting discarded stuff from grandparents, aunts and uncles – fedoras, old briefcases, scarves, and so on.
The candy: As my eight-year-old daughter explained to her younger siblings, "You go door-to-door and ask for candy from strangers. It's the perfect holiday!" Perfect for North American children, perhaps. But not so for the child slaves working on cocoa farms in developing countries. Or for the earth—what with so many individually wrapped goodies. With chocolate, go the fair trade route. If you can't find fair trade Halloween chocolate in your area (I couldn't), you can order it online. Global Exchange (www.globalexchange.org) offers its Fair Trade Trick or Treat Candy and Action Kit, which includes fair trade chocolate, kids' postcards outlining the importance of fair trade chocolate, and a fun door sign. Or consider giving out something other than candy: organic raisins in their little cardboard containers, packets of (fairly) healthy cookies or crackers, or juice boxes. What about packets of seeds (either harvested from your own wildflowers or purchased)? Grist (www.grist.org), a great source of all things eco, offered up this reduce, reuse, recycle suggestion: Gather all sorts of items you no longer need or want: CDs, toys, trinkets, old jewelry, books, trophies. . . . Create a treasure box and let the pint-sized pirates or goblins choose what they'd like.
Of course, you run the risk of being branded the local wacko, but that's OK. Every neighbourhood needs one, especially on Halloween.
Leslie Garrett is an award-winning journalist and author of The Virtuous Consumer: Your Essential Shopping Guide for a Better, Kinder, Healthier World (and one our kids will thank us for!) Visit her at www.virtuousconsumer.com