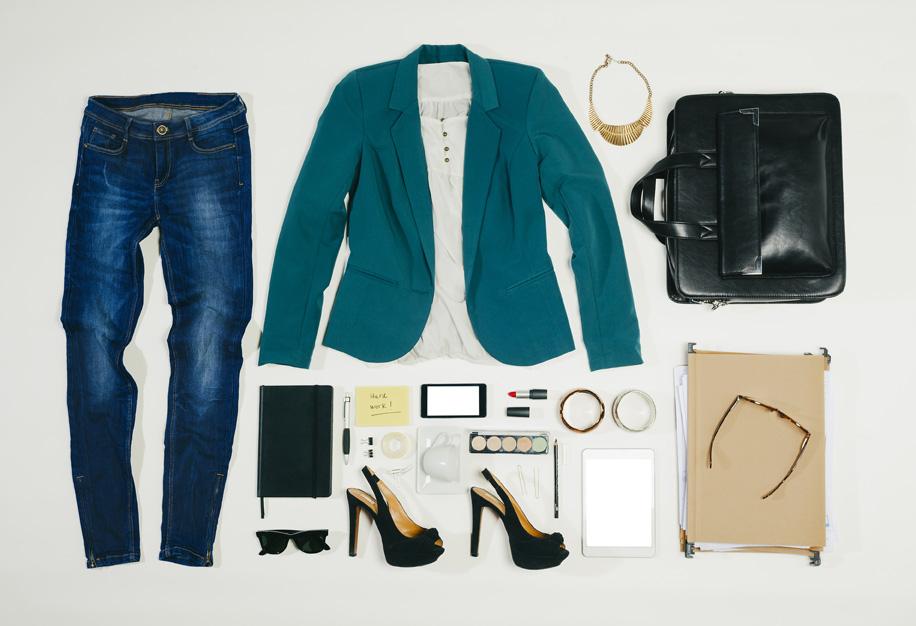 Fall wardrobe
By Christine Davis
The cooler days of fall call for a new wardrobe, but everything you'll need to keep warm and look great over the coming months can cost a fortune. According to Dag Larsen, founder of consignment store chain Consign Toronto, you'll need about 20 items for a good base wardrobe and that's including accessories.
Larsen's must-haves are: Three coats, one for fall, one for deep winter and one transitional that can be worn in the evening; one great structured blazer in black, grey or navy; one perfect pair of clean cut dark blue jeans; a classic pointy toe black pump; an everyday bootie; a boot to transition from day to night; a comfortable trendy sneaker; one classic pair of aviator sunglasses; a super soft sweater (cashmere, if possible); a go-to LBD (little black dress) that can work for the office, dinner or a night out on the town; one floor length gown for evening dressing in a second; a staple turtleneck, cardigan and a couple of soft long or short sleeve t-shirts; two purses – one for day, one to transition into the evening; one printed silk scarf for a pop on a basic outfit; and a great pencil skirt or one in an A-line cut to embrace those curves. Larsen goes on to explain that you'll also want to "allocate for the seasons and swap in shorts, tank tops or an oversized sun hat."
When it comes to revamping a fall wardrobe, Larsen recommends starting with your coat. "It's a key investment for fall," he says. "We live in Toronto and we're in coats for half the year, so make a statement with it." Once the coat is chosen, he then recommends investing in "an awesome pair of knee high flat boots."
Those key investment pieces are also the starting point for adding high-end, designer pieces to your wardrobe. Larsen says from there you can "slowly transition to other pieces," including a sweater, top and skirt.
Shopping consignment is a great way to add these kinds of investment pieces, getting top designer clothing without spending top dollar for them.
And as for how long you can wear investment pieces, Larsen admits that: "Quality never goes out of style." He suggests finding "different ways to make your investment pieces feel new again" with different styling, and that's just what his stores offer.
"We offer boutique service in a boutique environment. We don't have sales associates, we have stylists," in addition to offering online shopping options, which will expand to all items available in-store, with the exception of certain contemporary brands, by the end of the year.
In store and online you'll find both vintage items and pieces from just last season. "If it's designer and a must have, you'll find it at a consignment store. That's the fun of consignment," Larsen says, it's "a mixed bag of goods and all about blending season after season and creating something timeless."
But not all pieces are timeless he warns.
"If it [a piece in your wardrobe] hasn't been worn in a year, it's time for it to go" he says simply. "A year allows for seasonal changes, so if it doesn't work for any season, you don't need it."
When assessing your wardrobe, Larsen says you should also choose what he calls a uniform. "Find 10 pieces in your wardrobe that are your staples; this will be your standard uniform. When you're looking to add pieces, expand on this uniform. This will save you time, money and energy. It also means you're investing in key pieces to enhance your existing wardrobe, instead of making impulsive purchases."
When you're adding to your wardrobe, Larsen says you can certainly blend designer and non-designer fashions. "A Chanel jacket will always look cool with a pair of Levi's and a simple white cotton tee."
And, while shopping used can save you anywhere from 20 to 85 per cent off of original retail price, he does warn that if the price seems too good to be true that it probably is. "Don't be afraid to ask the seller to give you more information on what makes this an authentic designer piece. Any legitimate reseller or consignment shop always researches their pieces and there are resources to authenticate items online."