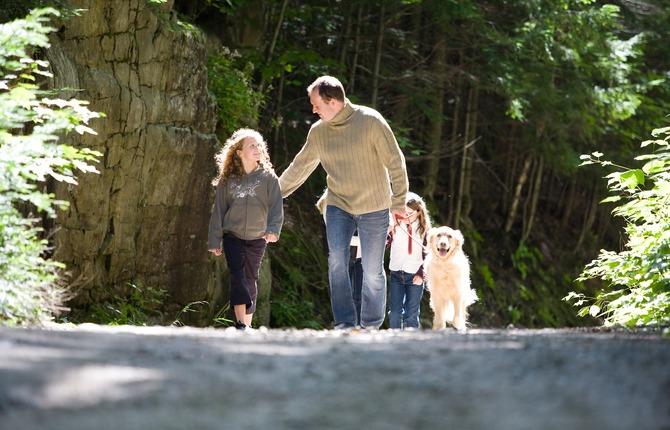 Dogs can bring households together
If your family includes a dog, you will likely recognize that a canine contributes to your family's wellbeing, encourages responsibility with kids, and promotes activity while offering unconditional love and forgiveness.
These are some of the facts that were reinforced by the results of a recent survey of Canadian dog owners. In fact, according to the recent Purina® Dog Chow® Family Poll, 93 per cent of dog owners feel that their four-legged companion makes their family feel complete.

Kids kick in

Luckily for many parents, children are taking responsibility for the family dog by helping out. More than half of Canadian parents (53 per cent) say their kids help keep the family dog active by playing with him, while approximately one-third say their children feed (32 per cent) and walk (31 per cent) the dog. Most importantly, 85 per cent of Canadians feel their dog encourages the family to get outside and enjoy the outdoors together.
"It's so important for the entire family to cooperate and enjoy the experience of owning a dog," says parenting expert, Nanny Robina. "Responsibility for the care of the family dog allows for a deep and gratifying bond to be created, which greatly benefits the child and teaches them important lessons in accountability, independence and consistency. That said, it's important to set reasonable and age-appropriate expectations for the child."
Canadian dog-owning parents understand the benefits of assigning pet responsibilities to children as well. In fact, 97 per cent of Canadian dog owners already know that teaching kids to care for a puppy can make them more cooperative and generous, and 9 in 10 believe that children who own pets can have higher self-esteem.
"It's important to start involving kids at an early age, to make sure they get the most benefit from their relationship with the family dog. Whether it's training, feeding, or just going for a walk, successful dog care is a family affair," says dog behaviourist and trainer Jill Priest.
According to Priest, children of all ages can get involved with dog care, especially by learning about proper safety, training, and responsible dog ownership. The following are some recommended age appropriate activities:
• Toddler: learn safe behaviour around dogs: how to say hello to a dog, what to do if a dog makes you uncomfortable; help dry your dog's food and water bowls after you've washed them

• 3-5 years: once the dog is safely in a crate or another room, put away the dog's toys; start helping to measure and provide the dog's food

• 6-10 years: attend dog training classes with the family to learn proper leash handling skills and training methods; help with grooming; take the dog on short walks with an adult

• 11 years onwards: help keep dog's water bowl clean and filled with fresh water; take responsibility for walking and cleaning up after the dog; become a "dog ambassador" – teach friends about dog safety and behaviour
Bringing home the love
Nearly one in three (29 per cent) of Canadian dog owners picked up their dog from an animal shelter or rescue, while half (52 per cent) chose to get their puppy from a breeder or another family. Often the dogs surrendered to shelters have been loyal members of a family, and by adopting another from a shelter, you're saving the life of a loving, furry friend.
Involve kids in choosing and naming your dog and be sure that everyone shares in its care.