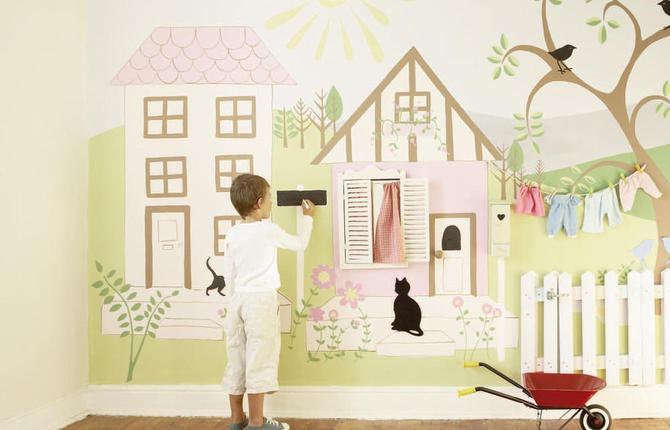 Cool spaces
The reigning days of primary colours for children's bedroom decor has ended and kids are far more involved in the decorating process than ever before. Elizabeth Law, owner of Elizabeth Interiors in Burlington says, "Nowadays, we're finding that the child has a much more active voice as to what they want. Before, the rooms would be more adult-driven. Today, they are more child-driven." This change allows for your child to be more creative and imaginative with their rooms. After all, they are the ones who will be playing, relaxing and sleeping there.
To begin the process, Law suggests establishing a mood with colours. "Start with a colour scheme that's going to make them happy and go from there. We usually ask the child 'What kind of a feeling do you want in your room?' and 'What's going to make you happy in this room?' The child will usually say a colour." Colour preferences can form the basis of the theme and style. Boys tend to prefer dark blues, reds and bright orange – they gravitate toward strong colours. Girls can't get enough of pink. Pink is the predominate choice combined with black, lime green or yellow.
Ask your child what theme they would like – such as a sports theme for a boy, or an animal theme for a girl. If your child doesn't know, check out websites such as www.kidsthemebedrooms.com for ideas. They might like an Indian theme and if you've got the space, you can create a teepee in the corner of the room. This is a fun way to add a unique touch that doubles as a play item. Or shopping for bedding or furniture might also inspire a theme. A patterned bedspread might dictate the room's style.
When you're ready to paint, here are some tactics to consider. If you want to make the bedroom appear larger, Law suggests two solutions. First, paint the ceiling in a medium to light colour. This will push the walls back, making the room look bigger, but try to avoid painting the ceiling an intense colour. Or paint one wall a different colour than the rest and this will also enlarge the look of the room. Whatever your colour scheme, choose eco-friendly paints such as Aura by Benjamin Moore Paints (www.benjaminmoorepaints.com) which are low in volatile organic compound (VOC) chemicals or 100 per cent VOC-free paints such as those made by the Homestead House Paint Company in Toronto (www.homesteadhouse.ca).
When shopping for furniture, look beyond the present and buy for the future. Your child will grow out of their "kiddy" room decor if it doesn't have some décor longevity. According to Law, "Initially parents tend to think more in the present. If they make a more generic choice with furniture and make the room kid-friendly with accessories, they won't have such a big expense later. So try to think long-term for major purchases and choose quality pieces because they will elevate the whole look of the room."
A common mistake Law sees is parents who purchase a twin-sized bed. It may seem like a good idea when your child is young but by the time they are about 12, they will want a larger bed. Plus, girls often have sleepovers and share a bed with their friend. Buy a double- or a queen- sized bed now and you'll save that expense in about five years.
Encourage your child to express what makes them happy in their room, and guide them in choosing a décor that makes them feel great. The experience will help you understand your child better and improve their communication skills with you by expressing their interests.
Creating a teen haven
Most parents would agree that raising teenagers is never easy. But in a down economy, when many families are trimming extras from their budgets, it can be even more difficult to keep teens happy and entertained.
Parents may find it's a better investment — both for their homes and for their teens' development — to create a haven at home where teenagers can socialize for free.
"Like most teenagers, my son really enjoys hanging out with his friends," says Ann Mackinnon, mother of a 15-year-old boy. "But a lot of the things that kids like to do outside the house cost money that just isn't in the budget right now. Instead, we decided to turn our basement into a place where my son Ian and his friends could spend time together. It's cheaper than sending him out somewhere, plus it gives me the peace of mind of knowing where he is, what he's doing and who he's with."
Turning your basement, game room or family room into a teen haven doesn't have to cost a bundle. Here are some helpful hints:
Make it Game Time: Video games are a big part of social life for many teens, but don't overlook the value of board games and table games as well. Besides the Wii and PlayStation, stock your teen haven with teen-friendly board games. Consider adding a table hockey or foosball game if space and budget allow.
Set the Mood: Atmosphere has a big impact on mood, especially if you're an already-moody teenager. Be sure to provide plenty of comfortable seating where teens can lounge with their friends while they chat, watch TV or surf the Internet. Consider setting the mood for the room by adding punch with teen-friendly decor like a wallpaper mural of your child's favorite sport. You'll find plenty of well-priced, easy-to-install wallpaper murals at www.MuralsYourWay.com. Or, to make a really big splash, have the company make a full-sized mural out of one of your teen's favourite personal photos, such as a snapshot from her dance recital or his football team's group picture.
Make Yourself Scarce: Just because your teen is hanging around at home with his friends, don't think it means you're automatically invited. Teen havens only work if parents respect the child's space and make their presences barely felt.
"Of course I keep an ear and eye out for what Ian and his friends are doing in our basement," says Mackinnon. "But I really do try to respect their privacy and I don't hang out with them. Just as I wouldn't want his friends to infringe on our family time, I try not to invade Ian's time with his buddies."
With a few simple steps, parents can turn their home into a place where teens will be happy to hang out and save themselves some money in the process. (ARA)
COOL SPACES FOR KIDS
Cool Spaces for Kids by Sam Scarborough (Octopus Books; $21.99) is a great reference tool when decorating your child's bedroom. The book includes plenty of hands-on and creative decorating tips and features more than 150 colour photos. The photos, templates and instructions show you how to make a range of items from a toy box to a teepee. Accessorize their bedrooms by encouraging them to create their own mobile, build a dollhouse, or make a board game such as Snakes and Ladders out of a tablecloth. There are crafts for children of any age. Not only will this book help stimulate your child's imagination, but they will also be delighted to create their own unique decor style.