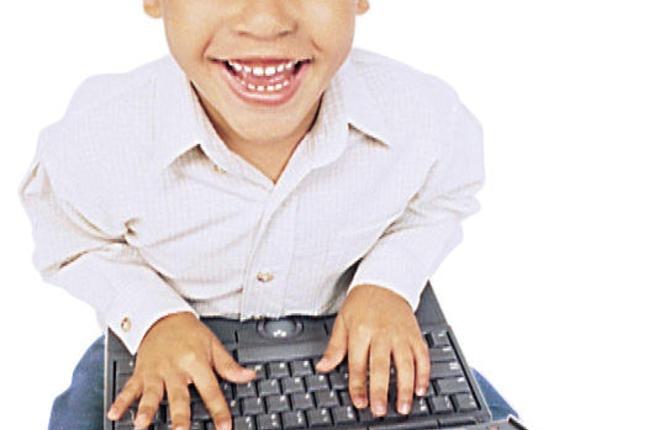 Laptops for kids
Now that laptop computers are outselling traditional desktop computers, it's a good possibility that your kids will try to sell you on the idea of getting them a laptop. But typical laptops can be expensive investments, most especially when the kids asking for them are between eight- and 14-years old. You're not out of luck. Here are four portable notebook computers that are $400 or less and cater to different age groups.
Asus Eee PC (Retail price: $400)
The Eee PC is easily the most popular of the small notebooks out on the market. It looks sleek and also harnesses a fair degree of computing power to boot. Its appeal is partly based on its bare bones features. There's no DVD drive, not much hard drive space to store files and no confusion on startup. Instead, you get a very streamlined laptop that splits the key functions into six options: Internet, Learn, Work, Play, Favourites and Settings.
The 7-inch screen is about the same size as a lot of portable DVD players out there, so kids will likely have an easy time getting accustomed to it. And because it has USB ports, it would be possible for your kids to have access to files through USB keys or external hard drives. It's also capable of wireless Internet access for a truly portable experience in the home.
VisionQuest V-Book (Retail price: between $300-$400)
The V-Book is purely Canadian-made from a purely homegrown brand in VisionQuest. The V-Book is also a first for the company and it seems to be a viable alternative for those looking to get something portable for their kids without breaking the bank. The V-Book actually comes in three iterations based mainly on screen-size and add-ons. The screens range from seven, eight to 10 inches. The eight -and 10-inch models also have a slot for SD memory cards that kids can use for photos or other files.
All three are also Wi-Fi-enabled, which basically means they can access a wireless Internet connection being transmitted. There are also outputs in case you want to connect them to a larger monitor. There's even less hard drive space built-in here, but with the included USB ports, it can be expanded where necessary. Playing video games might prove to be difficult given its limited power, a definite plus for parents who want their kids to focus.
VTech Double Vision Notebook (Retail price: $100)
The Double Vision Notebook is for a younger children, age 6-9-years, although you might be able to push that to age 10 or 11. Aside from its affordable price and portability, this notebook can also connect to a TV with an included cable for more activities. Unfortunately, the screen has no backlighting, so your kids wouldn't be able to see it in the dark. There is a mouse pad and mouse, depending on preference.
Games are spread out between those for the laptop only (of which there are 22) and others that will only work in TV mode (of which there are 34 more). Of course, those numbers include the games within the four included cartridges. The focus of the games varies from spelling and math to creative tools that help kids create presentations to show mom and dad.
Finding the Double Vision Notebook might be tough in Canada, but there are plenty of options to get it online from the U.S., which isn't too bad given the current dollar parity.
VTech Touch Tablet (Retail price: $100)
The Touch Tablet is geared toward kids as young as five-years, but the range can go up to 10 depending on the game being played. As you might expect from the laptop's name, touching is a key component to how it all works. For starters, the touch-sensitive screen is detachable, so there's less risk of anything breaking. Aside from the standard keyboard and mouse pad, there's also a stylus pen to use as well.
More than 120 activities are available under various subjects. Some of them are even presented within adventure games that keep kids engaged through storylines. Kids will also learn typing through various exercises. There's a music composer and even a savings tracker for those kids who want to keep track of pennies in a piggy bank. The screen isn't backlit, so using it in darker settings won't be easy on the eyes. And lastly, this might be hard to find in Canada though it seems Toys 'R' Us is carrying it.