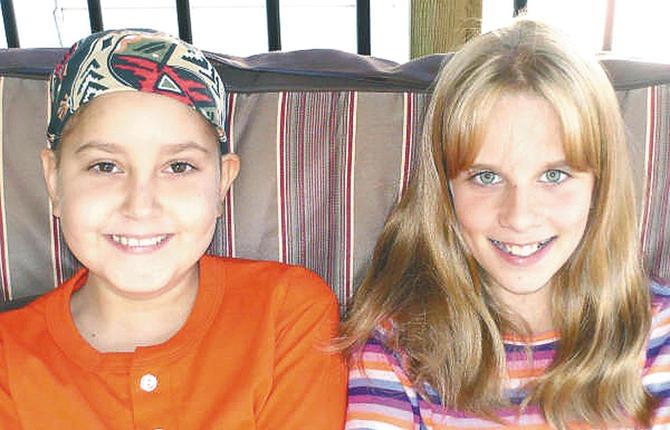 Kid of the Year – Exemplary Citizen
With loyal friends like Sydney Johnstone on his side, Evan Harris is in good company in his battle with leukemia.
One morning back in October, while Sydney's mom Bobbi Gooch was brushing her daughter's long tresses, in preparation for school, Sydney declared that she wanted to cut off all of her hair to be like Evan. This wasn't a trend, or peer pressure at play. Sydney worried that as Evan would inevitably lose his hair during chemotherapy treatments, he would become a target of ridicule at Woodward School in Hamilton, where the pair both attends. Sydney is in Grade 5, Evan in Grade 4.
Evan was diagnosed with leukemia in 2005 and underwent treatment. But he relapsed over the summer and was forced to undergo a second course of therapy. Sydney figured Evan needed an ally in his imminent baldness. And so a massive fundraising effort began snowballing. Shaving her head in front of the whole school produced eight ponytails, each 13.5 inches long for Wigs for Kids, and raised $5,700 for the Help A Child Smile charity.
This charitable, unselfishness earned the 10-year-old girl, City Parent's Exemplary Citizen award.
The newly shorn pony tails were eight of more than 125 given to Wigs for Kids last year. The locks help produce complimentary, custom-made hairpieces for children like Evan who lose theirs to illness.
The money that was raised by the haircut was directed to Help A Child Smile, a non-profit group that grants wishes to children with cancer and their families. Evan asked for and got a trip to a Blue Jay's game, courtesy of the organization.
"Sydney is a very compassionate, empathetic child who always wants to help where help is needed," said her mom. "There are not enough words to explain how beautiful this child is inside and out."
Indeed, the judges agreed.
City Parent columnist Rob Stringer (Classroom Secrets) and one of the judges in the Kid of the Year competition said he was "touched by Sydney's gentle and self-less spirit. Not many 10-year-old girls would publicly shave their head for a friend."
While their baldness makes shower time quicker and getting out the door for school a whole lot faster these days, woolen hats are a must in these winter months, said Sydney. Shafts of hair on Sydney and Evan's heads are poking through and growing quickly though.
Sydney is happy to report that her buddy is doing better health wise. She continues to accompany him to appointments at the hospital as often as she can and they manage to play together more often than not. Video games and High School Musical figure prominently in their entertainment.