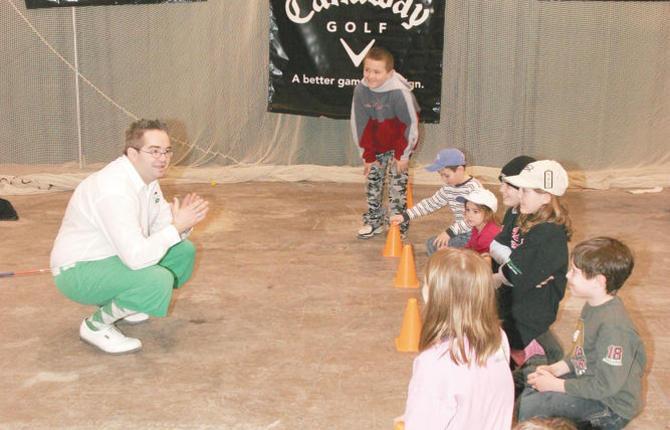 Golf show caters to kids
The next best thing to being able to play golf is a making the rounds at the Toronto Star Golf & Travel Show at the Metro Toronto Convention Centre, February 29-March 2. In its 19th year, this is an event for the whole family with the Junior Zone sponsored by Pizza Pizza for the youngest golf fans and an all new ladies' zone.
The Junior Zone offers even the littlest of tykes the opportunity to learn about golf in a fun and educational way. Parents are encouraged to drop the kids off for a half-hour session with Mr. Knickers and Sticky Dave, two Canadian PGA members who share their enthusiasm for the game by teaching skills in ways that kids enjoy. Junior golfers will come away with some new skills and tips from the pros. The Pizza Pizza Putting Challenge gives kids the chance to learn golf techniques while participating in a fun challenge. Pizza Pizza will be giving away a free club to the first 200 kids each day at the show. Kids under 12 get free admission to the show.
For the first time women will find an area of their own on the show floor. The Lipton® Ladies Tee, sponsored by Lipton® Green Tea, will feature women's fashions, clubs and accessories. As you might suspect, there will also be samples of Lipton Iced Teas, just what's needed to refresh a golfer on the course or in this case, a show visitor. You can also get a coupon for Lipton Iced Tea's antioxidant-rich beverages but quantities are limited. Also at the Lipton Ladies Tee, pick up a Lipton tee bag (looks like a teabag but contains tees and a ball marker), and guess how many tees fit in a bottle of Lipton Green Tea with Citrus for a chance to win fun prizes from Lipton.
For information on the Toronto Star Golf & Travel Show call 905-815-0017 or go to www.torontogolfshow.com. Admission is $15 for adults, children under 12 free with an adult.