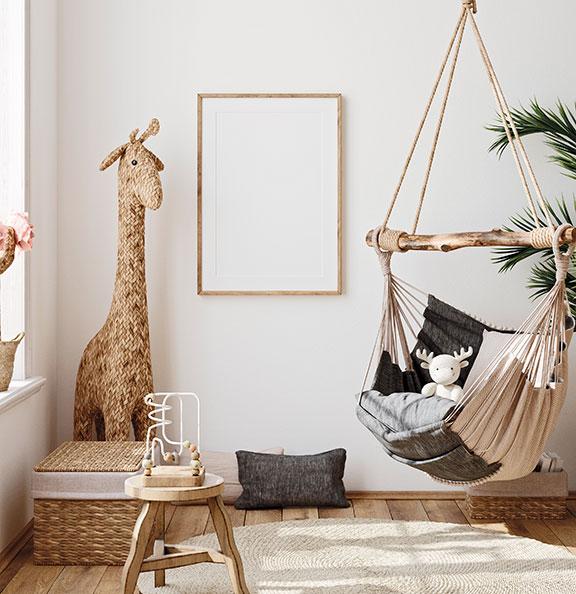 Decor: Kid's Room – Small Spaces
Space is always an issue. We never seem to have enough. But when it comes time to incorporate a child's room within a smaller environment, what's the key to a harmonious living and design arrangement?
Multifunctional pieces.
Today's parents are looking for transitional pieces that can take them through various stages of the child's growing years. Furniture needs to have double-duty applications. For instance, repurposing an existing dresser and then building a change table top to fit on it. Now you have an area to store diapers and more. When the child is older, you can remove the change top and you have a dresser. Simple.
When designing their room, remember children view the world from a lower perspective than we do, so get down to their eye level. But don't forget to take advantage of all that vertical wall space. Consider creating higher shelving. Maybe add a plate rail around the room and use that as storage for all the stuffed animals. It's a great way of getting these things off the floor but still within view. Then whatever the child fancies that particular day, you can take it down and give it to them, and then put it back in its place when they're finished playing with it.
Sometimes, the designated child's room may have originally been a den or home office, lacking any privacy by means of a fixed door from the main living space. A great solution is to divide off the room with back-to-front storage or wardrobe cabinets. In an instant, you've created a great visual divider, plus an additional storage source.
As for the overall décor itself, it pays to be more selective, keeping the room relatively neutral and not to go overboard on themed rooms. Instead, add small touches of whimsy. It will help when making the transition as your child gets older.
It's those special pieces that can really add the magic. Although themed rooms depicting favourite nursery rhymes or storybook characters are still very popular, today's trend is creating children's rooms that are a little more grown-up. This way, the investment is more long-term, and creatively, you've managed to unify your space by incorporating your home's overall décor style.
If your look is French Country, why not inject the same feeling in the child's bedroom but with a youthful, playful twist? And when it comes time to paint the walls, keep the contrasts between the floor, wall and ceiling to a minimum. It's not light or dark colours that make a room seem small – it's all the contrasting colours. Let the toys add the splash of colour by keeping things fairly neutral.
With budgets always a concern – keep it simple. Instead of buying kid-sized furniture, invest in furniture they won't outgrow. You can always modify accessories like drawer knobs and lampshades, so have fun with these items. Add the playful elements with smaller décor pieces like a hand-crafted mobile or a wall hanging. It's amazing how much charm a few simple pieces can bring to a child's space.
And if your home is beginning to look like Fisher Price has planned an extended visit, an ottoman that doubles as storage is a great idea. At the end of the night, you just open it up, and store all the toys away. Like magic, your space becomes yours again.
Remember to keep the space safe for you and your child. There are many options for today's parents, like safety gates, cabinets and door locks, just to name a few. Getting a home consultation from a safety provider might offer the solutions to fit your needs as your toddler becomes increasingly curious and more mobile. And don't forget to install a working smoke alarm in the room, and if you have a fuel-burning appliance, like a fireplace, or an attached garage, a carbon monoxide detector must be installed adjacent to each sleeping area.