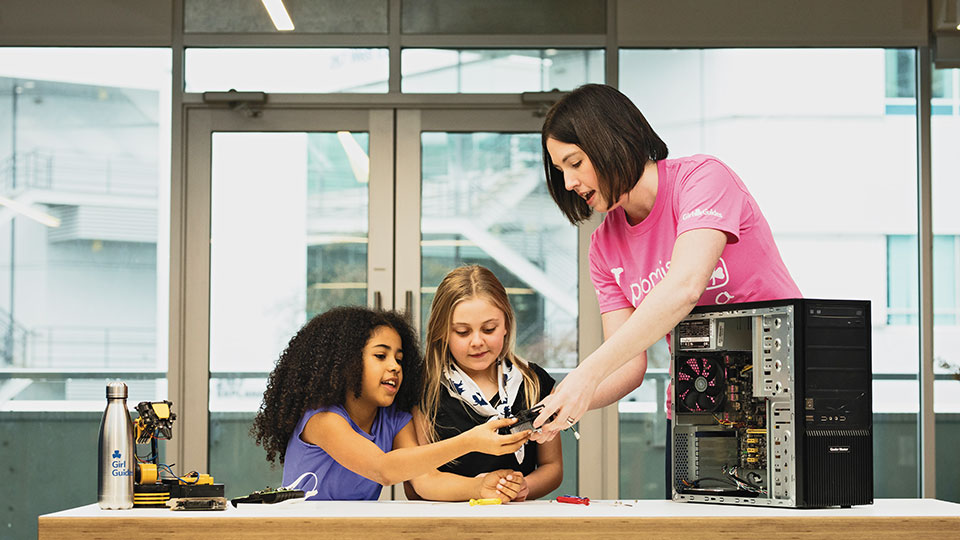 Changing The Narrative: The STEM gap in Canada is real.
According to data from Statistics Canada, women make up only 34 per cent of STEM (science, technology, engineering, and mathematics and computer science) bachelor's degree holders and only 23 per cent of Canadian science and technology workers between the ages of 25 and 64.
This creates further challenges for women because science and technology occupations, particularly in engineering and computer science, are among the highest-paying and fastest-growing occupations in the country. It's also a problem for these industries because Statistics Canada said numerous analyses have found that greater diversity strengthens innovation and performance in these fields.
So, why aren't women pursuing education and careers in STEM?
The research found there were "leaks" in the STEM pipeline, with women leaving the fields at various points between high school and entering the workforce. The data pointed to a loss of interest in the STEM curriculum, which was related to women not self-identifying as scientists, feeling isolated or out of place in STEM classes (due to being greatly outnumbered by male peers, or to unequal treatment by professors and/or peers), and having lower academic-self-confidence than men of equal academic ability.
As a result, many women in STEM report feeling isolated and out of place by the time they do reach the workforce.
Boosting representation in STEM
In an effort to encourage girls to consider careers in STEM and to increase representation in those fields, General Motors Canada, in collaboration with the Ontario Network of Women in Engineering (ONWiE), supported more than 20,000 Girl Guides across the country in partnership with Canadian universities on designated "Badge Days."
On these inspiring days, 10 Canadian universities brought STEM workshops to participating Girl Guides groups across the country. During these events, Girl Guides (ages nine to eleven) were invited to take part in hands-on activities, meet other like-minded students and hear from undergraduates about what university life is like in engineering.
"Despite the attention given to the underrepresentation of women in the fields of STEM in recent years, the gender gap persists in this country," says Louise Kent, Director of Member Experience, Girl Guides of Canada. "With our lives becoming increasingly digital, it's more important than ever to encourage girls to explore careers in these fields for their benefit and for the benefit of these industries. Girl Guides opens doors for girls to explore all of the possibilities in the world of STEM and beyond through programming and connections with women role models. That's why we're so grateful for GM's support on 'Badge Day' so the next generation of girls can see what they can achieve."
The support for "Badge Day" is part of GM's ongoing commitment to promoting gender equality, especially in the male-dominated STEM fields.
"GM believes in the power of diversity of thought to propel innovation forward, which is why we're encouraging girls to pursue careers in STEM-related fields," says Regan Dixon, Chair of the STEM Committee and Senior Engineering Manager at GM Canada. "Thanks to our partnership with ONWiE, we were able to give thousands of Girl Guides experiences that exposed them to the vast educational and career prospects in STEM. While there's still a long way to go to achieving gender equity in these professions, we're excited to be able to provide support to drive positive change."
GM's continuing effort to drive positive change includes further collaboration with ONWiE through their Go ENG Girl and Go Code Girl programs. This support is part of GM Women in Engineering's dedication to engaging with community programs that uplift and empower women and girls.