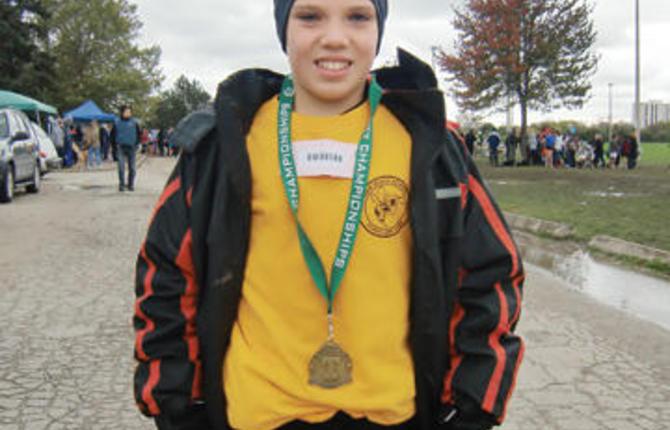 Amazing Kids
There are a lot of things that come to mind when we hear of someone who is a talented, award-winning athlete as well as an inspirational, self-motivated leader and fundraiser for juvenile diabetes. Modest is generally not one. Nor is being 11 years old. But those are exactly what Toronto's own Michael Thornton is, which is why he is an amazing kid.
At the age of six Michael was diagnosed with type 1 diabetes, a diagnosis that would forever change his life. Where most people – both children and adults – would have taken the news as a hindrance, Michael tried to understand his disease and eventually came to accept it. "Never once did he ask 'Why me?' or cry about it," says Debbie, Michael's mother.
Instead, she says, his diabetes motivates him to work harder in every aspect of his life.
Michael uses an infusion therapy pump to control his diabetes, a device that gives him a continuous flow of insulin infusion therapy. "It makes life easier," says Michael as he speaks about how greatly he favours his pump over the previous regimen of needles he had to endure each day.
Michael is a very dedicated athlete. He plays on many sports teams for his school, including soccer, cross-country, volleyball, rugby and track. Outside of school, Michael's passion for sports seems unyielding. He plays with the Master's Futbol Academy dedicated to making kids future professionals. He is also a member of the Flying Angels Track Club. Michael recently won the Toronto District School Board City Title for Cross Country in the grade six boys division, where he won the two previous qualifying races. He is also the Undefeated Toronto Conference and City Champion in the 100 metre Sprint since 2009, Cross Country Toronto City Champion, 2010's 50 and 100 metre Ontario Sprint Champion at the Ontario Hershey's Track and Field Championship and the Ontario Provincial Champion in 100 metre Sprint and Long Jump for both 2008 and 2010. But Michael's impressive sports resume continues. At the age of nine, Michael became an Ontario provincial record holder in Long Jump, breaking a 33 year record in his age group.
When Michael grows up he hopes to play soccer professionally. This year Michael's school soccer team became Conference and City Champions for grade five boys – a title his barrage of gravity-defying goals helped win.
Between soccer, track and managing his diabetes, you would expect schoolwork to take a back seat in Michael's life. But Michael continues to pleasantly surprise with his straight A report cards. At Kew Beach Public School, Michael has become a role model to the entire community, both on and off the field. He acts as the school's advocate for diabetes awareness, helping other students and teachers learn and deal with the disease. He is very open about his condition, going as far as to explain to his new classmates how he checks his blood and showing them the pump he uses to inject himself with insulin.
But Michael doesn't stop with only educating his classmates. Every year, this 11-year-old boy stands in front of his school and speaks passionately about diabetes and the Juvenile Diabetes Research Foundation (JDRF), the organization he fundraises for.
As well as his yearly presentation about the JDRF, Michael also participates in many of the JDRF's fundraisers, entering their walks, runs and races. He also helps organize fundraisers and events dedicated towards finding the cure to diabetes, raising nearly $80,000.
The first fundraiser he helped organize, Dunks for Diabietes, which gained support from Toronto Raptor's star Joey Graham and raised approximately $3,500 for Juvenile Diabetes, but for Michael this wasn't enough. In 2009 he organized another campaign, Kick for a Kure, which raised nearly $4,000 for Juvenile Diabetes. But his most memorable and enjoyable campaigns are the yearly Haunted Graveyard that his family, along with the rest of their neighbourhood, put on each Halloween. It started, says Debbie, with the Thornton's neighbour who has a nephew with diabetes. The Haunt was set up with a donation box at the entrance, where onlookers could make donations that go to teh Juvenile Diabetes Research Foundation.
It has since become a Halloween tradition for the block, a tradition that Michael has helped raise over $18,000 in donations for the charity throughout the years.
In his 11 years, Michael has done more than most people, and yet he remains humble and selfless. When asked who his heroes are, instead of answering some actor of a famous sports legend, Michael says, "My parents." He explains how they've helped him in managing his disease and expresses his gratitude for all that they've done for him.