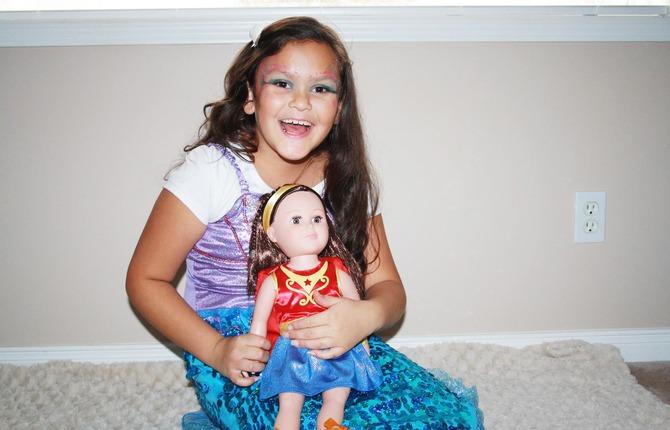 All dolled up: playing in a doll universe
By Kinjal Dagli Shah
Nine-year-old Trinity Ann was an only child until last year, when her baby sister Tesla was born. It was Darcy and Audrey who kept her busy – she would bathe and feed them, sing and read to them. Her 18-inch dolls acted like siblings or friends, or her babies, depending on the role Trinity chose to assign them.
"She's been taking care of the same two dolls for four years and they still look new. They have taught her responsibility. She keeps their area clean, folds their laundry and saves her allowance money for them," said Trinity's mother Jennifer Bechan.
Dolls have long captured the imagination of little girls, and boys, and are possibly the oldest known toy. The 18-inch doll prototype, however, has created a parallel universe – one that mirrors modern human life. From spas and bistro tables, to pet grooming and musical rooms, everything seems available in a miniature size. The brands are many – American Girl, Journey Girls, Newberry, World Vision Heart4Heart, Our Generation, Maplelea Girls and My Life dolls – and each one sports a different profile. 
Unlike regular dolls, these already have a story and a character, defined by their name, outfit as well as skin, hair and eye colour. There are school girls and ballerinas, ice skaters and holiday dolls. They can be sent to 'spas' if they are ever in need of repair. All this for a price; the dolls themselves range from anywhere between $35 and $100, with clothes and furnishings a couple hundred more depending on what and how much.
Trinity ensures that her $9 allowance per week goes towards fulfilling the needs of her dolls. "The doll dresses are expensive – about $11 each, and shoes are a few bucks for each pair, so she doesn't buy as many but she is good at saving her money," explained Ms Bechan. From the experience Trinity learned to be creative and saw the value in reuse. 
"Trinity's baby sister Tesla was a preemie at birth so she is able to use some of her clothes for her dolls. She made beds for the dolls out of boxes that she painted and put blankets inside to make them comfortable."
Years of make-believe play did wonders for Trinity, especially when her baby sister was born. She was able to put her play into practice. "Trinity is like a little mommy with her sister now. The love she has for her dolls has helped her become a responsible elder sister," said Ms Bechan.
Trinity is part of an entire generation of girls, and some boys, who are forming real relationships with their dolls, bringing them everywhere they go and caring for them. Some, like sisters Hanna and Talya Goldstein, took it a step further. They decided their dolls, Grace and Mary Ellen, needed a coffee shop to go to so they made a Starbucks for them with cardboard cups. 
"My daughters involve themselves in many do-it-yourself projects for their dolls. They reuse stuff around the house, make movies featuring themselves and the dolls and have set up a room for them," said mother Sagit Vitebski.
At Petite and Posh, a company created to cater to the growing popularity of experiencing 18-inch dolls, a tiny universe lies within. It's where dolls get hairstyles in doll salon chairs, new outfits are created for them, and tea parties are organised. On Dolly Tuesdays, as they are called, an afternoon priced at $35 includes cupcakes and lemonade, a dress up session, a bracelet and accessories-making session, a doll hair tutorial and a fashion show for girls and their dolls.
Ironically, Petite and Posh is the brainchild of a male who was looking for an experience to gift to his niece. Robert Canone had been to several tea-rooms, dress-up places, and doll boutiques with his niece Ella, and wanted to "capture the royal sensibilities of each to come up with an enchanting venue." 
His sisters, Laura and Josie Cannone helped turn the idea into Petite and Posh, a place in Vaughan that girls visit with their dollies. The goal, said the Canones, is that "children of all ages will be able to be more social and establish meaningful connections with one another, while doing so in an elegant, technology-free environment."
While most of the visitors at Petite and Posh are girls, they do have visits from boys. "I would estimate that 20 per cent of children who attend our parties are boys," said Laura Cannone.
However, there isn't much in the market catering to boys, who naturally prefer boy dolls. The numbers are skewed in favour of girl dolls so mothers like Emily Dimmell make their own boy dolls. "My 7-year-old son Manning showed a keen interest in playing with his sisters' American Girl dolls but his friends at school told him they are for girls. So I ended up transforming a girl doll into a boy. I cut the hair, painted the clothing and removed the makeup," said the mother of four, adding, "Men deal with babies and children all the time so I don't see why only girls should be provided an opportunity to engage in make-believe play."
Manning is happy with his boy doll, Adrien, and takes him everywhere. When the doll recently broke his foot, Manning made a cast is taking care of him while it heals. After all, boys have a heart, even if their dolls don't. 
Kinjal Dagli-Shah is a journalist and mother to a girl and a boy. She has written for publications in India, the US and Canada. She lives in Stouffville, Ontario.