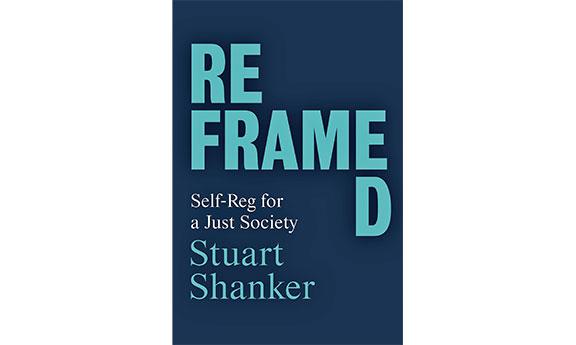 Understanding Self-Regulation with Dr. Stuart Shanker's new book Reframed
If you're looking for your next great read, Dr. Stuart Shanker's latest book, Reframed Self-Reg for a Just Society is a must buy. This latest book is the third in a series of books written by Dr. Shanker about teaching and managing self-regulation for a healthier and just society.
Unlike the first two books of the series, Calm, Alert and Learning and Self-Reg which were written for educators and parents, Reframed is written for everyone. It dives deeper into teaching the reader how to understand stress and apply the five domains of self-regulation: biological, emotional, cognitive, social, and prosocial to manage stress.
In today's society, children and adults are dealing with too much stress and often using maladaptive or unhealthy ways to cope with their stress. Children in particular are not getting the developmental experiences they need to turn off stress and calm their mind and body. By learning healthy self-regulation, everyone, regardless of age, can effectively regulate and manage their stress.
Reframed discusses the most recent advances and ground-breaking discoveries in neuroscience. For example, three years ago, a team of researchers discovered the neurobiological connection between the brain and emotional responses like loneliness, stress, and other feelings. This discovery is a game changer in our knowledge on where emotions come from, and the essential skills needed to turn off or address each response.
Through his research, Dr. Stuart has developed proven self-regulating techniques to help children, teens, and adults recognize and manage stressors in healthier and more restorative ways so you can live a happier and more fulfilling life.
Reframed is based on Dr. Shanker's three basic principles and of self-regulation:
• There's no such thing as a bad, lazy, or stupid child
• All people can learn to self-regulate in ways that promote rather than constrict growth
• There's no such thing as a fixed outcome. Trajectories can always be changed with the right knowledge and tools
Reframed teaches you how to use Dr. Shanker's five-step method for managing stress:
1. Reframe the behaviour
2. Recognize stressors
3. Reduce stress
4. Reflect on feelings
5. Restoration
The book discusses each step in detail so readers gain a better understanding of how to recognize open and hidden stressors and find productive, healthy ways to reduce stress. Dr. Shanker's hope is that, by understanding and learning his highly effective techniques for self-regulation, we can build a more compassionate and just society.
Dr. Stuart Shanker is a Distinguished Research Professor Emeritus of Philosophy and Psychology and the founder and Science Director of the Self Regulation Institute (SRI) and MEHRIT Centre. He has dedicated his life to studying neuroscience and healthy child development. He has spent decades studying stress and how to manage this energy safely and effectively through healthier, self-regulating methods. His research and proven self-regulation methods are recognized globally by parents, educators, and other professionals.
Dr. Shanker's research in neuroscience, child development and stress management through self-regulation ground-breaking. His methods are used by teachers and parents in classrooms and homes to help children develop positive and healthy methods for regulating their stress.
Along with his research and work in the two organizations he founded, Dr. Shanker has spent many years throughout his career volunteering and working with several child development and university research institutes. He has served as an advisor for government agencies and educational organizations both nationally and internationally. He has written several books and often speaks at conferences, workshops, and forums on his proven self-regulation techniques in stress regulation.
Reframed Self-Reg for a Just Society is now available at Indigo Chapters, Amazon and through Dr. Shanker's organizations.