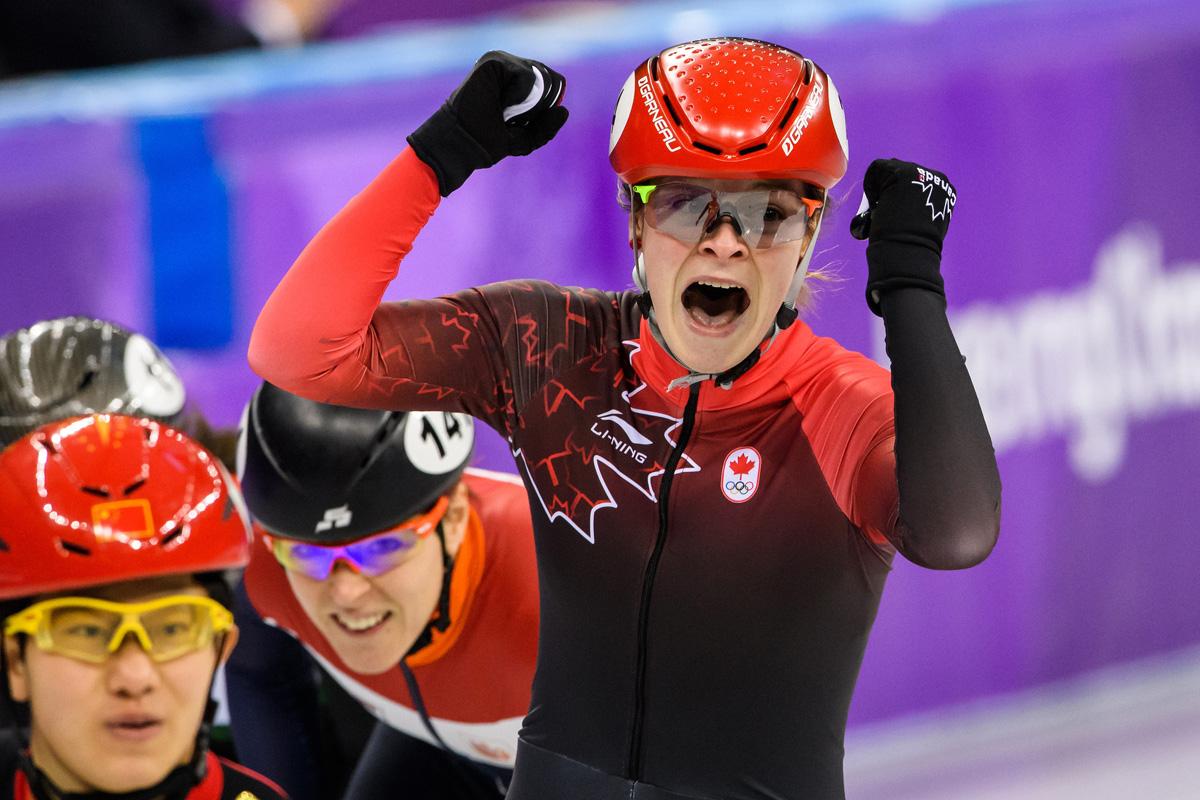 Passing the torch: Olympians' stories aim to inspire kids
By Marylene Vestergom
By sharing stories of Canadian athletes, the Canadian Olympic Committee (COC) hopes its new multimedia series "Pursue" provides inspiration and, most importantly, life lessons that kids Grade 2- 12 can connect with and apply in their own lives. 
Since the 1988 Winter Olympic Games in Calgary, "The Canadian Olympic School Program has helped bring lessons from the Olympic Movement into classrooms across Canada," says Tricia Smith, President, COC.   "This new resource will build on that tradition and help inspire kids to learn from and live by the Olympic values demonstrated by our Canadian athletes."
"Pursue" weaves the stories of 11 Team Canada Olympians from the 2018 PyeongChang Winter Olympics, carefully threading the course of their athletic careers starting with "The Dream," followed by "The Performance," "The Journey," "The Joy" and then finally, "The Passion."
"These are powerful stories from Olympians who have faced success and challenges," says Sandra Sassine, Olympian, Program Manager, Olympic Education, "and kids will learn about their journey and how they dealt with those hurdles to pursue their dreams. These are important life lessons these athletes wanted to share."
Sport has always been a vehicle for life lessons; whether you're playing a sport or not, the skills learned are transferable in your everyday life.  You don't need to have pursued a sport to learn from it. Sassine believes by sharing these stories the kids will appreciate the sentiment. "It's not what you accomplish in life that defines you. It's how you live it, and how you deal with the disappointments and successes. "Pursue" is about opening the door for further discussion in the classroom with teachers, coaches or at home."
For instance, you may not think an Olympian would have to deal with bullying at the Olympics. But that's what happened to Kim Boutin, speed skater, as she recalls her life lesson in "The Journey." 
Boutin came in fourth and then learned the Korean skater was disqualified for an infraction, opening the door for a bronze medal for her. A happy occasion, yet moments before she was awarded her bronze medal, she checked her social media messages and saw an onslaught of negative comments.  "I was so scared. I didn't want to continue with the Games."  Boutin did conquer her fears and with the support of her teammates was Canada's only triple medallist of PyeongChang 2018.
Along with the videos, there are lessons in which the kids are asked to reflect on Boutin's experience. For instance, what if she hadn't been brave, cracked under the pressure and quit the Games after her first race?  The kids are then asked to think of a time when they had to be brave: What was it that made you afraid and how did you overcome it?
This self-reflection is key to getting kids to think about how they may have faced a similar situation.
"There is strength inside each of us," says Boutin.  "My strength was believing I could stay focused on my goals and skate well when it counted.  I also decided to focus on the good messages. These came from people who liked me. I chose not to focus on the bad ones from people that said they didn't like me."
In the video called "The Passion," kids learn passion was the driving force that got the Canadian Luge Team through Sochi, where the team of Alex Gough, Sam Edney, Tristan Walker and Justin Snith finished fourth and then went on to win a medal four years later in PyeongChang. They could have quit after Sochi, but they still loved the sport and as a team, they knew they could achieve more.  After all, they had a dream. The team's passion helped them to win an Olympic medal. 
"It's important to find the thing you love to do and then pursue it," says Sam Edney. "I have faced a lot of challenges throughout my career, I've had to overcome many obstacles and I've learned to push through, but that's part of my journey.  We finished fourth in Sochi and then created a goal out of disappointment four years later; kids should learn that it takes perseverance to reach your goals."
In each of the three videos and the accompanying stories and lessons, "The kids learn of these Olympians' experiences and realize you don't need to be an athlete to experience or understand passion," says Edney. 
"The hope is the moment kids hear about an athlete's journey, the ups and downs, about goal setting and the passion they had going after their dreams, that it resonates and leaves a lasting impression," suggests Edney. "They too can apply some of these lessons in their daily activity – not just in sport."
"We want kids to be inspired by these stories," says Sassine, "and then take time to think about the things they are passionate about. Maybe they're interested in sports or the arts — it doesn't matter – the first step is identifying their dream, their passion and going for it!  It doesn't matter how many times you fall, what matters is how many times you get up."
These online bilingual resources are free and available to parents, teachers, coaches, and kids.
To learn more about the Canadian Olympic School Program and to view the "Pursue" videos and lessons visit: olympic.ca/education/featured/