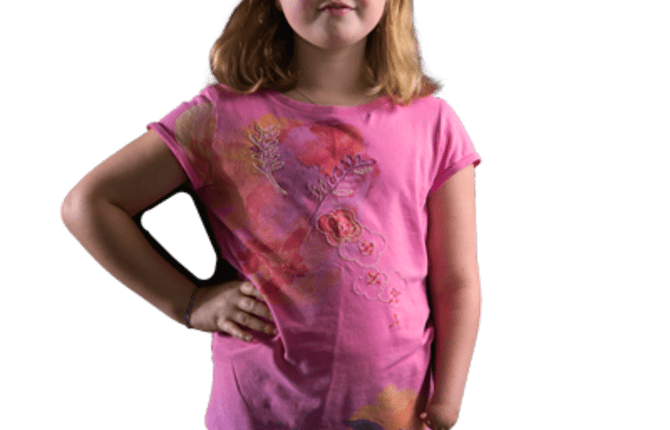 Claire keeps on overcoming barriers
This is one of a series of testimonials from kids who receive care at Holland Bloorview Kids Rehabilitation Hospital. As part of a fund-raiser, Scotiabank will donate $5 per video share and match all individual donations. Use this link to find Claire's Story video.
http://changeforkids.ca/our-stories/claire/
Claire's story
I wanted a guinea pig so badly. I thought that my parents might buy me one if I impressed them with my guitar skills.
Some people might think playing a guitar would be hard for me. I was born with a left small arm and finger nubs because of a blood clot that formed in my arm when I was still inside my mom.
When I wanted to learn to play the guitar, the prosthetics staff at Holland Bloorview Kids Rehabilitation Hospital made me a device that lets me hold a guitar pick. I've been taking lessons for a year and can play lots of chords.
And when the time came, I performed my song so well that my parents got me a dog instead!
Whenever I find something new that I want to try, I know Holland Bloorview will help me. They learn about my next goal and make me a new, custom attachment that will help me do what I want.  I call these devices my 'helpers', and they help me do all the things I really love.
When I told them I wanted to do cartwheels, they made me a helper that looks like a mushroom. It helps me keep my balance and also helps me do hand-stands and other gymnastics.
Last summer, my friends were going kayaking and I really wanted to go with them! Holland Bloorview made me a new helper that lets me hold a kayak paddle. I love kayaking and just love to be on the water.  My mom says I'm a natural.
I use another helper when I want to ride my bicycle with my friends. It lets me grab the handle bars and steer my bike safely. Another helper lets me play tennis – it lets me drop the ball so I can serve!
I really want to try basketball next and I know that Holland Bloorview will create a helper that will let me bounce the ball and shoot, and play with the other kids. I can't wait to crush my next barrier!
– Claire, Age 8