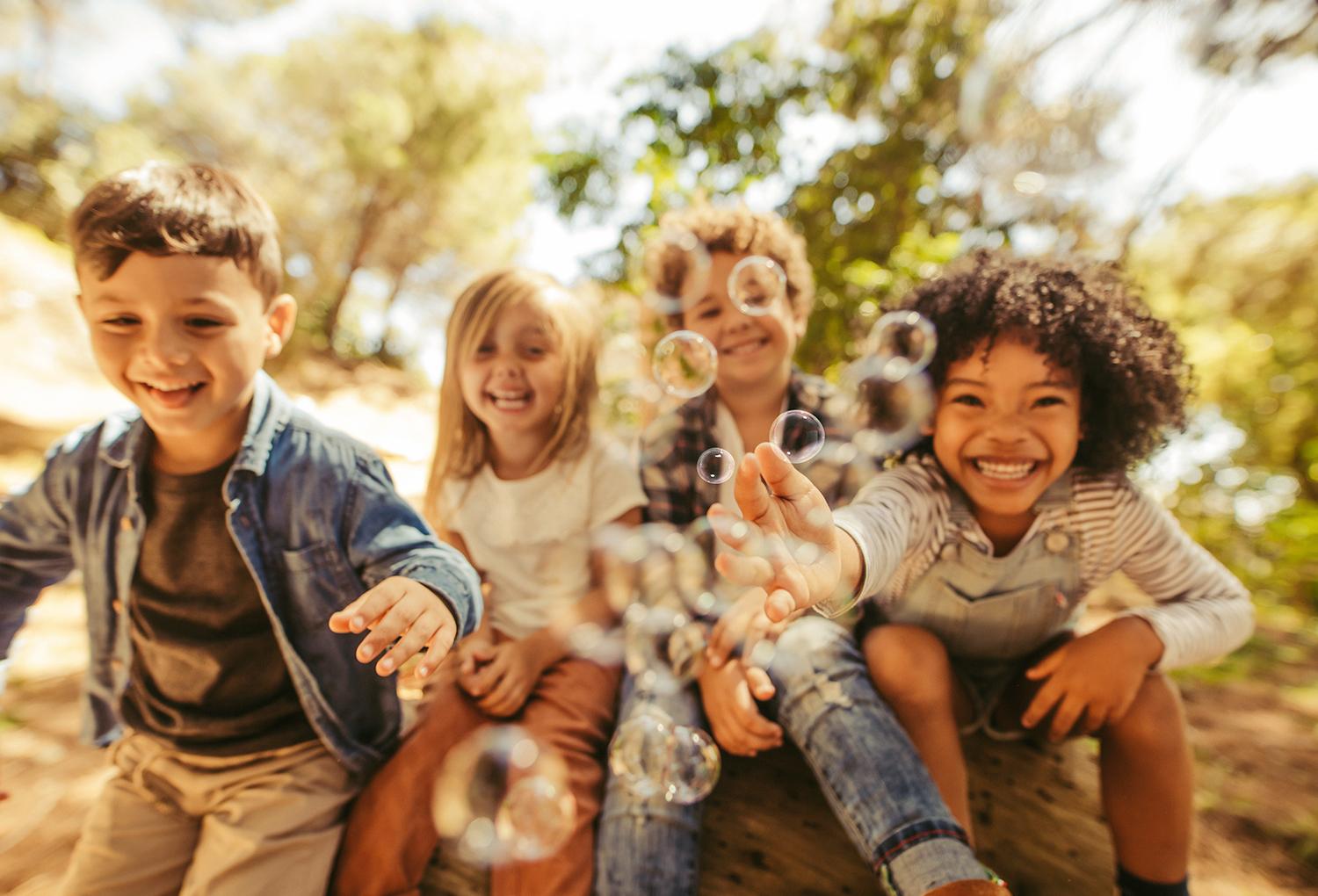 Summer Guide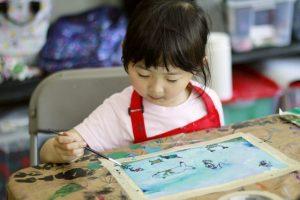 Watercolour Painting Camp
Summer Virtual Art Camp for Kids (5+ & 9+)
July 5 – August 27, 2021
Mon – Fri | 10:00 – 11:30am EDT
Watercolour is easy to set up, easy to clean up, and leaves minimal mess! Campers will learn various watercolour techniques step by step, and ways apply them to make unique paintings, exploring a different subject each day.
---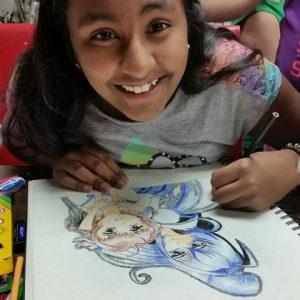 Anime Drawing Camp
July 5 – September 3, 2021
Mon – Fri | 12:30 – 2:00pm EDT
Did you know that in order to draw anime, you need to learn drawing fundamentals? Campers will learn how to sketch, plan a composition, draw clean line art, apply cel shading and colouring techniques. Explore the creative process of drawing anime and manga, and meet new friends who share your love for anime culture!
---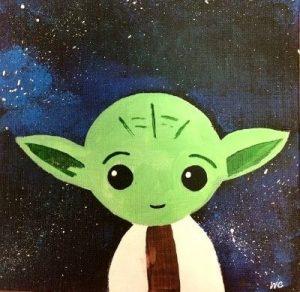 Acrylic Painting Camp
Summer Virtual Art Camp for Kids (5+ & 9+)
July 5 – August 27, 2021
Mon – Fri | 1:00 – 2:30pm EDT
Learn the creative process and techniques to mixing colours, shading and blending with paint, tips for realism, and the tricks to successful compositions and colour palettes! This camp teaches fundamental painting techniques with step by step demonstrations and personalized guidance to create original and meaningful work.
Sign up with a friend and save!
Mention your friend's name and use promo code "ARTFRIENDS" at registration to save 5% each! Siblings sharing a screen save 15% each!
---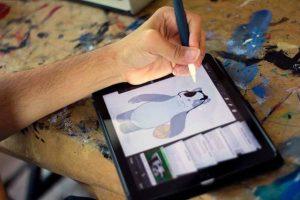 Digital Art Camp
Summer Virtual Art Camp for Tweens (9+)
July 5 – August 27, 2021
Mon – Fri | 2:30 – 4:00pm EDT
Explore the creative process and design thinking to create your own characters, background art, and more! Lessons will be taught step-by-step, with time for open exploration and live feedback from the instructor.
---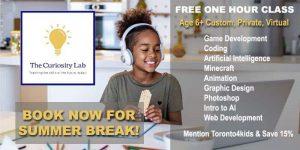 Curiosity Lab Online Enrichment Programs
Add a little fun, structure and STEAM to your child's Summer! At The Curiosity Lab, we offer 1 on 1, private, exclusive virtual classes. Ages 6 -18 +, any level welcome! No experience necessary. Enrichment students welcome! Choose daily or weekly private virtual classes. Focusing on Excellence in Education, we offer customized classes in the following areas: Game Development, Coding, Artificial Intelligence, Minecraft, Minecraft + (science, math, physics, language), Animation, Graphic Design, Web Development and much more! Our instructors are specialized in STEAM instruction. Teach your kids the skills of the future, today! Free 1 hour trial class.
---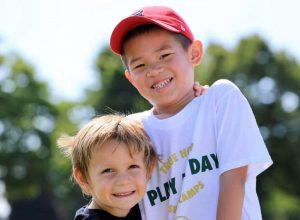 True North Mini Camps- Summer Sports Camps
True North Mini Camps will be offered again this year – in addition to outdoor sports camps.
Mini Camps are private programs located in your backyard or local park, operated by a dedicated instructor. Beginning in June, Mini Camps will be offered for 2 or 3 hours per day from Monday to Friday at a time slot convenient for you. We will send an instructor to the location of your Mini Camp with all of the necessary equipment for each sport and a schedule for each day. All instructors will be senior staff members and will be specifically trained to carry out this program.
Mini Camps are designed to be an organized multi-sport program that is customizable by a Host Family in terms of programming and attendees.
---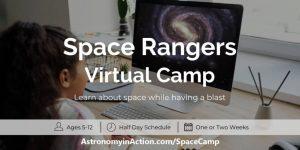 Space Rangers Virtual Camp
Space Rangers Virtual Camp is an exciting and educational half-day camp for kids who want to uncover the secrets of the universe. At camp, kids will become Space Rangers!
Their mission: Have a blast while exploring planets, galaxies, black holes, aliens, and more. Our space experts will engage with campers over Zoom with a variety of interactive visual activities that will inspire young minds in STEM, promote critical thinking, and create excitement around space exploration.
---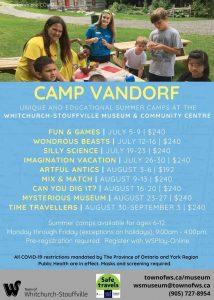 Camp Vandorf
Unique and educational summer camps at the Whitchurch-Stouffville Museum & Community Centre! Available for ages 6-12. Camps run Monday through Friday (exceptions on holidays) between 9am to 4pm. Pre-registration required. For more information please email wsmuseum@townofws.ca or call 905-727-8954.
All COVID-19 restrictions mandated by the Province of Ontario and York Region Public Health are in effect. Masks and screening required.
---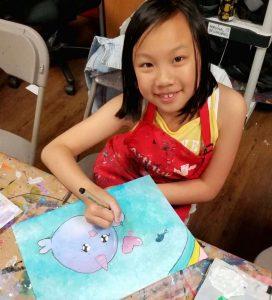 Summer Art Camp for Tweens (9+)
Live online art lessons in drawing and painting…designed for tweens 9+!
Summer is a great time for tweens to sharpen up their visual art skills and grow their imaginations! Preteens will learn how to draw their favourite anime, design original characters, sharpen up their painting skills, and learn digital art techniques! Try our online synchronous learning model designed for preteens, and don't miss out on the creative fun!
---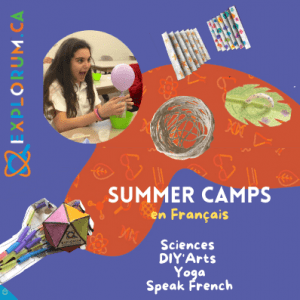 Speak French – Beginners
Learn French the FUN Way!
Learn the language by "living" it. We are not a school that teaches "grammaire, conjugaison and memorisation." Fun, immersive conversation in different disciplines: sciences, geography, cultures, legends etc.
8-13 year olds
2 week sessions
Monday to Friday
2:15 pm to 3:15 pm
---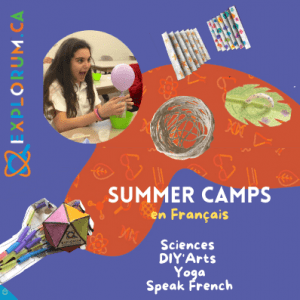 Learn French the FUN Way!
Learn the language by "living" it. We are not a school that teaches "grammaire, conjugaison and memorisation." Fun, immersive conversation in different disciplines: sciences, geography, cultures, legends etc.
8-13 year olds
2 week sessions
Monday to Friday
1:00 pm to 2:00 pm
---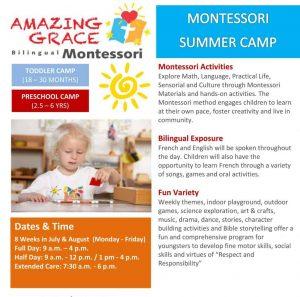 Registration for Summer Camp is now opened!
Featuring 8 weeks in July and August, toddlers and preschoolers will explore the Montessori method in fun and engaging ways through our weekly themes.
Ages: 18 months to 5 years-old
Options: Full Day, Half Day, Extended Care
Please visit our website for more details!
Contact us for the Registration Package.
---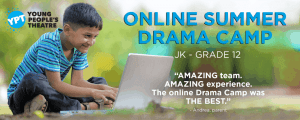 This summer, don't miss out on all the drama – join us for Young People's Theatre's Online Summer Drama Camps! From July 19 – August 27, fun-filled camps will be held online for JK-Gr. 12 for one or two-week sessions, led by an experienced faculty of professional artist educators. For Grades 4 & up, each camp culminates in a play performed for family and friends online. Plus, we're offering specialty camps for Gr. 8-12, including Contemporary Canadian Monologues and Film Camp! Registration opens Monday, May 10. Now in its 52nd year, YPT Drama School's priority is to create safe and fun spaces for kids to grow, learn, express themselves and find community. We can't wait to see returning students, and to welcome new students – wherever you are – this summer!
---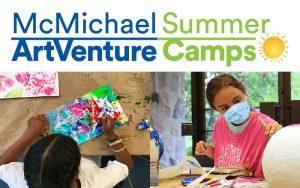 Week-long sessions throughout July and August.
Programs run from 9 am to 5 pm
The McMichael Canadian Art Collection provides an unmatched environment for children's art camps, with a unique combination of spectacular grounds overlooking the Humber River Valley and a world-famous art collection. Driven by the talent of the best young artists and art instructors in the Greater Toronto Area, each camp includes in-gallery art viewing, outdoor activities, and in-studio artmaking. Campers are encouraged to harness their creativity into artistic pursuits and meet new friends while exploring the art of Canada.
To ensure the health and safety of staff and participants, the McMichael has restructured the camp and increased the ratio of healthy outdoor activities to balance the time spent on indoor projects and gallery explorations. Rigorous cleaning and social distancing procedures will be implemented to ensure that campers have a safe and enjoyable summer experience.
---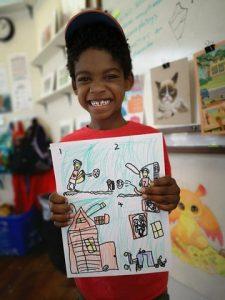 Creative Cartooning Camp
Campers will learn all about different cartooning styles and techniques, as well as the concept of visual storytelling for stronger illustrations and comics. We'll seek inspiration from pop culture and video games to create everything from mashup experiments to character design, to illustrating comics and magical items!
---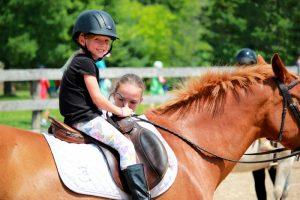 Junior Equestrians at Earthbound Kids
A riding camp for kids 8 to 13 years who are interested in getting into competitive riding or improving their competitive riding level. Riders will receive one hour of instruction each day, riders will showcase their skills at the end of the week to staff and parents.
Campers will learn to look after their equine teammate, ensuring that they are taken care of for optimal performance. At the start of each session riders will set their goals for the week with Jessica and will also have the opportunity to meet a special guest such as a show judge, equine nutritionist, professional braider or equine veterinarian. By the end of the session your rider will have more in depth knowledge on showing and experience greater confidence in their showing abilities.
Program Pre-requisite: Riders must be able to canter independently.
---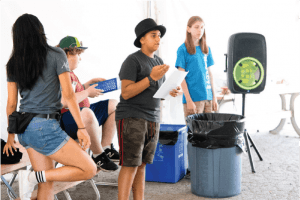 The STEAM Project Summer Camp – CIT Program (Gr. 9-10)
Our CIT Program is geared towards our oldest campers (completing grade 9 or 10) who are interested in taking on a leadership role at camp. The CIT Program is meant to lead the transition from kid and camper to young adult and staff member. The program is the perfect blend of experiencing the challenges of participating in staff responsibilities while at the same time enjoying the fun of being a camper.
As young and aspiring leaders, our CITs will experience the delicate balance of training, skill development, personal growth, and mentorship; combined with a unique camper role ensuring that the summer will be one of the best they experience. All CITs will receive a Certificate of Completion, professional references, and a Director's review. The CIT training program is a great gateway to becoming a staff member, or as experience for future job opportunities.
---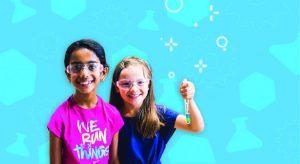 The STEAM Project Summer Camp – Snap Crackle Pop
Kids are natural-born scientists and they ask the best questions. We want them to bring their curiosity and wonder to camp and we'll help them find answers while having the best time exploring things that snap and crackle and pop. From biology to physics, to chemistry, they'll be having so much fun, they won't even realize we are giving them a head start on next year's science classes at school!
---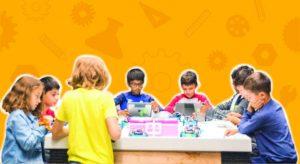 Kids have the best ideas and we want to help them make them come to life. Kids become bosses in this session that encourages campers to design and build with people in mind. In the Kids Inc. session, we'll ask campers to be as creative as they can while helping them make their ideas become real-life inventions that they can be proud of. Make sure there is extra space in the car to bring home all the things they've made at camp this session!
---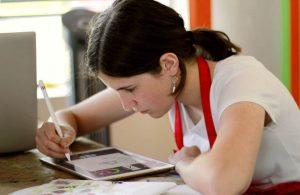 Art Intensives are virtual camps designed to accelerate learning and creative growth in a short period of time with personal guidance from an Artist Mentor. Summer is the ideal time to learn some serious art skills, create amazing artwork and meet new friends!
Suitable for Ages 13+, Beginner – Advanced & Art Portfolio Development
---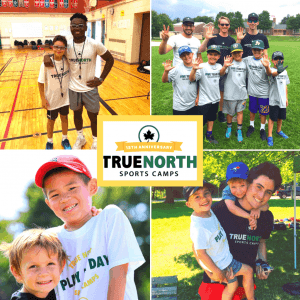 True North Sports Camps offers week-long summer camps throughout July and August for boys and girls ages 4 to 14 years old. Our wide variety of sports camps are available for all skill levels and include: Baseball, Basketball, Flag Football, Soccer, and Multi-Sport!
---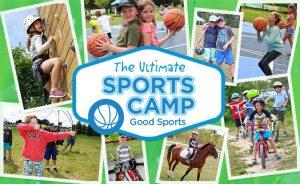 Good Sports multi-sport camp program from Earthbound Kids includes instruction and skill development each day. It's main focus is game play and being a positive team player while having fun with friends.
Earthbound Kids let's kids play together so they can best experience the satisfaction of teamwork and the meaning of being a good sport.
Available for two age groups – Good Sports Junior for 6 to 7 years and Good Sports Senior for 8 to 12 years.
---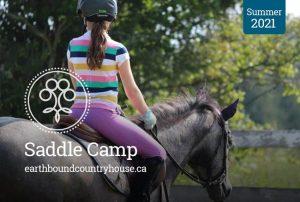 An Experience Like No Other!
Horse and pony lovers enjoy even more time in the stables with our new overnight camp. Campers learn about the needs and personalities of their horse or pony and work alongside our barn team to care for them. Our riding consists of an English group riding lesson in the morning and a specialty ride, such as dressage, western, trail riding in the afternoon. We have a large sand ring and a large grass ring, several grazing paddocks and managed trails.
Daily Horsemanship activities consist of nutrition, health, and hoof care, anatomy and equipment. Campers also enjoy crafting up in our Artbarn, campfires, and the favourite free-time activities line dancing and pretending to be horses, and jumping our kid-size Grand Prix course.
---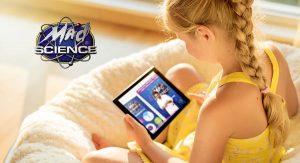 Mad Science live presenters will engage your children with fun, interactive and hands-on experiments. Step-by-step guided activities and cool demonstrations turn screen time into a fun and meaningful experience that is sure to capture your child's attention. All supplies provided are safe, fun, and designed to create a memorable experience!
Materials required for camps will be delivered in the GTA. Curbside discount available. Programs are available for kids 6 to 12 years Online registration is now open.
---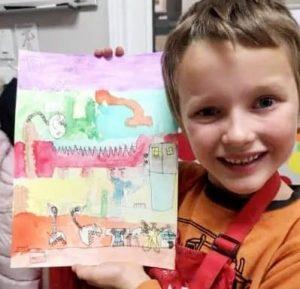 Live online art lessons in drawing and painting…designed for kids 5+!
Summer is a great time for kids to learn new skills in visual art and grow their imaginations! Kids will learn how to draw their favourite characters, make meaningful artwork, and paint in acrylic and watercolour, step by step! Try our online synchronous learning model designed for kids, and don't miss out on the creative fun!
---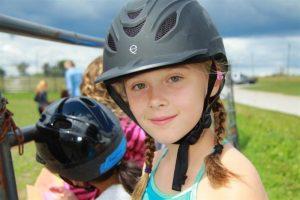 Saddle Camp at Earthbound Kids
Whether your child is just trying it for the first time or they have experience with horses and riding, we offer camp programs to suit each child's ability. Our instructors provide an enjoyable and, positive learning experience incorporating games and fun activities into the lesson plans. Horses and ponies in our program are gentle-natured and experienced with all levels of riders. Earthbound offers two programs – Saddle Club for ages 6 to 12 years and Saddle Skills for ages 8 to 13 years.
---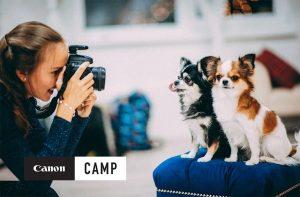 An online photography program for 10 – 16 year olds, Camp Canon fosters creativity and confidence in budding photographers.
Not only is it a great way to make some summer memories, but photography is also a joyful lifelong hobby that helps build patience, self-esteem & mental wellness. With that in mind, Camp Canon encourages young creatives to explore the world around them, take beautiful pictures of the things they love, and learn technical skills that will last a lifetime.
---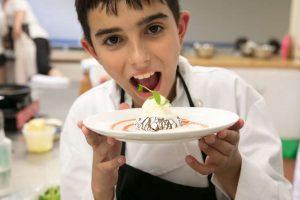 Rooks to Cooks has got you covered this Summer with delicious & fun Virtual Cooking Camps. Keep children engaged and learning with amazing Weekly or Daily camp options! Kids will eat up the delightful recipes and enjoy interacting with peers online! Small classes taught by Real Chefs! Camps run from June 21 to Aug. 27; Mornings or Afternoons. Ages 7+. Register soon!
---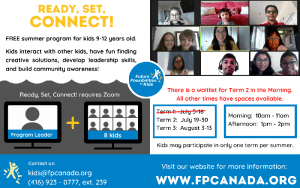 Ready, Set, Connect! is a free virtual summer program for kids 9-12 years old! For 2 weeks, 1 hour each day, a group of up to 8 kids will connect with a Program Leader using Zoom. Together groups will think creatively, learn leadership skills, build confidence, discuss and strengthen communication and participate in making a positive impact on their communities.
---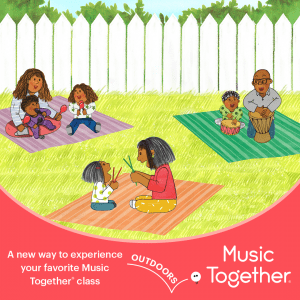 Now Outdoors!
At Fun With Music Together® in the park, you'll have access to the same high-quality music and movement curriculum loved by millions of families and teachers around the world—in parks around the GTA. Music Together in the park is designed to teach the way young children learn: through play. We can't wait to see you!
---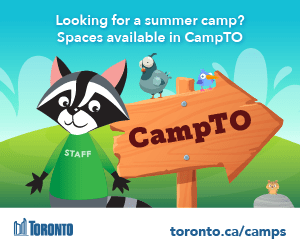 Register your kids today for Summer CampTO!
The City offers traditional day camp experiences, including dance, drama, music, arts and crafts and active games from July 5 through August 27.
In-person, virtual and adapted and inclusive programs are available.
For more details on CampTO and to register, visit toronto.ca/camps
---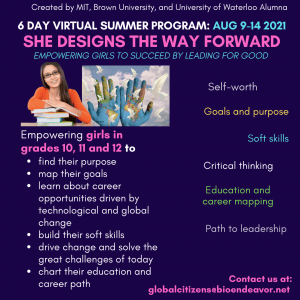 BioEndeavor (a global NGO) is launching a new virtual program: Aug 9-14 2021.
She Designs the Way Forward: Empowering Young Women in Grades 10, 11, 12.
A 6-day virtual program to support young women to find purpose, learn about emerging career opportunities, create their education and future career vision boards.
Visit us at: https://www.bioendeavor.net/shedesigns
---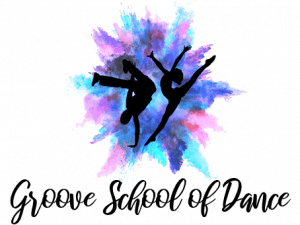 CAMPS AT GROOVE SCHOOL OF DANCE
Groove offers amazing Summer Camps to keep your little one busy & engaged.
All camps include daily activities such as Dance Classes, Music & Drama Workshops, Arts n' Crafts, Karate & Self Defence, Animal Ambassadors, Mad Science, Magic Shows, Visits from Princesses & Superheroes, and much more! See below for the camps that are currently being offered.
Ages 4 -12 years
New Amazing location at 370 Eglinton Ave WEst
Half day or full day options
www.grooveschoolofdance.com
416-919-2194
---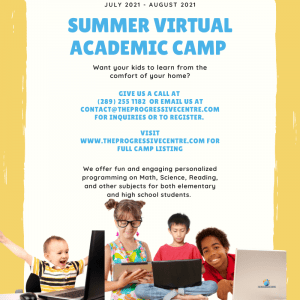 Join us for our fun and engaging virtual academic summer camp this year. We have something for everyone – ranging from our Beginners Reading Program, Group Tutoring, Get Ready for Grade 9 and Study Skills Workshop – Our camps will set your child up for success in September.
Register online at www.theprogressivecentre.com before June 20th and save $50 off the cost of enrolment. Email: contact@theprogressivecentre.com Phone: 289-255-1182
---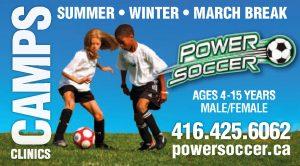 Power Soccer was created with the goal to create a soccer coaching resource for the burgeoning population of Canadian soccer players and coaches. Since then, Power Soccer has grown to become one of the most respected player development programs in Canada. The growth of Power Soccer is a direct result of the exceptional coaching staff who conduct dynamic and enjoyable training programs that are completely focused on player development. Power Soccer offers year-round soccer schools, summer camps, team training, private training and more in all Toronto & the GTA.
---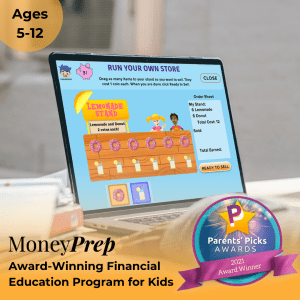 MoneyPrep teaches kids how to save, spend, and budget their money through fun interactive learning games! Designed for kids ages 5-12, our focus is to help them form smart money habits for life.
✅  Interactive learning games
✅ Hundreds of question variations for concept retention
✅ Focus on real-life money scenarios
Visit us at https://www.moneyprep.com/city-parent/ to learn more use code city30 for 30% off one of our premium memberships, or give us a try for free!
---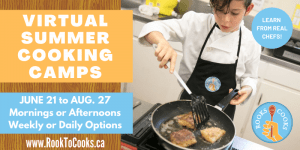 Rooks to Cooks has got you covered this summer with delicious & fun Virtual Cooking Camps! Kids will eat up the delightful recipes and enjoy interacting with peers online! Experienced chefs keep children engaged and learning with amazing weekly or daily camps! June 21 to Aug. 27; mornings or afternoons.
https://www.rookstocooks.ca/summer-cooking-camps/
---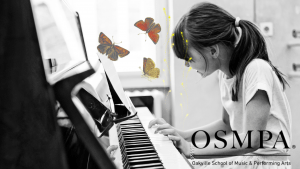 Join the Oakville School of Music and Performing Arts this summer where your child can explore their musical potential! Whether you are new to music or continuing your studies, summer camps are offered for all instruments and musical abilities for ages 4+ Explore the Gruffalo camp, discover group classes, and learn more online www.osmpa.ca
---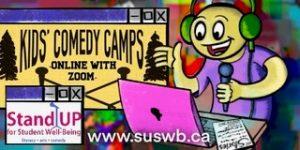 Virtual Comedy Camps!
Comedian coaches help kids find their funny in a tough year, make new friends and discover their comedic voices.
Our unique, 5-day (one hour each day) interactive comedy camps run every week for kids at home and students at school. More info on website.
---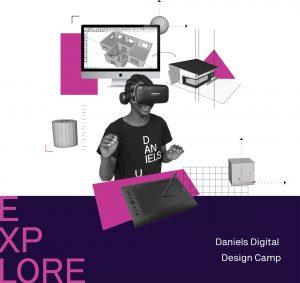 The Daniels Faculty is excited to bring back our online camps for summer 2021! We offer a range of outreach programming from youth (8 years and up) to high school to life-long learning.
Our summer programs explore the fundamentals of design and architecture while building teamwork and communication skills in fun and creative ways. From concept to presentation, participants will develop skills in a broad range of design tools and techniques, providing a strong foundation to explore your creative potential.
Registration is now open for our summer online programs (June 28 to September 3, 2021). Sign up today!
Daniels Faculty Outreach Programming – Summer 2021
Daniels Minecraft Camp Online (ages 8-14)
Daniels Digital Design Camp Online (ages 12-14)
Daniels Design Bootcamp (ages 16+)
NEW Daniels Architecture & Film Bootcamp (16+)
---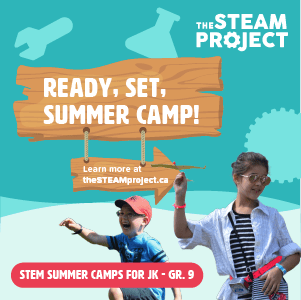 Get the kids designing, making, and experimenting this summer.
Whether in our in-person summer camps or with a live instructor in our small-group virtual programs, they'll be building and making all kinds of cool projects.
RISK-FREE: if we cannot run our in-person programs due to COVID, we will offer a 100% refund.
https://www.thesteamproject.ca
---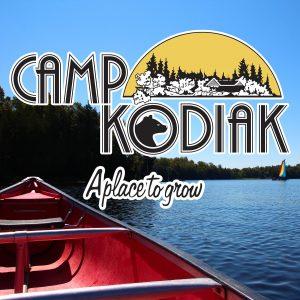 Camp Kodiak is an overnight summer camp for children and teens with and without learning disabilities, ADHD and high-functioning ASD.
Why should your camper attend Camp Kodiak?
*Social skills program
*Academic program
*50+ activities
*Mature, professional staff
*2:1 camper-to-staff ratio
*Increased self-esteem and confidence
*Leader in Training program for campers 16 to 18 years old
*Comfortable log cabins with electricity and bathroom with shower
*425-acre site with 2 miles of waterfront
*located near Parry Sound, Ontario (2.5 hrs north of Toronto)
Your camper deserves a summer of fun, friends, and success!
(905)569-7595
---