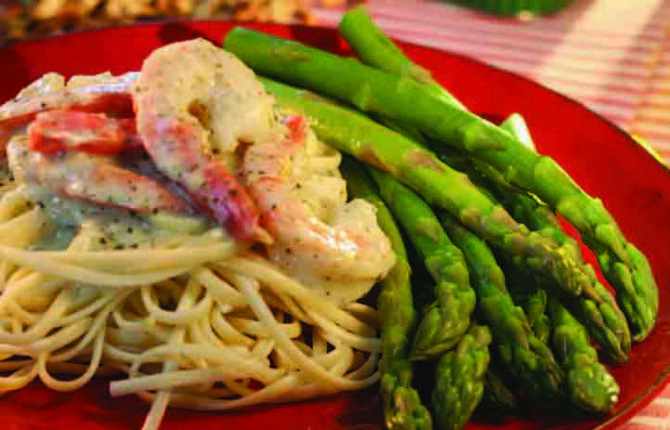 Simmer down, let kids cook
By Jane Muller
What's for dinner tonight? This can be a dreaded, stress-generating question. Not having an answer drives us to the fast food drive-thru and compromises goals to eat nutritious home-cooked meals.
Not knowing what's for dinner combined with having little time to plan meals, shop for
ingredients and throw them together, is a recipe for disastrous mealtimes. Sandi Richard has been helping families overcome dinner dilemmas for years with her successful cookbook series Cooking for the Rushed, with more than 400,000 sold.
Her latest offering divides duties and conquers the time crunch. Anyone Can Cook dinner, subtitled "Easy, affordable and insanely delicious means, even your teen will love to cook and eat", approaches meal preparation with the concept of "cooking together apart".
As much as adults love to get help in the kitchen, the "witching hour" after arriving home from work is not the best time to be bumping into each other, knives in hand. Doing prep work the night before and ensuring the kids know how to get the meal ready before you get home is the preferred method, according to the book's author.
"This book is the culmination of everything we've done through the years. Parents actually have to back off and allow the kids to "cook together apart". In every case with our test families, it's life changing for people," Richard enthuses.
The book features big pictures of the prepared dishes. The first step is to allow kids check them out and choose some that are appealing. Richard notes that, " Kids eat with their eyes just like their parents do. When they pick a picture, they have bought into it."
After a child has successfully recreated the dish, he has ownership over it, says Richard, adding that renaming it using the child's name, like "Daniel's Special chicken" will encourage many repeat performances.
She suggests that parents should not feel guilty about not wanting children underfoot in the kitchen. It's normal to feel that way when we're hungry and tired at the end of a busy day. It's also normal to want to be greeted by the smell of dinner cooking and that's the benefit of cooking apart. While you are driving home, a child as young as 10 can put together the ingredients you've organized the night before.
If you don't want a younger child using the stove to brown the ground beef or handling a sharp knife to dice the onions, invest a bit of time doing those tasks apart. Together, you'll get a meal into the oven as a result of taking shifts in the kitchen.
Richards's books have always included plenty of tips, weekly menus and shopping lists and ratings for recipes based on prep times. This one is no exception and also includes watermarks that highlight areas of a recipe where chopping and the use of stovetop or oven are required. It's a heads-up for parents who are concerned about the safety of young cooks. Sticky notes feature tasks for the "prep crew" that cover the watermarked tasks.
All of the dishes in Anyone Can Cook dinner have been given top ratings by test families. Richard includes the ratings with each recipe. In "The Chef's Rule Book" tips section she recommends using coloured tabs to mark favourite recipes that get high ratings from your own family.
Chefs are also encouraged to assemble everything necessary to create the dish, washing hands before and after cutting meat, using different cutting boards and knives for meats and veggies and tucking fingers back when cutting. There are illustrated instructions for cutting and slicing, safety tips that will help cooks avoid cuts and burns, as well as a glossary of "cooking lingo", articles that provide nutrition advice and information about how diet affects our health.
Best of all, Richards serves up solutions that will help families to eat healthy meals at home, together.
Richards has provided a recipe for our readers to try. The Creamy Pesto Shrimp (or chicken) with Linguini and Asparagus has a red prep code, which means it can be prepared in 15 minutes, and requires less cutting and chopping. This one actually requires no knife work at all.