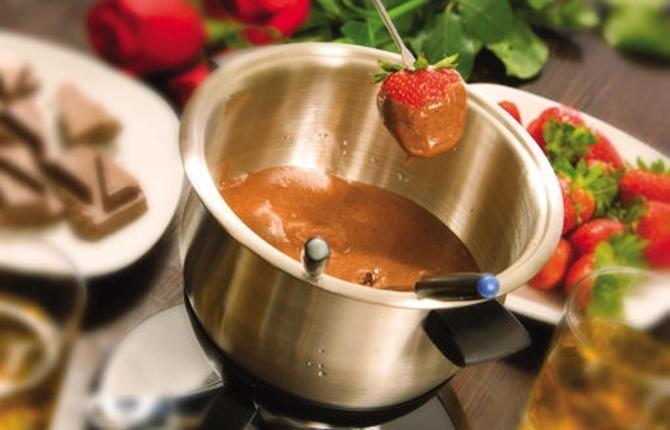 Say
Here is a mouth-watering recipe for Valentine's Day. Whether it's for the special someone in your life, or a sweet treat for the kids or for the folks at work, this chocolate recipe will add a sweet touch to anyone's day.
CHOCOLATE FONDUE
By The Canadian Living Test Kitchen
Choose fruit that's easy to hold as you dip slices into this luscious mixture. Apples, pears, strawberries and pineapple are ideal. A firm white cake cut into cubes is great for dipping too. The chocolate will stay soft enough for dipping for up to an hour; if it begins to set, microwave it at high for 15 to 20 seconds. Makes 2 cups (500 mL)
Ingredients:
6 oz bittersweet chocolate, finely chopped (175 g)
4 oz milk chocolate, finely chopped (125 g)
3/4 cup whipping cream (175 mL)
2 tbsp amaretto, brandy or rum (optional) (25 mL)
Preparation:
Place bittersweet and milk chocolates in shallow heatproof glass bowl. In saucepan, bring cream to boil; pour over chocolate, whisking until melted. Whisk in amaretto (if using).
Nutritional Info: Per 1 tbsp (15 mL): about 64 cal, 1 g pro, 6g total fat, 4 g sat. fat, 4 g carb, 1 g fibre, 8 mg chol, 6 mg sodium. % RDI: 1% Calcium, 3% iron, 2% vit A.
For more sweet recipes and Valentine crafts for children, visit www.canadianliving.com