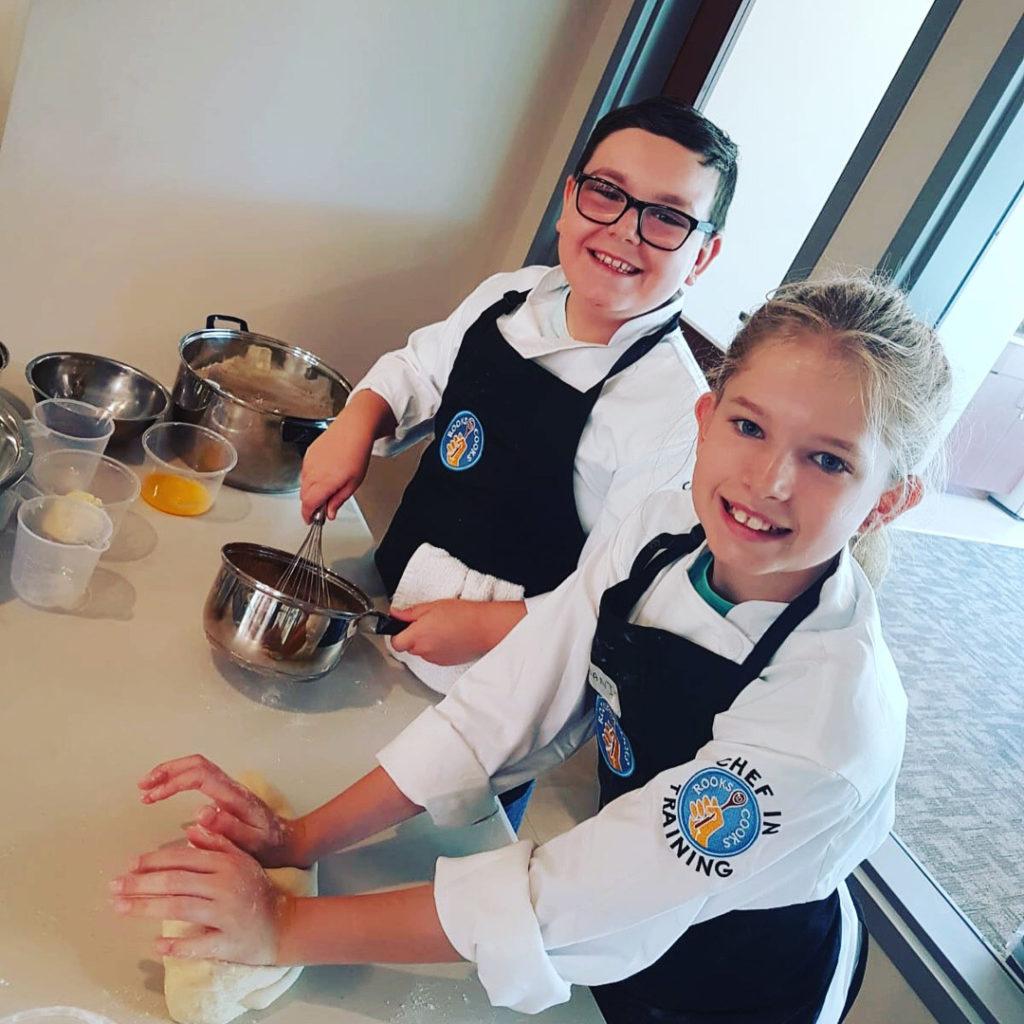 Recipe for a rainy day
By Chef Shai Mandel
It's raining, it's pouring …. but no one will be snoring when you mix up your day with some cooking activities! Just because you are stuck inside doesn't mean you can't have some fun in the kitchen. So leave the electronics behind, get your aprons on and head to the pantry to see what delightful baking and cooking projects you can get your kids interested in.
Recipes that keep kids occupied and focused are best. We've compiled a list of activities to keep their brains and hands busy:
READ the recipe ingredients with your children and then gather all the items at your work area in the kitchen. This is also a great time to talk about how cooking at home allows us to control what goes into our food so we can make healthy choices.
PREPARE your work area and select all the cooking utensils that you will need: mixing bowls, measuring cups and spoons, cutting boards, pots or pans, mixers or appliances, etc.
WASH your vegetables or fruit before using. Show your kids that it's good practice to give your produce a good rinse and, in some cases, a good soak. You can also use your fingers to rub away dirt or residues. Dry your produce with a clean towel or paper towels.
CHOPPING, cutting or grating activities always require parent instruction and supervision. Review kitchen safety rules with your kids and show them the proper way to use utensils and equipment. Children who may not be ready for knife skills can help by reading the next task in the recipe and making sure everything has been prepared and is ready to be assembled. These are great organizational skills.
COOKING on the stove requires supervision. Assign stovetop tasks accordingly so that younger children help with low risk actions, such as carefully adding ingredients into the pot or skillet, while older children mix or sauté the ingredients together.
BAKING activities enable children to take turns adding and mixing ingredients into a bowl and then putting batter or dough into baking pans. Once again, oven use should be supervised. Parents need to demonstrate proper oven use to children before they do so independently. When baking is completed, all children love to be involved in decorating the cake or cookies and, of course, eating their creations!
SETTING the table and CLEAN up: When preparing a meal, all children can take turns with table duties and cleaning the dishes. They get to learn about all aspects of the cooking process!
Chef Shai's Tips:
Select age-appropriate tasks for your children and divide up the jobs so that everyone feels like they are contributing and helping. Parents should be in the kitchen at all times to supervise and keep an eye on children through the entire process. We always want to be encouraging and supportive to ensure that their experience in the kitchen is positive and builds confidence. Confidence in the kitchen is a skill that sticks with your kids for a lifetime! When kids participate in meal preparation, they can appreciate the work that goes into making a delicious meal and lays the foundation for healthy eating habits.
Use a rainy day as an excuse to teach your kids some cooking skills. Once our children learn, have had some hands-on practice, and are given opportunities to shine, we promise you, teaching your kids to cook will be worth the potential headaches … and, believe it or not, they can be taught to clean up after themselves!
Here are some of the key BENEFITS:
Spend time together PLUS kids enjoy learning from you and getting their hands dirty
Explore all the sights, smells and tastes of cooking
Encourages kids to try new foods
Learn about the "tools of the trade" and kitchen safety
We have selected a couple of scrumptious family-friendly recipes that will get your whole gang into the kitchen to help out:  (1) Tuscan Stew, and (2) Cinnamon Buns
Tuscan Stew: This is a seriously satisfying stew that will be sure to warm you up inside. It is made up of a delicious combo of vegetables and beans and is ready in no time. We love it with a piece of fresh crusty bread.
Please note: you will need to double or triple this recipe to increase the yield, depending on your family size.
Tuscan Stew
Yield: 2 servings
Ingredients:
1 tbsp olive oil

3 ounces (slightly less than ½ cup) red onion,

finely chopped

2 garlic cloves, crushed

1 tbsp sun dried tomato paste or pesto

2 ounces (about ¼ cup) carrots, sliced

1.5 ounces (slightly less than ¼ cup)

of celery, sliced

2 tomatoes, peeled, de-seeded and chopped

¼ tsp of dried thyme

1 bay leaf

Salt and pepper

90mL vegetable stock

1 can of flageolet beans

1 ounce French beans, trimmed and cut into

bite-size pieces
Directions:
In a nonstick skillet, heat oil on medium heat. Add onions and cook for 10 minutes. Add garlic and cook for one more minute. Add tomato paste and cook for one more minute.
Add carrots, celery, tomatoes, thyme and bay leaf. Cook for 10 minutes or until carrot is soft.
Add stock and bring to a boil. Reduce heat and let the soup simmer for 20 minutes.
Add flageolet beans and French beans and simmer for 10 more minutes.
Ready to enjoy!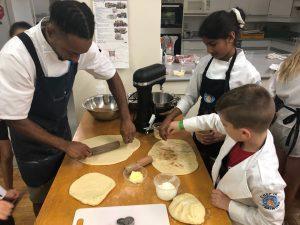 Chef Shai's Signature Cinnamon Bun Recipe
Yield: 12 – 14 mini cinnamon buns (8 large buns) 
Ingredients:
Dough:
180ml warm water

7g dry active yeast

50g granulated sugar

2g salt

30ml buttermilk, room temperature

25g eggs, room temperature

24ml canola oil

320g flour
Filling:
50g melted butter

145g brown sugar

12g cinnamon

12g cornstarch
Icing:
50g cream cheese, softened

50g unsalted butter, softened

4ml vanilla extract

8ml corn syrup

8ml lemon juice

150g powdered sugar
Directions:
The dough:
Add the flour and salt to a large mixing bowl.
In a separate mixing bowl, whisk together the warm water, oil, yeast, sugar and buttermilk until well combined.
Add the wet ingredients to the dry ingredients. Using a wooden spoon, mix until dough begins to form.
Remove dough from bowl. On a well floured surface, knead dough until smooth (5 – 10 Minutes). Dough should not be sticky. If it is sticky, add a little more flour.
Grease the mixing bowl and put dough back in. Cover with plastic wrap and let rise until doubled in size (approximately 1 hour).
Filling & cutting:
Mix the brown sugar, cinnamon and cornstarch until combined.
Remove dough from mixing bowl and place on a well-floured surface. Manipulate dough to form a rectangle. Roll dough into a 10 x 15 cm rectangle.
Spread melted butter over dough. Using a pastry brush, paint the butter to all edges EXCEPT the very top – Leave 1-inch butter free to allow for a seal.
Sprinkle the brown sugar mixture all over, spreading it evenly. Leave the 1-inch strip of dough on the top untouched.
Using your rolling pin, roll over the sugar helping it to stick.
Roll the dough up into a tight log. Paint the untouched strip with water and seal.
Score the log every 2 inches. Slice your log into buns.
Line a 9 x 13 inch pan with parchment. Place your buns in the pan 1.5 inches apart. Cover with plastic wrap and let rise for a second time (about an hour).
Preheat oven to 350F.
Bake buns for 17 minutes or until tops start to brown.
Icing:
While the rolls are baking, use a wooden spoon to cream together the cream cheese and butter.
Stir in vanilla, maple syrup and lemon juice.
Mix in the powdered sugar, stirring slowly.
Once rolls are removed from the oven, using a pastry brush, brush on half the icing. Once the buns cool slightly, brush remaining icing.
Serve warm.
Chef Shai Mandel owns Rooks to Cooks, a cooking school in Toronto. www.rookstocooks.ca