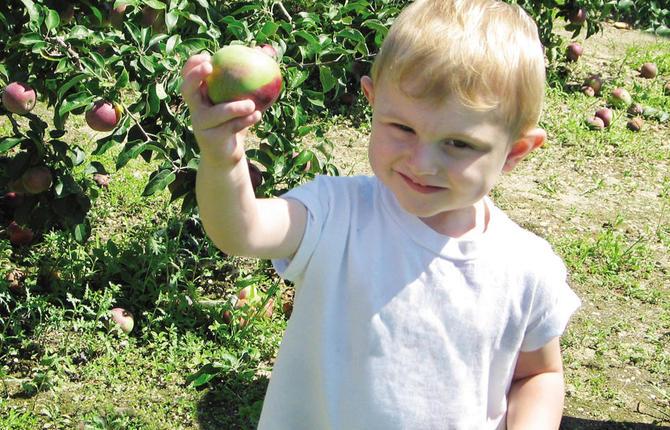 Pick what's on your plate
City dwellers often don't have the space to grow their own fruits and vegetables, let alone the time that it takes to cultivate them. A small plot or containers filled with herbs or a tomato plant or two are as close as we come to growing our own.
Despite the encroachment of subdivisions on former farmland, there are still many who grow their own and enough to invite us to pick some produce for ourselves. From June to October, the growing season unfolds, first with strawberries and asparagus, through beans, blueberries, corn and ending with pumpkins and other varieties of squash. You don't even need to get your hands dirty at some pick-your-own establishments as they offer baskets of ready-picked produce. Still, the picking is definitely part of the adventure. The other part can range from the pleasant road trip to the country to petting farm animals, navigating a corn maze or playing on bales of hay, depending on the particular farm's amenities.
What better way to buy locally than to go directly to the farm or a local farmer's market? Peel Region publishes a popular ''Grown in Peel'' guide to vegetable and fruit farms in Peel that features 21 farms and two markets all within a 45-minute drive – or closer– from any location within the region. The guide was grabbed up by visitors to Peel Region's booth at this year's Good Food Festival and Market held annually in April. If you didn't get one there, it's available online at www.GrownInPeel.ca. You can also request a copy of the map by calling 905-799-7700 or sending an email to GrownInPeel@peelregion.ca.
There are many sources for pick-your-own and farmers' market destinations on the Internet. At the Ontario government's Foodland Ontario website – foodland.on.ca/pyo.htm – you'll find an availability guide that will let you know what's ripe at a particular time of year, as well as links to various pick-your-own sites. One of these is the Ontario Tender Fruit Producers which lists events like the Winona Peach Festival from Friday, August 22 to Sunday, August 24 (www.winonapeach.com/location.html). Check out the seasonal recipes as well and find some creative ways to use what you've picked. Two other excellent sources are farmersmarketsontario.com and www.harvestcanada.com.
Be prepared
Make your agricultural adventure fun and memorable for your family by being prepared. The fields and orchards receive lots of sunshine and so will you and your children so dress them appropriately in lightweight clothes, a wide-brimmed sun hat and shoes that are comfy and okay to get dirty. Sunscreen and containers of cold water are also necessary items for any summer outing.
There are rules for picking produce so pay attention to the growers' instructions. There might also be restrictions on how many children per adult are allowed in the fields, so check out such details in advance with a phone call. You can't blame the growers for wanting to protect their precious plants from the pitter patter of careless pickers' feet.
If you're picking tender berries, you might want to bring along a cooler with some ice packs for the trip home. You just might be tempted to make a stop or two along the way and enjoy the countryside.