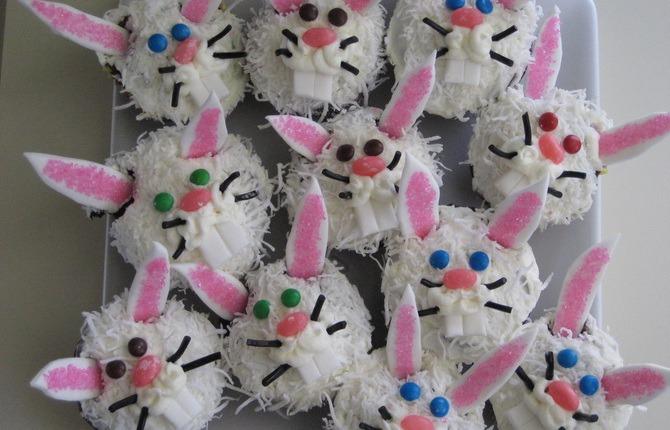 Hippity hoppity Easter cupcakes
From chocolate bunnies and colourful eggs to jelly beans and foil wrapped chocolates, the Easter weekend is often celebrated with delicious treats. Of course you can always go to the grocery store to purchase treats, but why buy them when you can get your kids to help make them in the kitchen?
With fondant ears and teeth, jelly bean nose, mini M&M eyes, licorice whiskers, and coconut fur, these hippity hoppity Easter bunny cupcakes are adorable, delicious, and kid friendly to assemble. For Easter dinner, make a bunny cupcake for each guest and let your kids hand them out for dessert. They'll be so proud to show off the special cupcakes they made for everyone.
What you'll need:
cake mix
a batch of your favourite icing recipe or store bought icing
shredded coconut
pink mini jelly beans
black licorice string cut into appropriate lengths
white fondant
pink coloured sugar
mini M&Ms
A trip to the bulk section will show a huge variety of candy that can be used to decorate your bunny cupcakes. Use your imagination and let your kids help choose items to decorate!
Instructions:
1. Using white fondant, shape the bunny ears and teeth. You can make these pieces ahead of time and let them air dry for 24 hours to harden. To add pink sugar to the ears, take a small brush and water to slightly moisten the fondant where you want the sugar to stick. Then simply sprinkle the sugar on the ears.
2. Bake cupcakes according to cake box or recipe instructions. Let cool completely and then apply a layer of icing to the top of each cupcake. Dip each cupcake into a small bowl filled with shredded coconut to apply the bunnies' fur.
3. Add mini jelly beans for the nose, mini M&Ms for the eyes and licorice string for whiskers. Place the fondant teeth and ears to complete the bunny cupcakes.
4. Store in an airtight container until ready to serve!