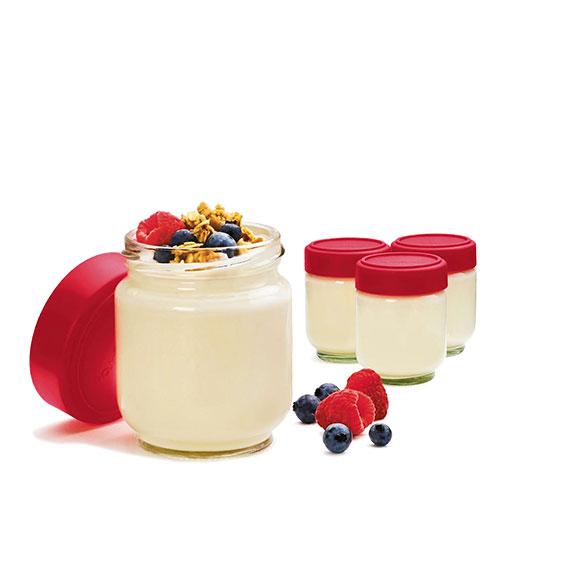 Get Cooking with Cusipiro
Organizing yourself and adopting healthier habits are difficult enough on their own. Canadian leading manufacturer of cookware products, Cuisipro, has curated the ultimate selection of must-haves to ease your anxiety and support healthy habits this upcoming holiday season.
Cuisipro Leakproof Glass Jars 4pc / Set ($17.00)
Pre-planning meals can be hard, but not anymore. Designed to go with the Cuisipro Collapsible Yogurt Maker, the Cuisipro Leakproof Glass Jars are perfect for meal preparation and or jar recipes. Stackable, leakproof jars made of hygienic, heat-resistant glass stacks neatly and travels easily in lunch boxes and or bags.

All-Purpose Eco-Cloths ($5.00-$9.00)
Easy kitchen cleaning? Cuisipro All-Purpose Eco-Cloth quickly cleans up kitchen spills and messes without harming the environment. Sustainable alternatives to paper towels, sponges, and dust cloths. 100% biodegradable cloth made with plant-based ink. This odour-resistant cloth is easy to clean, fast drying, and can be reused over and over again.

Cuisipro Herb Keeper ($33.50)
Herb storage made smarter. An innovative suspended tray system makes storing and accessing herbs easy. The Herb Keeper is perfect for adding fresh herbs to meals to enhance flavor. In addition to refrigeration, stems are immersed in water to maintain freshness and hydration.

Egg Sling ($18)
A great source of protein – eggs are one of the easiest foods to prepare ahead of time. Eggs are delicious in so many ways! Cuisipro Egg Sling makes hardboiled eggs easy and fast. Perfect for large batch cooking for meal preparation, pickling, entertaining or potlucks. Food-grade silicone holds up to nine eggs securely in a pressure cooker or pot. Flexible heat-resistance handles ensure safe removal of the sling from boiling water. Dishwasher-safe and compact for easy storage.

Cuisipro Pack-it Bags ($13.00-$31.50)
Cook more, waste less! With Cuisipro Reusable Bags, you can cook it, store it, or protect it! Unlike plastic bags, Cuisipro Reusable Bags use zero plastic and can be used in a variety of ways, such as in the oven, microwave, or sous vide. They're also dishwasher and freezer friendly. Leakproof and hypoallergenic, these bags are lightweight and portable.

Cuisipro Piccolo Cooking 4 Piece Set ($61.00)
It's always good to have a few chefs in the kitchen. This set makes a great gift for people who are just starting out in the kitchen or are avid cooks. The four-piece cooking set includes a Piccolo slotted spoon, spoon, turner, and tongs – perfect for smaller hands eager to pitch in in the kitchen.
Visit Cuisipro for more available kitchen ware and make your life easy. cuisipro.com