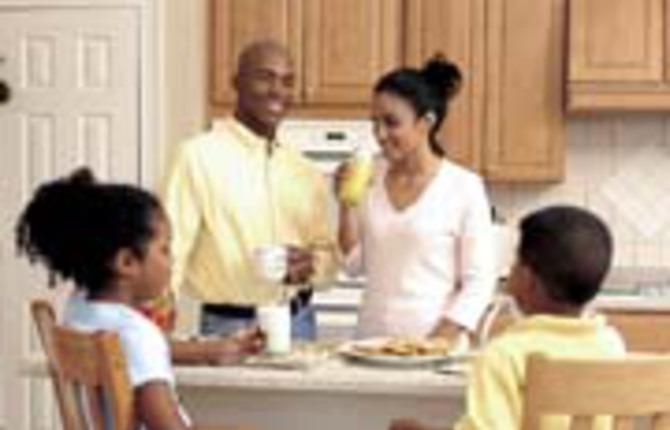 Family meals have rewards
You run into the house, starving from your after school basketball practice, wanting nothing more than to devour all the food in the kitchen. As you walk in the door, your mother and little brother dart past you, sprinting to the car, already late for his karate class. You just barely catch that there is pizza waiting for you on the counter before the car door slams shut and you have the house to yourself – again.
It is becoming increasingly less common for families to sit down at the dinner table together, and the resulting problems are not only in the unhealthy food choices that adolescents are making, but also in the lack of communication between family members. According to Dr. Heather Keller, an Associate Professor in the Department of Family Relations and Applied Nutrition at the University of Guelph, dinner time should be an opportunity to "develop and maintain relationships by using this guaranteed time to connect with each other". This is just not happening.
Families have enough trouble finding a date where no one is coming home late or rushing out early, but with the added distractions of technology, dinner time becomes the perfect chance to check a blackberry for messages or reply to not-so-urgent e-mails.
A recent study by M&M Meat Shops found that during dinner 62 per cent of Canadians watch TV and 29 per cent use a PC or a laptop. Even when everyone is sitting down together they're not talking or sharing how their day went. Lynn Fraser, an Edmonton based life-balance coach, suggests that "if eating dinner with your family is something you used to do and aren't doing as often any more because everybody is really busy… then that is something I actually schedule on the calendar…We get together over food. It just makes everyone feel more comfortable."
As well, substance abuse is less prevalent in teens that eat dinner with their families at least five times a week, compared to less than twice a week, as found in a study conducted by Columbia University. Although Dr. Keller feels that "perhaps meals are merely a marker of 'good family life' she adds that research shows "mealtimes allow for connections to happen and identities to be nurtured and honoured. So if that … is happening, it results in feelings of self-worth and belonging."
In response to the need for families to spend more quality time together M&M Meat Shops created National Family Dinner Night in 2005. This year the event will be held on Thursday Sept. 20, and for every family member who registers in advance M&M Meat Shops will donate $1 to the Crohn's and Colitis Foundation of Canada up to a maximum of $100 000. Participating families must eat dinner together without any electronic devices plugged in, and if you're already thinking that doing so would be impossible then you should definitely give it a try. Mac Voisin, chairman and co-founder of M&M Meat Shops, believes that "the memories created during these special times really do make a difference in the strength of the family unit and allow for a break in our otherwise hectic lives."
Keep in mind that even though it is not always possible for the entire family to eat the whole meal together, there are other options. If "there's a night when you know that with everyone's schedule it's not going to work too well to eat together you might want to have hors d'oeuvres" or "a fruit salad and some tea together later", suggests Lynn Fraser. If some family members get home really late Lynn recommends that the family "have a couple of people eat together earlier and then a couple more eat together later in the next shift".
Of course, there will always be nights where commitments keep the family from sitting down to a meal together. Ironically, as I settled into my 6:30 p.m. phone interview with Lynn Fraser on the value of family dinners, my own family decided that they were too hungry to wait for me, and dinner proceeded minus one kid. But what's important is that we know that we'll all be around the table, sharing our day, tomorrow.
Rachel Charney is a 16-year-old member of a busy family and has written for News4Kids since 2005.
Fiery Meatball Tortellini Stew
1 lb M&M Meat Shops Fully Cooked Italian Style Beef Meatballs
1 L (4 cups) beef broth
1 L (4 cups) water
1 454-g package of tortellini with cheese
1 cup (250 mL) medium or spicy salsa
3 cups (750 mL) M&M Meat Shops Mixed Vegetables
Bring broth and water to a boil in a large saucepan. Add tortellini and cook for 10 minutes.
Add meatballs and salsa then bring to a boil and cook for 15 minutes.
Stir in frozen vegetables and heat through.
Makes 3 L (12 cups)
Recipe courtesy of M&M Meat Shops
August 2007
Chocolate Fudge Brownie Terrine
500 mL (2 cups) M&M Meat Shops Vanilla Satin Cream® Ice Cream,
slightly softened
440 mL (1 3/4 cups) frozen, coarsely chopped M&M Meat Shops Chocolate Fudge Brownies, chunks in 1/2" pieces
500 mL (2 cups) M&M Meat Shops Chocolate Rush® Ice Cream, slightly softened
For brownie chunks, place pieces of frozen brownies in food processor, pulse to chop and measure.
Line a 9" metal loaf pan with plastic wrap, leaving an overhang. Spread the vanilla ice cream on the bottom of the pan; even out with spatula. Cover the surface of the vanilla ice cream with the brownie chunks and press lightly to anchor the chunks into the ice cream without pushing them all the way through the ice cream layer. Freeze for 1 hour.
Spread the softened chocolate ice cream over the brownie chunks; even out with spatula. Cover the terrine with the plastic wrap overhang. Freeze for 6 hours or overnight.
Run bottom of loaf pan under hot water for a few seconds to loosen terrine. Remove plastic wrap and turn terrine out, peel off plastic. Cut into slices and serve immediately.
Serves 10 – 12
Recipe courtesy of M&M Meat Shops
August 2007
Pork Loin Chops with Spiced Apples
4 M&M Meat Shops Boneless Pork Loin Chops
3 tbsp (45 mL) butter, divided
1 tbsp (15 mL) brown sugar
1 tsp (5 mL) allspice
2 Golden Delicious apples, unpeeled, cored and each cut into 12 segments
1 tbsp (15 mL) Calvados (optional)
_ cup (125 mL) unsweetened apple juice
_ cup (60 mL) whipping cream
Cook chops in large heavy skillet according to package directions. Remove chops to plate, cover loosely with foil and keep warm.
In the same skillet, melt 2 tablespoons of butter and add sugar and allspice. Stir scraping up the brown bits. Add the apple segments, season lightly with salt, and cook until fork tender (but not mushy) and caramelized, turning occasionally, about 8-10 minutes.
Remove apples to a plate.
Add Calvados (if using) to frying pan and stir vigorously, scraping up the brown bits, until almost completely evaporated. Add apple juice and boil until reduced to 2-3 tablespoons, about 3 minutes. Add cream and boil until slightly thickened. Remove sauce from heat and add 1 tablespoon of butter, apple segments and any juices that have collected with pork. Coat apples with sauce. Transfer chops to serving plates and top with apples and sauce. Serve immediately.
Serves four
Recipe courtesy of M&M Meat Shops
August 2007