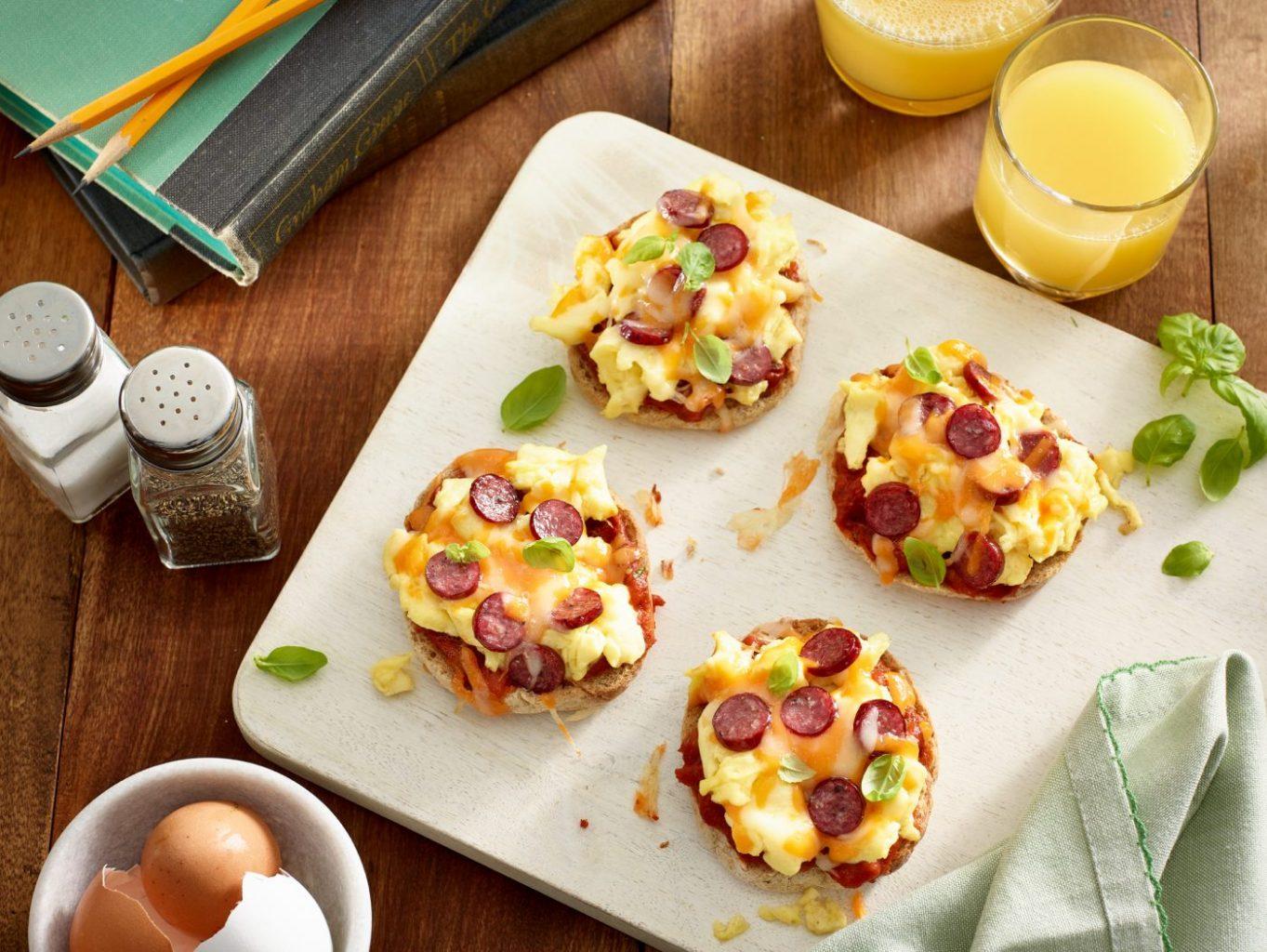 English Muffin Breakfast Pizza
Go ahead – tell the kids they can have pizza for breakfast with these delicious English Muffin Breakfast Pizzasfrom Egg Farmers of Canada. They will have as much fun helping to make them as they will eating them!
Serves: 2
Prep Time: 5 minutes
Cook Time: about 5 minutes
Bake Time: about 13 minutes
Ingredients
3 eggs
2 tbsp (30 mL) milk
1 tsp (5 mL) butter
2 whole wheat English muffins
¼ cup (60 mL) marinara sauce
½ cup (125 mL) shredded Cheddar cheese
1 small pepperoni stick, thinly sliced
Fresh basil for garnish (optional)
Directions
Preheat oven to 400°F (205°C). Line a small baking sheet with parchment paper; set aside.
In a small bowl, whisk eggs with milk.
In a small skillet, over medium heat, melt butter and pour in egg mixture. Using a spatula, gently fold and flip eggs creating a soft scramble, about 3 to 4 minutes.
Halve and toast English muffins in a toaster. Place on baking sheet, facing up. Spread 1 tbsp
(15 mL) of marinara sauce over each piece; spoon scrambled eggs over sauce, top with pepperoni slices and cheese. Bake for 10 minutes for until cheese is melted.
Garnish with basil leaves, if using.
Nutrients per serving (½ recipe): 480 calories, 27 g total fat, 940 mg sodium, 33 g carbohydrates, 5 g fibre, 10 g sugars, 27 g protein. Excellent source of vitamin A, thiamin, riboflavin, niacin, vitamin B12, pantothenate, manganese, selenium and calcium.  Good source of vitamin E, vitamin B6, folate, magnesium and iron.
Find more recipes and information at eggfarmers.ca.