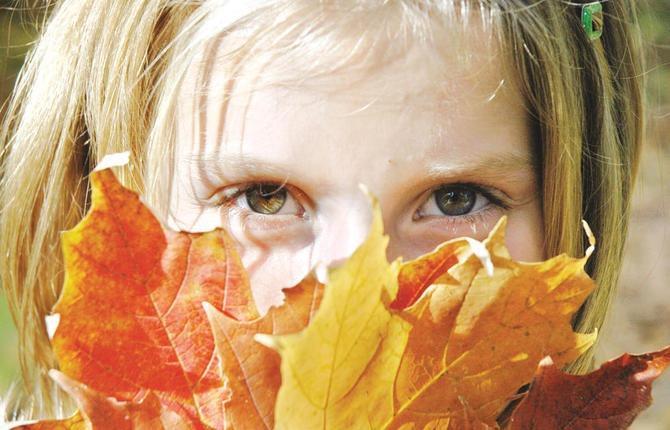 Celebrate the harvest
The tradition is as old as time itself. Families gather to harvest fall's bounty, then celebrate together in gratitude and joy. Autumn brings sweet grapes bursting with juice, hard squash to put down for the winter, nuts, apples, the last tomatoes of the season, sweet corn, and so much more.
As a family you can visit a corn maze, shop farmer's markets, shell and shuck, cook and can. Here are ways to make this year's harvest more memorable than any other.
Harvest Time Tips, Hints and Crafts
* Core one crisp, fresh apple for each person. Fill the hole with crunchy peanut butter and dip the sticky ends in raisins, chopped nuts, chocolate jimmies or Chinese noodles. Serve at once.
* Start a sweet potato vine. Cut a sweet potato in half and place cut ends over jars of water, not touching the water. When roots develop cover them with soil . Soon green leaves develop, creating a beautiful house plant for winter.
* Buy hard persimmons and put them in a paper bag. When they get soft, spoon out the pulp to use instead of pumpkin in a pumpkin bread recipe.
* Introduce the family to a new salsa each day using fresh fall fruits and vegetables (e.g. Satsuma oranges, heritage tomatoes) plus seasonal onions and fresh cilantro.
* Buy or grow gourds. They are a natural, renewable container that can be made into everything from bird houses to attractive bowls.. For ideas and supplies go to amishgourds.com or thegourdreserve.com
* Turn the last blooms of summer (including weeds and pods) into dried flower arrangements. Go to driedflowersdirect.com. Hydrangeas, thoroughly dried and sprayed with gold paint, make a dazzling winter bouquet.
* Buy whole ears of dried corn on the cob, discard shucks, and screw eye hooks into the flat end. Attach thin wire or heavy string through the eye and hang ears where hungry squirrels can find them.
* Gather pine cones to fill with peanut butter mixed with oatmeal or bird seed. Make a bird feeding station by putting them on a flat platform on a tall pole that squirrels can't climb or jump onto.
* Make suet cakes to put out for wild birds when weather turns cold. (They aren't used in warm weather because suet, which is beef fat, melts or gets rancid). For recipes and instructions see attractwildbirds.com.
* Gather the most colourful autumn leaves and arrange them on rectangles of waxed paper. Top with a second piece of waxed paper and iron to weld. Scallop edges with scissors and you have place mats.
* Make your own fruit leather (see instructions at easyfunschool.com). When it's dry enough, use a pizza wheel to cut the sheet into long, narrow slivers that can be braided, tied into "pretzels" or strung with round oat cereal to make edible bracelets. .
* Remove glass from a picture frame and add a sturdy cardboard backing. Slather backing thickly with white glue, then make designs or mosaics out of dry corn kernels in red, blue and brown, dried peas, beans and lentils, and white and yellow popcorn.
* Celebrate Thanksgiving once a year and thanksgiving every day.
Harvest Time Recipes
'Mater-Tater Meltdown
Older children can scrub, dice and whisk. Little hands can crumble crackers and snip herbs. Serve this as a meatless main dish or as a side dish with meatloaf. If you make it ahead, keep it refrigerated and give it extra baking time.
8 medium potatoes, scrubbed and cut in bite size
2 cups diced fresh tomatoes, drained if juicy
16-ounce carton sour cream
1 can condensed cream of celery soup
Small can (2/3 cup) evaporated milk
8-ounce package shredded cheddar
3 tablespoons fresh herbs, finely minced
1 1/2 cups crumbled saltine crackers
1/3 cup olive oil
While potatoes cook in salted water whisk together sour cream, soup and milk. Fold in cheese and herbs. Fold into diced tomatoes and cooked, drained potatoes to mix well. Put in a spayed casserole, top with crackers and drizzle with olive oil in a thin stream. Bake at 350 degrees until top is golden and potatoes bubbly. Serves 8 to 10 as a side dish, 5 or 6 as a main dish.
Quickles
Choose yellow squash, zucchini or cucumbers depending on what your kids will eat. All are abundant at this time of year. Unwaxed cucumbers don't have to be peeled and they make prettier pickles with skins on.
3 pounds summer squash or cucumbers
Large sweet onion, peeled
6 cloves garlic, peeled
3 limes
1/2 cup sugar
1/3 cup extra virgin olive oil
Freshly ground black pepper (optional)
Slice vegetables paper thin and put in a plastic bag with the garlic. Juice the limes and scrape off a teaspoon or two of zest. Whisk together lime juice, zest, sugar and oil and pour over vegetables. Add pepper if you like. Seal bag shut and tip to mix well. Chill at least 4 hours, turning occasionally. Discard garlic and serve within a day or two. Keep cold.