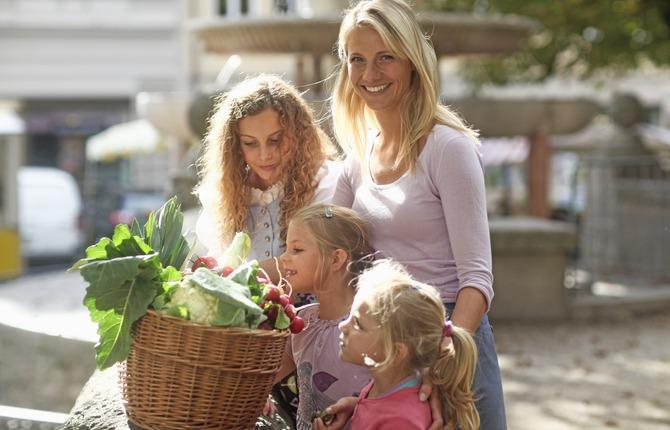 Bite into a food adventure summer
By Traci Paige Johnson
Encourage kids to become "Food Adventurers". At the grocery store or farmer's market, let children pick out one food they've never tried before. Urge them to have ownership of this adventure by picking out a recipe and preparing it together.

The best way to change a kid's attitude about a food they don't think they like is trying one fresh from the vine (think tomatoes), where the true smell and taste will entice them. If you have no space or time to grow things at home, take the kids on outings to the farmer's market to test and try fragrant fresh local produce and let them choose what attracts them.

Go to berry farms to pick baskets of strawberries or blueberries; or a produce farm to pick your own veggies.

Make a Food Adventure Summer chart that has a list of new foods. When the child tries one, they get a gold star on the chart. Who can collect the most stars?
Kids love scavenger hunts. Create a scavenger hunt adventure anywhere you'd find edibles– in nature, on a farm, at the grocery store or farmer's market. Find a food that grows in the ground, find a food that grows on a tree, etc. Track your scavenger hunt adventure on a sheet of paper, computer or iPad.

STICK IT!
· Summer used to be stickball season. Why not see how much more fun food is on a stick! And I don't mean corndogs…

· To get your kids to eat more fruit, try putting it on a stick! They may enjoy the process of doing this themselves.

· Serve just about any food that your kids are resisting on a toothpick, skewer or mini fork and see their reaction to that food transformed!

· Create a pirate themed meal by skewering all the food on tiny sword toothpicks.

· Fruit or vegetable kebobs can be grilled or not grilled, and let your kids assemble them.


FROZEN FUN
· Anything frozen is good in the summer!

· Best foods to freeze and enjoy are grapes (not for kids 3 or under), sliced bananas, mangoes, strawberries or any berries and peaches. These can be skewered on a stick as well, for a healthy alternative to popsicles.

· Juice Pop Paints — Make juice pops and take the fun a step further by spreading out sheets of white paper and as they pops melt, let the kids paint with them for fun creations that last! Juices with most vibrant color are pomegranate, orange and grape.


DIVE IN
· Teach kids early to stay healthy by drinking lots of water.

· Let them pick out their own special water bottle and perhaps even decorate it.

· Create a fun activity and make water more interesting by making their own infused water with watermelon, berries, cucumber, mint and/or orange slices.


RAINBOW ADVENTURES
• Have kids help you make a rainbow stir-fry and pick out all the different colored veggies.

• Help kids create rainbow colored kebobs.

• Make a rainbow salad with purple cabbage and different coloured peppers and tomatoes, and dare to add fruit too.

• Alternatively, try making food meals with a one colour theme, like an all purple meal with eggplant, purple potatoes and tomatoes, purple cabbage or asparagus and a blackberry dessert.
• Make a watermelon boat filled with balls of different coloured melon or other fruits. For a mini version of this, hollow out halves of an orange.

DON'T FORGET THE PICNIC!
• Take along a Silly Sack Picnic – You can choose a circle-shaped food theme, where everything is round or cut round (Ritz crackers, round little sandwiches, round cookies) or same colour, orange cheese, peppers, etc. or pirate themed, everything cut into pirate themed shapes and you eat everything with the little sword toothpicks.


Traci Paige Johnson, is a mom, producer and founder of Kids Digital Entertainment Companyyummicoand Creator of hit TV series "Blues Clues".