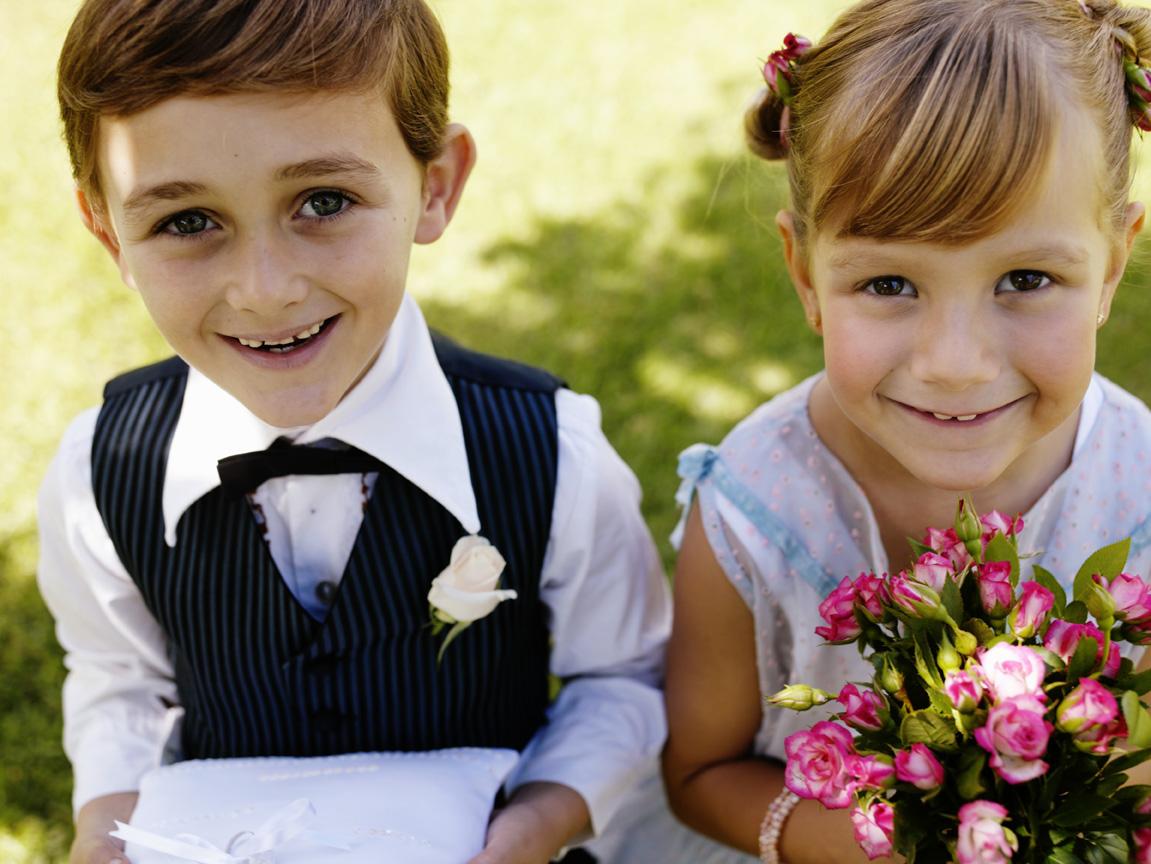 Wedding Season and the mini-guests
It's getting into the season where your weekend calendar will be filling up with weddings. And for parents some of these events welcome your littles to attend as mini-guests or to play an important role in the big day. The inclusion of your children can be wonderful and exciting, but it can also be filled with stress – no one wants to be the parent of the child having a tantrum as they walk down the aisle or running around the venue during the father-of-the-bride speech. With some thought and planning having children attend a wedding can add to the magic of the day and create lasting memories for your child as well as the bride and groom.
First – Make sure your child is invited!
Do not assume that children are included in all wedding invites – always ask. Some brides and grooms invite children because their venue and celebration is appropriate for mini guests, but other couples do not – and this is fine, it is their day. If the invitation does include children but you don't want to bring your kids because you don't think it will work out well or you and your partner just want a date night – that is fine too. Just make sure you share this explanation when you RSVP.
Prepare your kids
For most children weddings are a new experience and although they are full of excitement, they can also be full of stimulation which can be overwhelming to our littles, especially for young children.
To set your child up for success make sure they are well prepared for the event. The best way to prepare a child for something new is to preview what they are going to experience – and to do this multiple times – before the event. Children under six use their senses as one of the main tools to help them learn and experience the world around them. So in addition to telling your child the sequence of events that might occur, you can make your preparation even more meaningful by sharing what your child might see, hear, taste or feel when they are at the wedding. Sharing information like "there are going to be a lot of people at the wedding – like the amount of people who can fit in the gym at school. You are going to know some of these people, but there will also be lots of new faces." Or "weddings are a celebration so there will be music, cheering, clapping – lots of noise to show the bride and groom that we are happy and excited for them!"
If your child is going to play a role in the wedding – such as a flower girl or ring barer – rehearse this role with them. Practice, practice, practice. Don't just rely on the rehearsal night – your child will need lots of experiences with their role to feel confident when their moment comes. When explaining what your child is going to do at the ceremony, use language that they understand (hall vs. aisle or ring carrier vs ring bearer). It can also be helpful to use first then statements to help your child prepare for their role – saying phrases such as "first you are going to walk down the long hall and then stand next to uncle Jeff." This helps break the steps down and when they complete each step they will feel successful which will create a happy wedding participant.
Arrive early
Try to arrive to the wedding venue early. This will provide your kids with an opportunity to take everything in, ask any questions and get comfortable. Make sure they go to the bathroom and find a place where your kids can run around and get their wiggles out.
Keep your kids entertained
It is inevitable that kids will get bored at weddings. Young children have short attention spans and often many elements of a wedding – speeches, cocktails, long dinner conversations – go over kids' heads. Make sure you bring simple, quiet, engaging activities that you can pull out and give to your kids when you start to notice them losing interest. Remember when kids get bored negative, attention seeking behaviours can follow. Keeping kids busy will ensure that they aren't having a melt down during the receiving line or practicing their drumming skills with the cutlery.
Below are some favourite easy (and quiet) activities to pack in your bag.
Activities for 3-5 years
Crayola Color Wonder Mess Free Colouring Books

Melissa and Doug Invisible Ink Activity Books

Create-A-Scene Magnetic Playset

Usborne Sticker Books

Mini Magnadodle

I Spy Books
Activities for 6-10 years
Travel Spirograph

Puzzle games – IQ Fit

Boogie Board (writing tablet)

Mad Libs

Activity Books – word search, sudoku, mazes

Books

Bring a camera!
There will be so many cute moments you will want to remember so make sure to take lots of pictures. You can also bring a camera for your kid to use – VTech and Fujifilm have great camera options for the 5+ crowd. This will be a fun activity to keep them engaged and they may capture some special memories from their perspective which could be enjoyed by the bride and groom afterwards.