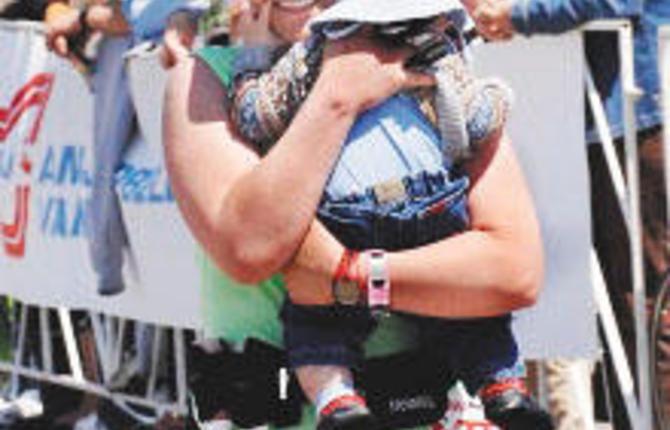 Happy Marathon Day Mom
Moms and their families all over will be celebrating Mother's Day this month with all the traditional parties, flowers, gifts, relaxation and food.  However, this May 11 some moms will be celebrating their day in a different way; with a day of fun and fitness at the Mississauga Marathon presented by Canon.  This is "A Run For Everyone" and very family friendly.  Some moms will be participating to inspire their children and families to be fit and active while many people will run to celebrate their moms.
Margaret Pepper of Mississauga, who is running the 10K on Saturday, will also be attending the Mississauga Marathon presented by Canon on Mother's Day to watch her 2 sons and husband cross the finish line at The Mississauga News 2K Family Fun Run/Walk.  "My son did the 2K last year with me and seeing the sense of accomplishment in his face as he crossed the finish line after training for a few weeks was one of the highlights of my life.  I was so proud of him.  This year I'm letting his dad run with him to see it."  Margaret and her husband have four children under the age of 8 and strongly believe in setting the foundation for an active life early.  Getting kids excited about being active from a young age can set them into a lifelong pattern of physical activity.
Guelph resident Kim Kenzie will run her third full marathon in memory of her mom.  Kim was training for her first marathon in Mississauga last year when her mom was diagnosed with cancer and passed away.  Her goal to run a marathon before she turned 40 quickly changed to complete the marathon for her mom.  This goal was realized last Mother's Day when Kim crossed the marathon finish line with her family and father watching on.  This year she is once again training for the Canon Marathon and would choose no other way to celebrate Mother's Day.  "I will run it in memory of my mom again and celebrate her life and all she was."
These are just a few of the inspired stories of moms and their families running or walking in one of the seven events that will take place this Mother's Day weekend as part of the Mississauga Marathon presented by Canon.  Join the thousands of people who will celebrate in a very unique way!  There is tons of fun and entertainment all along the courses and especially at the finish line party!  The Marathon is also offering a special Mother's Day gift book; Be…A Woman expressions of life at a special discounted price and $10 goes to the Colorectal Cancer Association of Canada.
For more information on the Mississauga Marathon presented by Canon event weekend call 905-949-2931 or visit www.mississaugamarathon.com.