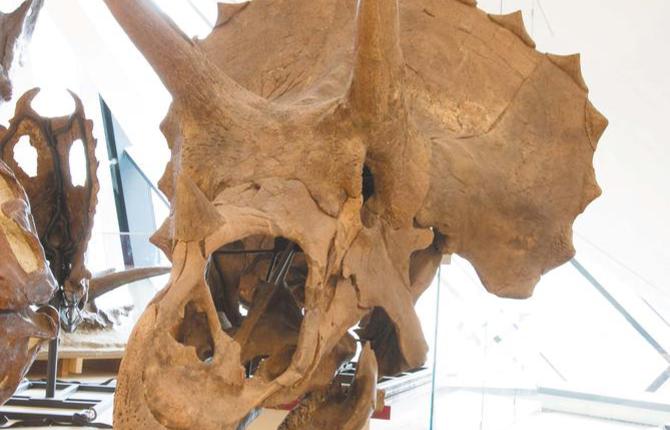 Dinosaurs resurrected at ROM
Age of Dinosaurs and Age of Mammals (Royal Ontario Museum) — It's been a long time in coming, but the new dinosaur exhibit at the ROM is finally up. And it's a whole new approach to showing bones. Gone are the dark, moody exhibits of dinosaurs posed in faux environments behind glass. Everything here is open, bright and dramatic in a minimalist sort of way. Basically, it's all about the skeletons now, posed against the dramatic angles of the walls in the Michael Lee-Chin Crystal. Those walls are all glass and white paint, and the rusty brown of the dinosaur bones pop out in contrast. It will be difficult for kids to resist running over to see Gordo first. He's the 27-metre Barosaurus the ROM recently discovered in its own collection, as the bones were scattered throughout displays and storage. He's huge, he's dramatic. His head is ridiculously small and his long whiplash tale trails along the ceiling far outside the display. There's also a pretty scary looking T-Rex, the also very large Albertosaurus (he's a Theropod, a meat-eater) with a big head, and a few duck-billed dinosaurs (Hadrosaur) with weird heads. While you're almost always looking up at the 5.4-metre-high ceilings at soaring skeletons (some, like a huge, ancient turtle and a nasty-looking fish are actually hung from above), at eye level there's also a lot going on. The exhibit is called "Age of" for a reason, as the curators have included a wide range of specimens ranging from fish skeletons, Ontario fossils of vegetation, and snail fossils, all from the same era. And not to be overshadowed by those popular dinosaurs, the mammals exhibits are really fascinating. There are ancient rhinos, a bone bed full of skulls and bones, the amazing and heavily armoured Glyptodon and the impressive, tusked Mastodont. What's fascinating here is learning about timelines and what became extinct, and when, and what made it into our era.
For information ca.ll 416-586-6000,or visit www.rom.on.ca.