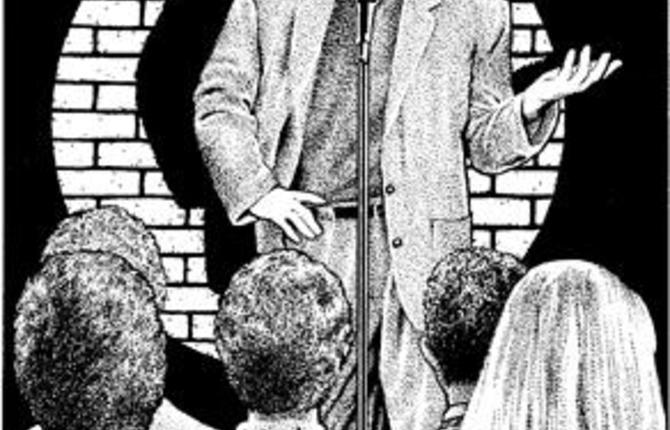 Comic Vision raises money for blind foundation
Retinitis Pigmentosa (RP) is a genetic eye disease that affects the retina and causes a gradual permanent loss of vision. Gavin Morrison, 17, of Oakville, Ont. was diagnosed with RP when he was a young child. His mother Ann and other family members were shocked that their oldest son has this disease. "When we found out, I felt like Charlie Brown with a dark cloud over my head," says Ann. Confused and not sure where to turn, Ann was told about the Retinitis Pigmentosa Foundation (now called the Fighting Blindness Foundation).
Ann attended one of their conferences. "That conference changed everything for us. We met people who were affected by this disease, parents and families. We met researchers and listened to them as they spoke about promising research that they were doing. The keynote speakers were inspiring, so it was a really positive experience for us. Our perspective has changed. Our future didn't seem so gloomy and we had hope for Gavin," says Ann.
A few years later, Ann met Meg Soper of Oakville, Ont. who has a son the same age as Gavin with the same disease. Soper approached Ann about helping her launch a comedy show fundraiser. Soper is a nurse, but also a comedian. "Meg said she would arrange to get the comedians and venue, if I did everything else. So we worked together to launch the event," says Ann.
The event is called Comic Vision: Share the Laughter, See the Hope. About 200 people attended the event in Toronto and they raised $7,800.
The following year, the event was held at Yuk Yuk's in Toronto, about 350 attended and they raised $40,000. The event has become an annual fundraiser ever since.
"With Comic Vision we've raised about $2.1 million. This year they anticipate bringing that number to $3 million," says Ann.
Ann can still remember her son Gavin at the age of 10 standing with her as she gave the opening speech to Comic Vision. In 2006, Gavin delivered the speech himself and received a standing ovation. Last year Gavin was named master of ceremonies.
With his family and friends giving ongoing support, he has learned to accept himself just the way he is and does what he can do help those like him. "Gavin is a wonderful student, has a great sense of humour, enjoys snowboarding, wake-boarding and swimming on the school's swim team," says Ann. "He hasn't become depressed or angry about the disease even though some of his friends can do things that he can't. He just does what he can."
For more information or to send donations visit www.ffb.ca.