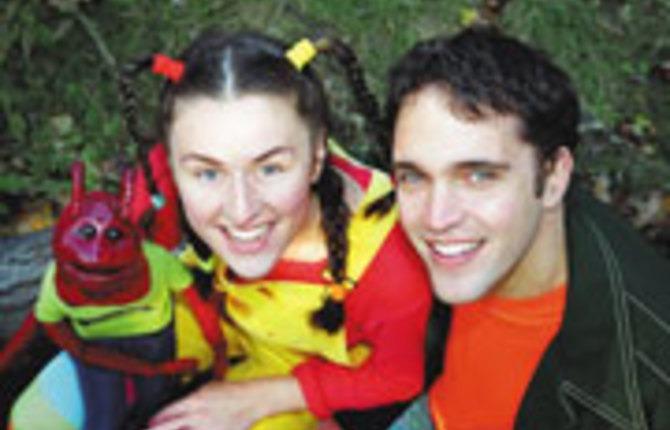 Arts and Entertainment
Soli & Rob in Concert…with Alistair Ant & Friends (Berkeley Heritage Event Venue) –- If you have a child under the age of 6 and you don't know Soli and Rob, or their purple friend Alistair, then you are really missing something. For the past several years, this colourful and animated musical duo has been entertaining legions of preschoolers (including mine) with their engaging shows – usually accompanied by Alistair, an endearing puppet skillfully manipulated by Soli, a professional puppeteer. Soli & Rob are celebrating the launch of their third CD  (Happy Birthday, Alistair Ant!) with a concert on Sunday, November 11, at 11 a.m. and 3 p.m. at the Berkeley Heritage Event Venue (315 Queen St. E.)  Tickets are $18 in advance and $19 at the door through Ticket Break 416-640-0966 or online at www.ticketbreak.com.
The Wizard of Oz (Lorraine Kimsa Theatre for Young People) – Launching Nov. 4 and continuing right through the holiday season, the LKTYP's production of the classic The Wizard of Oz is inspired by the movie musical but don't go expecting a stage replica. Director Allen MacInnis is promising a fresh take on the story – focusing a little more on Dorothy's struggle to find a sense of home with her non-traditional family. And while the songs you know and love are there – Over the Rainbow, We're Off to See the Wizard, etc. – you'll also find elements of contemporary culture throughout. The Wizard of Oz is suited for kids 5 and up and runs at 2 p.m. Saturdays and Sundays (with school performances during the week). Tickets are $20 for adults, $15 for kids; visit www.lktyp.ca or call 416-862-2222. LKTYP is located at Front St. & Sherbourne, near St. Lawrence Market.
Peter Pan (Ross Petty Productions/Elgin Theatre) – With great anticipation, many Toronto families await the return of the annual holiday family musical at the Elgin Theatre. No other show can rouse a chuckle out of every member of the family – from three to 93 – and so thoroughly engage its diverse audience. With the acrobatic talents of figure skater Kurt Browning in the lead role, Ross Petty himself as the villain you're encouraged to boo at, and the tagline "Silly. Very Silly.", this year's production is shaping up to rise the traditions set over the past 10 years. Peter Pan opens November 22 and runs until January 6  and already some shows are selling out. Tickets range from $49 for children to $54-$74 for adults. Book them through ticketmaster.ca.