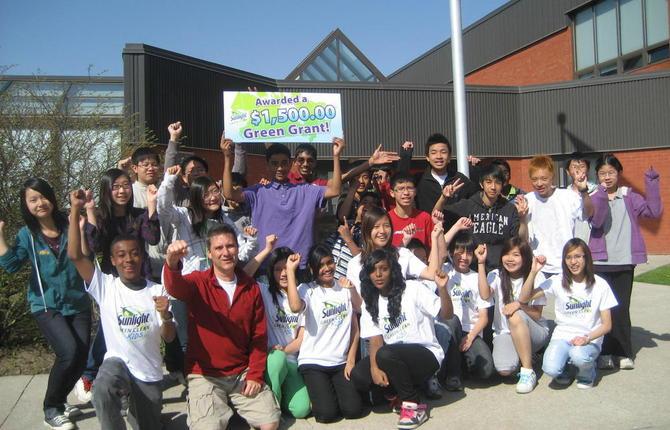 Student recognized for eco-efforts
The best green ideas sprout from some of our youngest minds. This is why Sunlight Green Clean Kids has recognized the initiatives of 12-year-old Dilshan from Mississauga and children from across the country with Green Grants, which allows environmentally conscious Canadian kids to put their green ideas into action.
Dilshan was awarded a grant of $500 to help fund his initiative of reusing eyeglasses.
Students at Dilshan's school, Canadian Martyrs encourages the parents and students to donate any unwanted eyeglasses to the Lions Club of Mississauga Central. Once the eyeglasses are refurbished they are given to Canadians and others individuals throughout the world who do not have access to such. Dilshan is proud of this initiative because, "not only does it help those in need, the program also helps the environment by reusing a product and giving attention to sustaining our community. I hope others become environmental stewards as well."
Green Grant applications can come from individual kids aged six to 13, their school clubs or community groups. Canadian kids can visit www.SunlightGreenCleanKids.ca to apply or to download a mail-in application. Kids are asked to share their green idea in 150 words or less. Applications must be received between October 5, 2009 and
November 30, 2010 and will be reviewed every three months. The next deadline is March 31, 2010.
A selected panel of 10 Sunlight Green Clean Kids from across Canada review the submitted green ideas and award the selected applicants with a Green Grant valued between $250 and $1,500 to help fund their ideas. In total, Sunlight Green Clean Kids has provided $50,000.00 in Green Grant funds. Dilshan is the first of many students that will get funding, and kids from Mississauga can also apply before the March 31, 2010 deadline. The program's goal is to inspire a broad range of green ideas and action. Some ideas include:
• Starting a vegetable garden
• Developing an anti-idling initiatives around school parking lots
• Encouraging a waste-free lunch program
Kids, parents, teachers and community group leaders can learn more about the Sunlight Green Clean Kids- Green Grants program, including full rules and regulations at www.SunlightGreenCleanKids.ca.