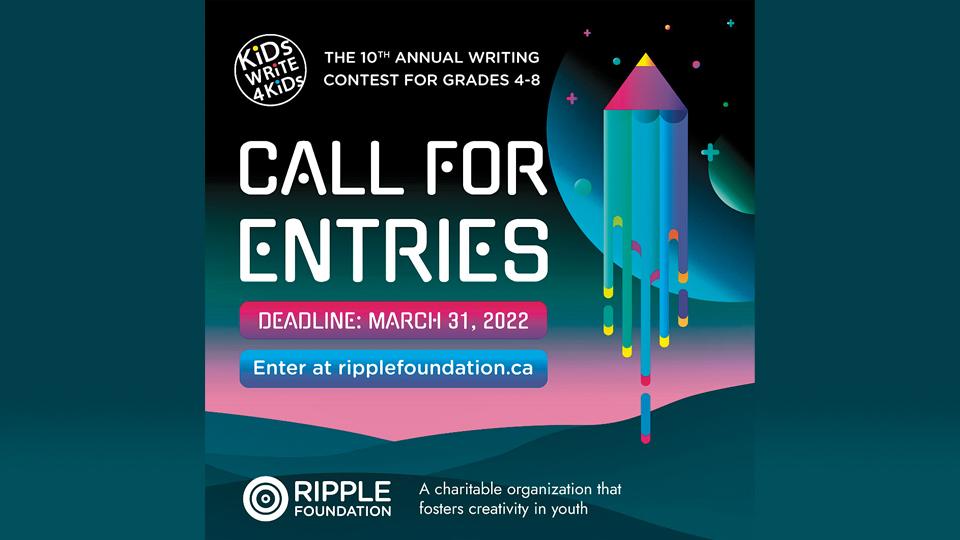 Ripple Foundation's Creative Writing Contest for Kids
Creativity is a hidden tool that, if teased out of youth, holds the power to inspire inquisitive minds, boost confidence and unlock new ways of approaching challenges to build promising futures for the next generation.
One Canadian charity, the Ripple Foundation, is making waves and striving to unearth hidden creative talent through its youth programs, designed to inspire a love for reading and writing and nurture creative writing skills while boosting confidence among youngsters.
As well as weekly virtual Write It Workshops designed to teach the key principles of creative writing, the charity holds an annual Kids Write 4 Kids creative writing challenge – a writing contest now celebrating its 10th birthday.
The competition welcomes budding young writers in grades 4-8 from across Canada to explore all parameters of their creativity and put pen to paper with a chance of becoming published authors before reaching high school. From poetry collections to short stories to non-fictional works, any literary creation can be sent in with a chance of winning if submitted by the deadline: March 31, 2022.
All entries are judged by a panel of professionals, including editors, authors and faces from the publishing world. Over the years, these have included award-winning authors such as Kit Pearson, Robert Paul Weston, Dan Bar-el and Tim Wynne-Jones, CBC Books and Canada Reads' associate producer, as well as editors from The Globe and Mail and Toronto Star. Alongside winners from previous years, they all come together to decide who will become Ripple Foundation's next child author.
To date, 19 books have been published in paperback and ebook editions, available to buy on Amazon, Google Play, iBookstore and Overdrive, with 100 percent of proceeds from sales benefitting the winners' charity of choice.
"Year in, year out, myself and the panellists are completely blown away by the untapped talent we have in communities all over Canada," said Ivy Wong, founder of the Ripple Foundation. "We hope to cultivate confidence in kids through our programs by finding their voice and expressing their ideas by having them create a contest entry that they are genuinely proud of, knowing the prize will benefit a charity of their choice."
In 2020-2021, Ripple Foundation received 685 entries; a record-breaking number of submissions since the contest kicked off. Taking the crowns from last year's contest are winners Sumal Ashfaq (grade 8) with the poetry collection, The Wonder of Words, and Olivia Harrison (grade 8), with the short story, Learning to Fly. All 2021 proceeds will be donated to their chosen charity, Operation Smile.
Applicants are encouraged to attend the Ripple Foundation's virtual Write It Workshops, which are free online sessions geared towards teaching the key principles of story writing, to help them prepare their creative submissions to the best of their ability.
For full entry requirements and details about how to submit, head to: https://www.ripplefoundation.ca/kids-write-4-kids/contest.