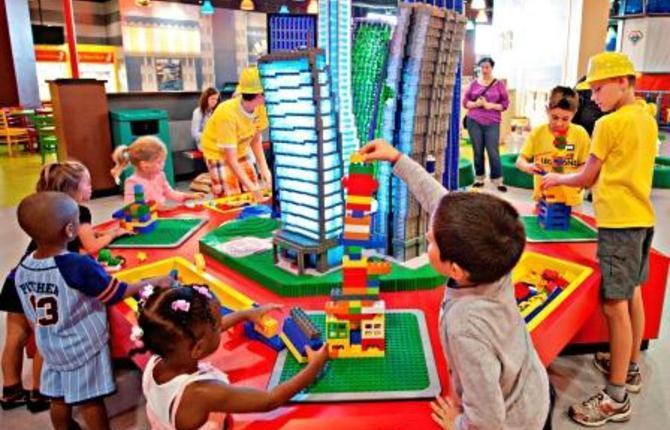 Back to the building bricks
Televisions, tablets, laptops, smartphones – no matter where you turn, you will most likely see one of these gadgets in the hands of a small child growing up today. Consumed by digital screens, it is no wonder why toddlers are learning how to open up their favourite game application on an iPad, before even learning how to take their first steps or utter their first words.
"Children are lucky to be growing up with all sorts of new technology but it is also important for kids not to lose their own sense of imagination and creativity," says Noel Straatsma, master model builder at LEGOLAND Discovery Centre Toronto. "Playing with real toys, building, creating and using their hands for more than just swiping left, right, up and down on a screen is essential for growing minds and encourages kids to be innovative with the use of their own ingenuity."
With Straatsma's tips, it can be easy for parents to reintroduce their children to the art of play and encourage them to switch off their screens, all while keeping them stimulated and enthused:
Real toys not electronics –Birthday coming up? Instead of gifting your child that latest video game and getting them hooked on these fancy (and often expensive) devices so early on, consider classic toys like LEGO bricks, Play-Doh or even a Hot Wheels race track they can build, tear down and re-build a hundred times over. Encourage your kids to get as inventive as possible with their designs.
Family day trips –The goal here is to take your children out of the house for some time away from their laptops, TV's and game consoles. Plan for a fun day outdoors or an afternoon filled with active, hands-on learning. Skating at Nathan Philips Square or visiting LEGOLAND Discovery Centre Toronto are great options for a perfect family day that is sure to keep your little ones engaged and entertained.
No cellphone zone –The dinner table? The living room on family game night? Wherever you choose to make it, ensure you have designated spots around your home where cellphones, tablets and other electronic gadgets are off-limits. Get your kids involved and have them design crafty signs for the assigned areas. Hang them up high where they are clearly visible so that the whole family can be reminded daily.
"With toys like LEGO bricks, we can teach children to be artistic, assemble, problem-solve and play games beyond the confines of a small screen," explains Straatsma. "It could even be the first step in inspiring a child to pursue greater things later in life such as engineering, design, construction and architecture."
At LEGOLAND Discovery Centre Toronto, children can practice and develop these skills at free building stations, the Construction Site or by taking part in a Master Model Builder workshop. Once honed, their building skills can be put to the test at the LEGO Racers: Build & Test zone.
Save up to 20% when tickets are booked online, and children under the age of three are free.
For more information about LEGOLAND Discovery Centre Toronto, please visit www.legolanddiscoverycentre.ca and follow it on Facebook and Twitter.