So much fun at Safari Niagara
Tweet
By Christine Davis
Part of the joy of having a child is re-living experiences from your childhood, or in some cases, taking part in new experiences together. Just before the August long weekend, I got to experience the joy of Safari Niagara with my daughter – a first for both of us.
Recommended by a neighbour, my husband and I looked forward to spending a day not only checking out the animals, but also playing in the splash pad and just generally exploring the 150-acre nature park.
Prior to the neighbours'recommendation I hadn't even heard of Safari Niagara, despite the fact that it first opened as ZOOZ in 2002 and evolved into Safari Niagara in 2009.
It's the kind of place that's totally family-friendly and relaxed. We felt like we had stepped back in time when we arrived in the morning: Free parking, wagons for rent at reasonable rates ($5 plus a $5 refundable deposit), and a small town feel that you don't often experience anymore.
We lucked out when the tram pulled up just as we entered the park and quickly hopped on, stopping to check out the big cats. Seeing the lion was the highlight for me as I missed them while on safari in Africa a few years ago. Sitting majestically behind the safety fence, the king of the jungle barely flinched as countless cameras flashed in his face and a number of visitors stood in awe of him. From the big cats we walked to the pedal go-karts for a quick lap before back-tracking for lunch.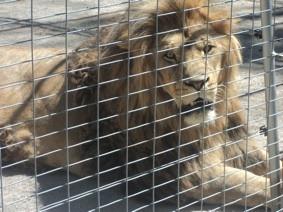 At The Funky Monkey Lunch Box we were pleasantly surprised to find delicious Panini sandwiches at reasonable prices as well as plenty of seating at shaded picnic tables. From there, however, my daughter caught sight of the playground, so before we knew it we were up and moving again.
From the playground we hit the Bounce-A-Rooz. These new jumping pillows provided lots of bouncy fun and with one for the little kids and one for the bigger ones, we felt safe letting our not quite two-year-old go it alone.
While my husband would have loved to take Isabelle on the ropes course, we headed for the roller coaster instead, where my little girl got her first taste of amusement park rides. With that done, and my heart safely beating again, we spent a long time on the very hot day in the splash pad. It was great to see so many kids and their parents playing in the water, playing with each other and generally having fun. There must be something about spraying water that brings out the kid in everyone, as even many parents were getting involved in the wet fun.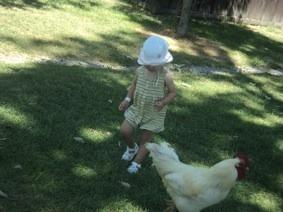 Tired from all the walking, jumping and playing, we opted to take the tram again, stopping at Papa Steve's Family Farm where Isabelle chased the chickens and talked to the turkey before heading along the Mellow Marsh Boardwalk, past the budgies and African range animals, before hopping back on the tram back to the entrance/exit where we sadly called it a day.
I wish we had been able to take the Big Cat Tour, catch a Zooniversity show and take part in the hippo and giraffe encounter, but with a toddler who needed a nap, it just wasn't possible. It does, however, give us a reason to visit Safari Niagara again soon.
Safari Niagara is open until October 12. Plan your visit at www.safariniagara.com.