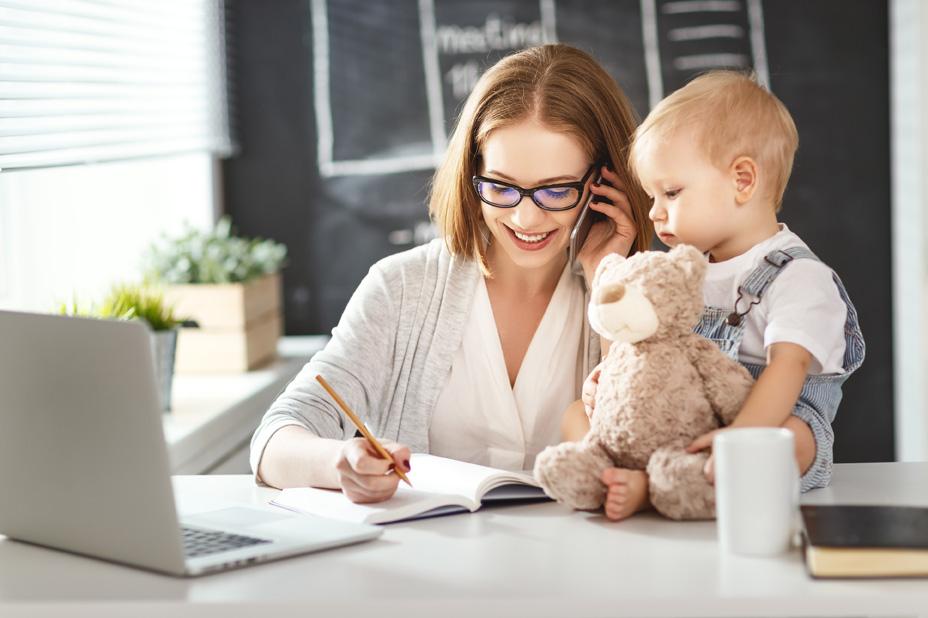 Five ways for Mom to make money
By Carol J. Alexander
Few women look forward to returning to work after having a baby. Financially, some don't have a choice. Yet others have enough wiggle room in their income to start earning money from home. Here are five proven ways for stay-at-home moms to help contribute to the family budget.
Sell things on Ebay or Amazon
Much has been written about selling on Ebay or Amazon; so I won't cover all the details. I will tell you though, that many women make this work. Here are a few secrets they have shared with me:
• Invest in a good postal scale and keep all packaging material on hand.
• Charge a flat rate for postage.
• If you are buying things to resell, look for things that you like.
• Quality pictures and a thorough description sell your item.
• Don't give up too soon. Give it time to learn the ropes.
Working as a Personal/Virtual Assistant
Rebecca has worked as the Personal Assistant for a professional couple for the past eight years—from home, while homeschooling her children. For her, this job was a spillover from her full-time position prior to the birth of her first child. For others, though, choosing to work from home, keeping executives looking good and organized, might be something to look into. If you have strong clerical, organizational, and interpersonal skills, Rebecca says you can make it in this field. "You have to be really good at the Internet," she said, "and be accessible." A personal assistant might perform a wide range of duties—manage calendars, organize records, and handle correspondence, are just a few of those duties. Or, they may be more glamorous. Rebecca, for instance, plans the family's parties, makes travel arrangements, and is on call 24/7 for emergency situations. The pay for this job will vary depending on the area of the country you live in and the position of the person for whom you work; but on average a personal assistant can expect to make about $25 per hour.
A virtual assistant, on the other hand, supports others more online than in person. She might answer emails, handle a person's social media channels, or work behind the scenes on a blog or website. Stephanie, a virtual assistant for three years, says that she finds her clients from Facebook groups and word-of-mouth.
Blogging
Jamerrill posts free items and great deals for homeschooling families at FreeHomeschoolDeals.com. What began as a hobby in 2008 has grown into a full-time business employing other moms. "I go to bed early most nights, and get up several hours before my household," she said in a recent interview. "It's a trade-off. I don't watch TV or hold any responsibilities outside of my home and business." Blogging is not a get-rich-quick way to make a living, either. It took Jamerrill four years to see a good return for her efforts.
Handiworks
Betty worked for about 40 years as a professional seamstress. She fashioned wedding ensembles, costumes, and everyday clothes for a wide range of clientele. Even now, at 76 years of age, she continues to hem pants, replace zippers, and alter prom dresses. Sewing clothes, however, is not her only passion. Betty also spends months preparing for the craft show season. Her crafts have changed over the years; but she's never failed to provide at least grocery money for her household.
If you have a passion for creating, give selling your wares a try. From homemade soap to candles to photographs, all can be sold at local arts and crafts shows, gift shops, or online.
Multi-Level Organizations
When my children were small, I paid for the groceries selling Avon. I made phone calls while the little ones slept, let them help me package orders, and took them with me to make deliveries. It was perfect for our family at that time. After they got older, I switched to Shaklee products. Shaklee required more of my time but I still built my business from home and made enough to buy the groceries and extras that my husband's salary didn't cover. If you are interested in a direct-sale product, make sure it's something that you are sold on yourself. Use the products, see the difference they make in your life, and then you have a story to share. It is your story that will sell the products for you. Also, check out the company's marketing plan and business philosophy to make sure that it meets with your standards.
Of course these ideas are only a few of many ways for a stay-at-home mom to make money. The key is to take stock of your skills, see what fits in with your family's schedule, and ask yourself if it's something you would enjoy.
Following are books or websites with more information about the jobs listed above.
eBay 101: "Selling on eBay for Part-time or Full-time Income" by Steve Weber
The Bootstrap VA: "The Go-Getter's Guide to Becoming a Virtual Assistant", "Getting and Keeping Clients", and "More!" by Lisa Morosky
For more information, books, or classes on blogging, BloggingYourPassion.com or ProBlogger.net.
For more information about selling online, check out Etsy.com