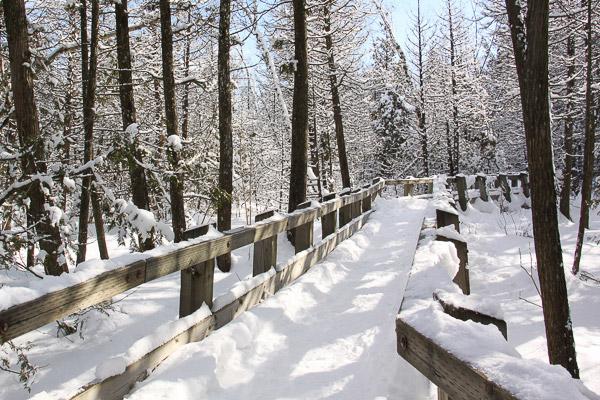 Winter Wonders at Crawford Lake Conservation Area
By: Andrew Hind
When snow blankets the ground, Crawford Lake Conservation Area in Milton is transformed into a winter wonderland. The landscape is draped in fluffy white mounds, and a soothing tranquility settles deeply. With over 19km of trails weaving through forests, by a lake and across ridges, its an ideal place for outdoor adventures.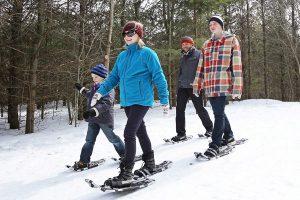 Grab a warm coat and pull on some boots to head out for a leisurely hike along the Hide and Seek Trail. A series of wooden sculptures depict local wildlife at risk; stop at each to learn about the species in question. Strap on a set of snowshoes – experts say if you can walk you can snowshoe – and either follow a trail or cut your own path through snow-hushed scenery. Or try cross-country skiing along scenic Pine Ridge Trail and its frosted pine tree plantation.
Return at night for a guided moonlight snowshoe hike, where the setting takes on a whole new appearance with snow glowing under the pale light of the moon. After the hike, get cozy by a fire and drink hot chocolate.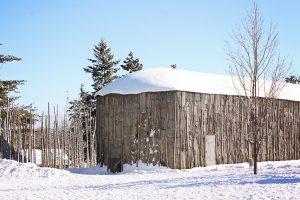 The highlight of Crawford Lake, regardless of the season, are the three reconstructed long houses that provide a window into the site's past.
Between 1973 and 1987, archaeologists from the University of Western Ontario and the London Museum of Archaeology uncovered the remains of an Indigenous village located within the confines of the conservation area. It was determined that the village, which was inhabited over the span of 300 years, numbered 250 people living in 5 longhouses. Longhouses were inhabited by extended, multi-generational families (or clans) all related on the mother's side. The smallest of Crawford Lake's longhouses was home to between 30 and 40 people, while the largest could house as many as 100. A central corridor with fire-pits in the floor would have provided heat, light, and a place to cook meals. Above each hearth, an opening in the roof would have allowed smoke from the fires to escape. Running along the sides of the structure were two or more levels of bunks, the bottom being used for sleeping and the upper levels used for storage.
Three of these longhouses, from the 15th century, have since been reconstructed on the exact footprints of the archaeological findings.
"Before European settlers arrived, this area was home to Iroquoian people," explains Adam McDowell, Director of Programs at Crawford Lake. "When we speak of Iroquoian people, we're talking about members of a linguistic group that comprised a variety of native people, like the Iroquois of New York States and the Huron of Ontario. The people who lived here, on this site, would have been ancestors of the Huron and were advanced agriculturalists, raising crops on a scale that enabled the establishment of large, sizable communities."
Crawford Lake Conservation Area offers a unique blend of winter adventure and history immersion. Bundle up warm for a trip into the woods and back in time.
Just the Facts
Location: 3115 Conservation Road, Milton
Note: Reservations are now required before your visit. Book online at the Conservation Halton website