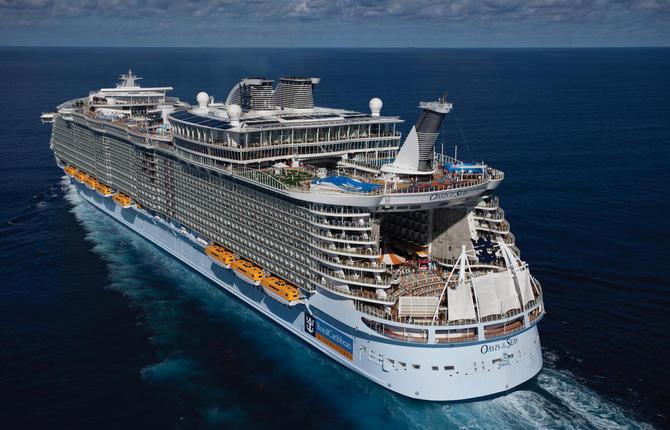 The ultimate floating resort
When you first see the glamourous and glitzy Royal Promenade of the Oasis of the Seas, the world's largest cruise ship for 6,296 passengers, you think you're at the Toronto Eaton Centre or some sort of super-festive mega-mall. Can this really be a cruise ship?
Her voluptuous measurements are so overwhelming you can't believe it can float. The ship is the length of three football fields and 40 per cent larger than any other ship at 225,000 tonnes. It's a 17-storey building of amusement areas and suites. There are 37 bars, 24 cafés and restaurants and 10,000 square feet of shops. More than 2,100 crew members keep everything ship-shape.
The seven neighbourhoods that make up this floating resort include Central Park, a gorgeous garden setting with 12,000 plants, 56 trees, meandering walkways and upscale restaurants.
The Boardwalk area emulates Coney island and has a carousel, ice cream bar, fortune-tellers and two rock-climbing walls. A 750-seat Aqua Theatre features synchronized swimmers and high-diving shows at its 18-foot deep pool.
Entertainment Place has comedy clubs, nightclubs, an ice-skating rink for top-quality shows, as well as a 1,380-seat show lounge and theatre for Broadway performances such as "Hairspray." The casino has 460 slot machines and countless gaming tables.
At the Pool and Sports Zone dip your toe into the sloped-entry pool that's designed to be like a beach. Or learn how to surf on one of the two Flowriders. Water shoots over a carpet at 25 mph and you can boogie board until you wipe out.
Or play a game of basketball on the nearby court or try the putting green. There are 21 swimming pools, wading pools and hot tubs. Dare-devils should try the 80-foot zipline for a seven-second adrenaline rush as you whiz above nine decks.
The ship is also a cruise industry game-changer due to its 14 decks of cabins. Since the ship has a split hull in the middle, it has the industry's first inside cabins with balconies that surround and overlook interior neighbourhoods. There are about 2,700 cabins including two-storey lofts. The lofts range from 600 to 2,000 square feet, have floor to ceiling windows and a few have baby grand pianos.
But your suite is probably the last place you'll want to be on this ship. There's so much to explore and experience that even a week isn't enough time to do everything on board.
Oasis of the Seas sails out of the Fort Lauderdale area. Prices start at $859 for a 7-day Caribbean cruise but prices are expected to increase. Call 866-562-7625 or visit rccl.com.