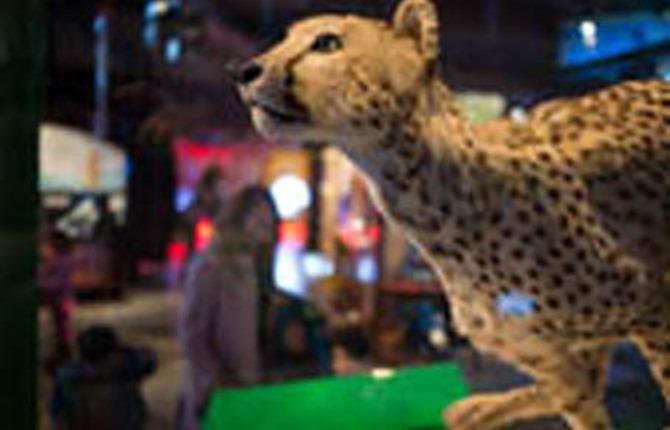 The science of biomechanics comes to life at the Ontario Science Centre
New exhibition reveals how humans draw inspiration from nature's ingenuity
Gain a new appreciation for the machine inside all living things at the Ontario Science Centre with Biomechanics: The Machine Inside. This interactive exhibition explores animals and plants as machines built for survival, complete with pumps, claws, springs and wings.
"This interactive exhibition provides visitors with an insight into the incredible characteristics that living things – including humans – display every day based on centuries of evolution and adaptation," said Catherine Paisley, vice president, Science Education and Science Experience, Ontario Science Centre. "There is much to be learned from animals, plants and microbes. To find sustainable solutions to current and future human challenges, we need to look to the growing field of biomimicry – science inspired by nature – to spark innovation."
Using real specimens, life-like models, video footage and interactive displays, the exhibition investigates how cheetahs run so fast, how a toucan stays cool in the jungle, how a Venus fly trap detects its next meal and how many other organisms function as machines in order to survive, move and discover.
Visitors will also discover how burrs found in dog fur inspired the invention of Velcro, how prosthetic limbs are modeled on the action of human muscles and tendons, and how humans have mined and mimicked nature's designs in other ways to improve our lives.
This exhibition is for anyone who has ever wondered how blood gets up to a giraffe's head, how squishy earthworms manage to dig in hard ground or how much stronger the hyena's bite is than a human's. Comparing the similarities between muscles and motors, legs and springs, and claws and clamps, it explores the ways marvels of natural engineering have inspired ingenious human-made inventions.
"We are committed to improving quality of life for individuals, communities and populations through innovative research, including applied biomechanics and other movement sciences," said Dr. James W.E. Rush, Dean, Faculty of Applied Health Sciences, University of Waterloo. "Our partnership with the Ontario Science Centre allows us to share our own research with visitors and inspire the next generation of research scientists to effect positive change in the world."
Biomechanics: The Machine Inside runs daily until May 7, 2017 and is included with general admission. For more information about the exhibition and to purchase tickets, please visit www.OntarioScienceCentre.ca/Biomechanics.