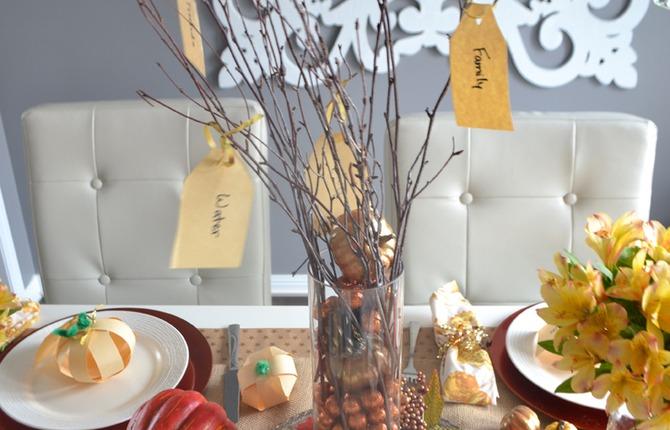 Thanksgiving gets crafty
By Jaclyn Colville
Decorating for special occasions is a great way to get kids involved in the celebrations and to help develop their creative skills. They will be proud of their contribution to the festivities and you will be cultivating willing helpers.
Here are three kid friendly crafts to help inspire your Thanksgiving décor and get the whole family involved.
Construction paper pumpkin place cards
What you need:
• orange construction paper
• green chenille stems
• glue
• scissors
*for a colourful personal touch allow kids to draw on the construction paper before you start
Cut out 8 to 10 1-inch wide, 10-inch long strips of orange construction paper.
Fold green chenille stems in half and twist and bend to create the stem of the pumpkin, set aside
Lay paper strips one on top of the other to form a star shape as shown above.
One by one, bring the two ends of each strip together and glue, tape or staple to form the pumpkin shape
Use glue to attach the chenille stem
Cut construction paper tags (3-inch x 4 -inch), write the name of guest on the tag
Punch a hole in the tag and attach ribbon to hang the tag from the pumpkin stem (as shown).
These tags can also be used for each guest to write something for which they are thankful (to be used in the centrepiece).
"Give Thanks" nature centrepiece
Go on a family hike to prepare for this nature-inspired craft.
What you need:
• large glass vase or Mason jar
• twigs/fine branches
• pinecones/acorns
• construction paper (for thankful tags)
• ribbon
• leaves (optional)
• small pumpkins (optional)
Bringing the fall scenery indoors is a great way to decorate your table. This is a simple center piece that has a huge impact. There are countless variations you can use to fill the vase and surround the centrepiece, so go ahead and make it your own.
Start by arranging the twigs in the vase
Place pinecones, pumpkins, and any other items you would like to show through the vase carefully around the twigs
Involve the kids in painting the pumpkins to match your décor. I've used gold paint (and it doesn't need to be perfect!).
You can utilize other items gathered during a family hike on this centrepiece including rocks and leaves.
Cut construction paper into 3-inch x 4-inch squares, punch hole in top corner and thread through a 6-inch piece of ribbon. Invite guests to write something for which they are thankful on the tag and hang their thankful tags on the branches. Or use the place cards as suggested.
Festive turkey headbands
• construction paper
• feathers
• ribbon
• glue
Make ahead of time or as a day-of activity for your guests. Dressing up in festive headbands is a great way to bring the fun to the table no matter what your age. Increase the difficulty by adding a lesson in braiding. The braided ribbon looks good dangling from the headband along with ribbons and feathers.
Create a 2-inch wide headband long enough to overlap by an inch when wrapped around the head. Cut two identical 3-inch wide pieces of brown construction paper long enough to wrap around the forehead and set one aside.
Cut out a circle roughly 4-inches in diameter for the turkey's head. Cut out two circles from white paper for the eyes and use a marker to add black dots.
To create the beak, fold yellow construction paper and cut a double sided triangle. Glue down one side with point facing down. Make the turkey's waddle out of red construction paper cut into a long oval.
Glue the turkey's head onto the centre of the brown band. Turn the band over and glue the feathers so they stick up from the middle of the band above and beside the head. If you are using braided ribbon, glue it to the inside of the band so that it hangs down the sides about where the wearer's ears will be. Add curled ribbon and feathers.
To finish, glue the long headband strip to the centre of the brown band. Glue the identical strip of brown paper to the inside.
Share an image of your Thanksgiving crafts on the City Parent Facebook page.
About Jaclyn Colville
CHCH TV's Tiny Talent Time co-host Jaclyn Colville is sharing her passion for creative pursuits with City Parent readers. Her talent as a crafter is one of many for this television broadcaster and former competitive dancer who performed on stage at home and abroad in ballets including The Nutcracker and Snow White. Since graduating from Television Broadcasting at Western University, the Hamilton native has been in front of the camera and behind the scenes in the CHCH newsroom.
You can catch her on air every morning from 4 to 6 a.m. on CHCH's Morning Live First Editionand then on Morning Livefrom 8 to 10 a.m.
Tiny Talent Time, the beloved show that CHCH has brought back as part of its 60th anniversary celebrations, airs Saturdays at 7 p.m. Tiny Talent Time is a modern take on a classic talent show for children that involves no competition and no judges, just the joy of performing.