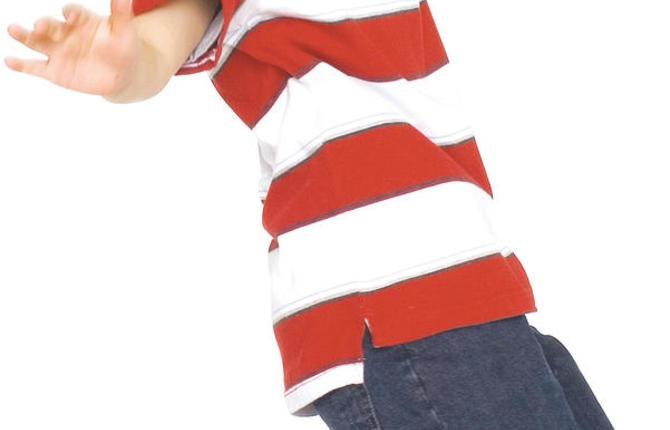 Summer fun by the dozen
Whether on the beach, at the cottage or on the home front, with this round-up of toys, the playing is easy.
Arty Fun
Giant Inflatable Easel
Imagine you are on the phone with someone Important who does not have children. Your beloved child is painting, on the easel, their hands, their feet, pretty much everywhere, decorating every surface with their darling little prints.
You:
A) Have a silent nervous breakdown and continue talking.
B) Hang up the phone and offend Mr. Important.
C) Smile inside because your precious munchkin is making art outside with their Giant Inflatable Easel from Crayola. Five feet tall, inflates quickly with a foot pump and comes with plenty of paint to start with. You just spray the "canvas" with water, (aka the hose) and you have a clean slate. $49.99
3D Chalk
Kids can create their own psychedelic chalk garden with Crayola's new 3D chalk kits. OK, you do need to wear the included 3D glasses, but it is very cool. $12.99
Colour Surge Crazy Tips
These new markers are perfect for rainy day crafts (and back to school). When you lay down a swath of ink with these markers, the colour stays true and vibrant even when applied to coloured paper. We think this is neat. $8.99
Rainbow Brush Art Kits
Just what the name suggests – Rainbow Brush markers create rainbows and other nifty images, let you embellish letters and add decorating details to cards, projects and such. $19.99
Sporty Fun
Rocket
Fishing Rod
Now it's easier than ever to share goin' fishin' with the kids. The pumping action takes the danger out of casting; no snags and accurate casts up to about 30 feet. Hooks are safely tucked away from tender fingers. This is no toy; you can really catch fish with this. $39.99
Fun Gripper Lacrosse Stick
with Bean Ball
Give your kids a head start with Canada's National sport. No, not hockey, lacrosse. Lacrosse was names Canada's national sport by Parliament in 1859. Admittedly, today it is our national summer sport; in 1994 ice hockey elbowed it's way in as out national winter sport. These 75cm lacrosse sticks are great for younger, shorter players, and good for playing in a tight spot (like the basement). Instead of a ball, start out with the 6 cm Bean Ball while building passing and shooting skills. $24.99.
Speedminton
No net. No Court. Set up in three minutes. The short handled aluminum. Speedrackets have an enlarged "sweet spot" making the game easier to master in a speedy manner. The game in designed to be played outside, so instead of "birdies" you play with Speeders. If it's windy, you can ad a windring attachment. If it's dark, you can use a night Speeeder with speedlights that will flash as you whack it back and forth. $ 28.95
Brainy Fun
Mad Science Egg Drop Challenge
Dropping eggs – it just oozes with forbidden fun. With this kit you're supposed to design the best possible vessel to protect your egg from a free fall. But we suspect that that some eggs are cracked in the ensuing experiment. Over twenty reusable pieces. The manufacturer says it's perfect for outdoors. (Do ya think?) $14.99
Gooey Fun
Martian matter Alien Maker Spaceship
I remember making wiggly monsters and insects with goo as a kid. But you had to cook the goo liquid. With Hasbro's new Alien Maker you make your own molds with Meteor Mud and then squeeze out your Aliens with Lunar Lava gel. Give the gel a few minutes to firm up and you'll have an Alien Army in minutes. $24.99
Road Trip Fun
Guitar Hero Carabiner
With ten songs, three levels of play and a whammy bar, what more do you need to survive the drive to the cottage? It's the hand held version of the smash video game Guitar hero. The downside: only 10 songs are loaded and it isn't possible to add any. The upside: only 10 songs…$19.99 to $24.99.
Camp Fun
CMYKIDZ Seek & Find Pillowcases
Send your younger campers off to the wilds with a pillowslip featuring charming "Seek and Find" illustrations. Comes with an educational booklet, perfect for quiet cabin time. Six different themes including glow in the dark. $24.99
Fun for Mum
What's fun for mum? Peace of mind. (And maybe a cabaña boy with a martini.) Safe-2-Go is an adorable backpack for your wee one that cleverly camouflages a toddler harness. The retractable 38" tether helps you keep your up to 50 lb cutie from going AWOL in a crowd, while the back pack styling helps you stay under the radar of those superior parents who didn't raise deserters.