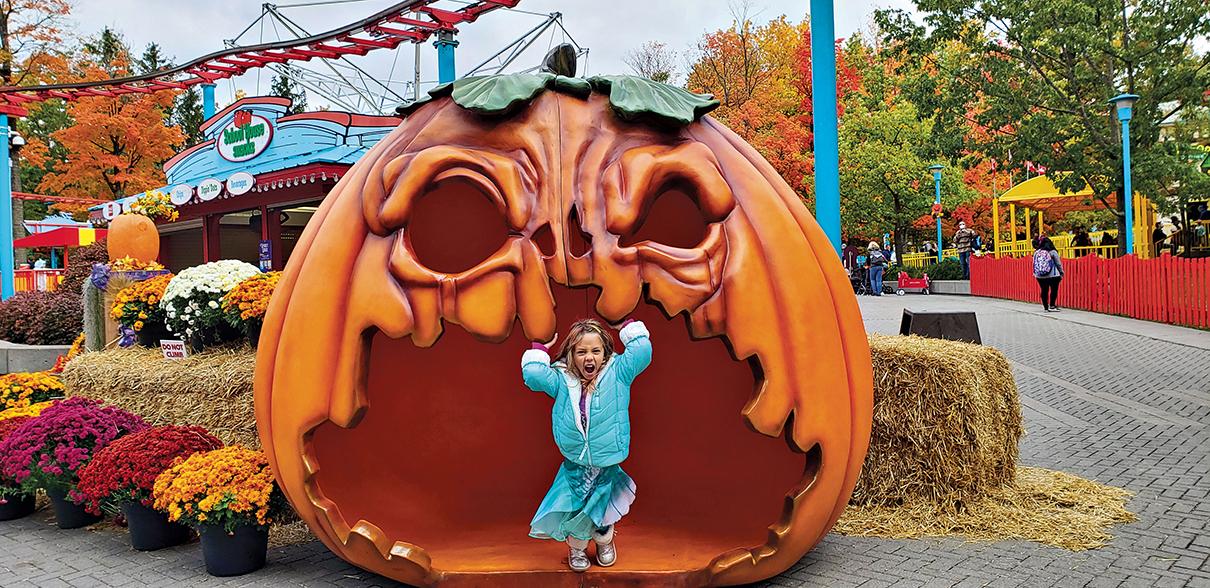 spooktacular adventures Harvest and Halloween Events
Some lament the passage of summer, but children – and the young at heart – know that the crisp air brings fresh new energy and a range of exciting events to experience. Here are three of the best family-friendly harvest and Halloween happenings near Toronto.
Fall Festival at Black Creek Pioneer Village
We've dug out our sweaters and autumn leaves are in full brilliance. It's harvest season. Black Creek Pioneer Village in Toronto embraces the season with its annual Fall Festival.
Adults and children immerse themselves in the joys of old-fashioned fall festivities. Costumed interpreters demonstrate butter churning, quilting, and candle dipping. Sample fall goodies in cosy kitchens. Participate as judges in a pumpkin and squash competition. Try your hand at autumn crafts.
Fall Festival includes live entertainment as well. A travelling carnival man performs mind-boggling magic tricks and little ones will enjoy Cousin Molly, a children's folk music performer.    
Dates: Saturday Sept 23 & Sunday Sept 24, 2023
Hours: 11:00 a.m. to 4:00 p.m.
Web: blackcreek.ca
Fall Fest, Murphy's Farm Market and Bakery
Murphy's Farm Market and Bakery, near Alliston, embraces the season as tightly as a child holding a trick-or-treat bag.
Visitors enjoy a plethora of fun activities. Hop aboard a wagon for the short ride out into fields dotted with plump pumpkins and strangling vines. Little hands will want to pluck the very best. Pumpkins are also stacked high around the property, including two pumpkin walls that serve as a perfect backdrop for family photos.
Children race enthusiastically into a massive corn maze and play in the Fun Farmyard, with its sandboxes, playground, and obstacle course. Follow your nose to the bakery, full of indulgences, all made from scratch.
Most of all, enjoy a rural farm setting where the best of nature is on display.
Dates: Sept. 23 to Oct. 31, Thursday through Sundays
Hours: 10:00 a.m. to 5 p.m.
Web: murphysfarmmarket.com
Camp Spooky at Canada's Wonderland
Every October, Canada's Wonderland swings open its doors for Camp Spooky, a family-friendly daytime event running every weekend till Oct. 31. It's the perfect outing for little ones, filled with tiny terrors and more fun than you can shake a witch's broom at.
Kids can trick-or-treat at various stations, filling pails and bags with loot. Since kids are presumably dressed up, they can participate in the Peanuts Costume Party. Children can meet all sorts of friendly Halloween characters, like witches, pirates, and wizards.
The park is enlivened by all kinds of live music and even a magic show Oh. And there's pumpkin decorating. Pick a plump gourd, bring it to life, and take it home with you.
Dates: Sept. 23 to Oct. 29
Hours: 10 a.m. to 8 p.m.
Web: canadaswonderland.com/events/camp-spook