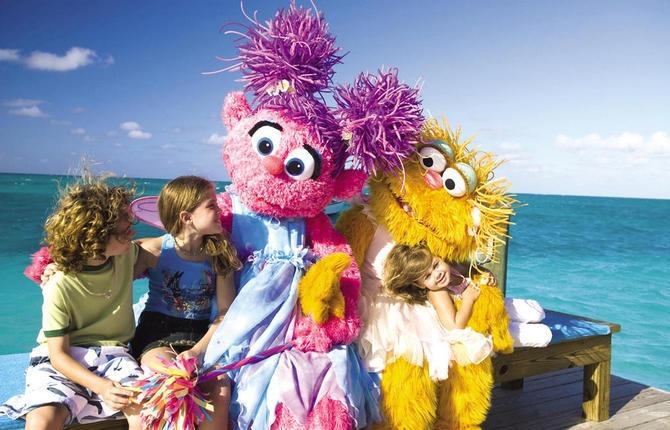 Sesame Street's Beaches addrress
Who would wear fur from head to toe on a tropical Caribbean island? The answer is just one of the things that makes Beaches Turks and Caicos Resort ideal for preschoolers. Furry and familiar, Elmo, Grover, Cookie Monster and fellow Sesame Street friends including the newest addition Abby Cadabby, make their home there.
The resort is playing up to the preschool crowd and their families this fall with discount prices and exclusive events all at a time when other families are dealing with children going back to school. The offer runs from September to October and includes discounts of up to 45 per cent off plus two nights free at this all-inclusive resort. This is the tail end of hurricane season in the Caribbean but these islands, located east of the Bahamas, have not experienced a hurricane in 20 years. The temperature ranges from 29 to 32 C and the crystal-clear ocean is warm, as are the six freshwater swimming pools that offer endless recreation.
Sesame Street Live
You won't meet up with the residents of Sesame Street in the pool or on the beach, but they can be seen on stage performing the same high quality family production you'd see at venues like Toronto's Sony Centre. The children in the audience were totally absorbed in the shows to which we were treated. Sesame Street friends, including the newest addition Abby Cadabby (a fairy in training), were there in the flesh – or more rightly in the fur. The kids clapped and sang along, oblivious to the starlit sky above. Another Sesame Street experience is available at the character breakfast where hugs from the gang are served up with the morning buffet meal. Photo opportunities for dessert! There's an extra fee for this experience and you have to book ahead. There's good reason that it's so popular.
International cuisine
This kid-friendly dining experience is staged at La Petit Chateau which is usually an adult-only (16 years and older) establishment with dining indoors or on the patio. It's one of the 11 restaurants at the resort, and along with Sapodilla's, lets adults enjoy a quiet fine dining atmosphere. There are no restrictions as to how many times guests may dine at a particular restaurant, although some are closed one day a week and others do require reservations. This includes Kimonos, the Japanese restaurant where the chef provides the entertainment right at your table. From seafood and sushi to Tex-Mex, brick oven pizza and '50s diner fare, all tastes will be satisfied. Choose from breezy porches, beachside patios, a table curtained by a waterfall or air-conditioned dining spaces.
So where do the kids disappear to during those tranquil dinners or visits to the spa? There are five age-appropriate children's programs, including after-hours care at an additional fee offered by certified nannies. All-inclusive means free childcare daily from 9 a.m. to 6 p.m. Depending on the age of your child, his or her active day will include treasure hunts, arts and crafts, snorkeling, beach sports, magic shows and sand castle building. Camp Sesame is a retreat for infants, toddlers and pre-schoolers, with its own wading pool, well-equipped playrooms and quiet rooms for napping.
Families gravitate toward Pirate's Island, a pool complete with water slides and Bobby D's diner where ice cream – both hand scooped and soft serve – are on the menu. You'll know you're at the sports pool when you see the volleyball being bounced over the net. Several swim-up bars keep visitors well hydrated. Kids love the alcohol-free versions of tropical cocktails.
Beach party
There are lots of special events scheduled each week – the Soon Come Back Beach Party featuring limbo dancing, music, fire-eaters and beach bonfires does its best to ensure return visits to the resort. The dive-in movie has you parking on a foam raft in the pool or on a lounge chair poolside at the amazing French Village pool. It's an opulent little piece of Versailles with its dramatic architecture and gardens. On Saturday nights the popcorn wagon comes out along with a giant screen to transform this impressive area of the resort into a unique outdoor movie theatre.
The Italian Village is currently under construction next door and will bring 165 more families to Beaches when it opens in January 2009. The addition includes an expanded water park, additional restaurant and retail space and suites that can be configured to accommodate extended families and groups of up to 22. Butler service will also be available, as it is at the existing resort for guests in the highest suite categories. Your butler will unpack and pack your luggage, make reservations, serve dinner, draw a bath and generally be at your service.
Meanwhile on the beach, there's sailing (if you can't handle the small craft, staff will take you out), sea kayaking and snorkeling all included with your stay. Coral reefs are accessible just minutes from the dock aboard one of the resort's dive boats. Just sign up for one of several daily one-hour trips.
Turks and Caicos are rated in the top 10 of scuba diving destinations in the world and there are diving lessons for all ages. Children age 8 and older can learn to dive in the pool and move out to open water. Any anxiety I felt over enrolling my son in the program was gone within minutes after meeting the instructor, Gus, and being invited to watch the safety film along with Sam. The Padi Kids Scuba Program allowed Sam to realize his big dream of scuba diving in the ocean with sea life all around. The $80 additional fee was more than worth it.
Other experiences that cost extra include the glass bottom boat, Kitty Katt catamaran (waterslide, snacks, music and party games) and spa treatments (a massage on the beach anyone?) are available for guests to book. However, there are so many amenities and activities that make up this all-inclusive package, you might feel no need to experience the extras. Chances are that you'll have one of those dream-come-true experiences either way.