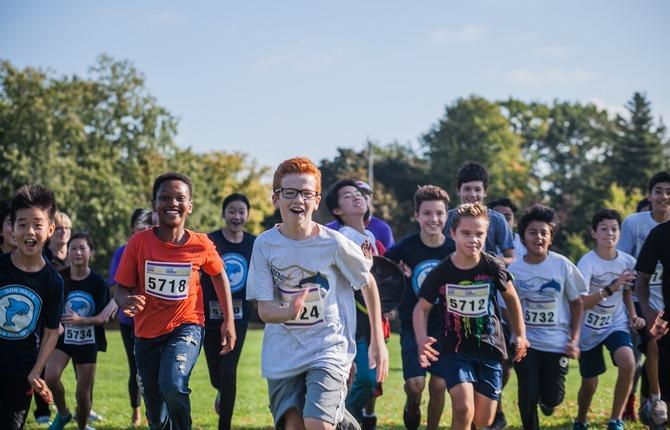 Ready, set, Kids' Run Club is a go
By Danielle Leonard
For many kids, getting the blood pumping is more likely to result from playing an intense video game than shooting hoops or riding a bike. Certainly, today's youth are not the most active generation ever, thanks, in part, to the allure of small screens and a society that is plagued by conditions such as Sitting Disease.
Almost a third of Ontario kids are overweight or obese, and only nine per cent of 5 to 17 year-olds meet the recommended hour of moderate to vigorous physical activity per day. Getting more kids off their tails and onto their feet is the goal behind a new program created by Ontario's doctors called Kids' Run Club.
The program promotes running for students in grades 1 to 12 while providing guidance for teachers on how to train and mentor young runners. Recognizing that not all kids are interested in competitive sports, or may lack the confidence to try new physical activities, the province-wide initiative is designed to meet the needs of every participant regardless of physical challenges, experience or disabilities.
The key ingredient to motivating students to join is that it's fun. No prior running experience is needed for the coach or participants. Swag and prizes are provided to schools as an added incentive to keep kids moving once the club gets started. Doctors across the province are keen to see the program in action this year and are available for support.
"Schools can take advantage of the unique opportunity to have a doctor from the community come in to talk to the kids," says Tammy Shubat, director of programs at OPHEA (Ontario Physical and Health Education Association), a not-for-profit organization that supports the health and learning of children and youth in Ontario. The group is collaborating with Ontario doctors to run Kids' Run Club.
Ontario schools that register for the program receive a coach's guide as well as a guide for each participating student. The coach's guide outlines all the steps needed to ensure a successful run club that includes stretching and warm-up ideas, safety guidelines, and support for asthmatic runners. The student's guide offers advice on proper running technique and healthy eating, and has a section for personal goal setting.
"The program is flexible based on age, grade, and ability level," explains Shubat. "The goal is for each group to work toward a culminating walk or run." Up to 275 Ontario schools can register for the program that can be run at any time during the school year, indoors or outdoors. All information is provided in French, as well.
To learn more about Kids' Run Club or to register online, visit www.ophea.net. NOTE – this is the actual page to register http://teachingtools.ophea.net/activities/kids-run-club